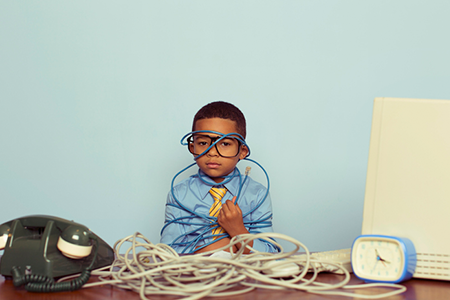 Employee stress, particularly work-induced stress, is sometimes an inevitable part of our workday. All managers must know how to manage their employees' stress – but individuals at every level of an organization can play a part.
Our research found a number of important statistics regarding workplace stress that impact productivity, performance, employee retention, and turnover.
Here are 10 need-to-know workplace stress statistics to help you, your managers, and your employees address and reduce employee stress in your workplace.
1. 50% of employees consider themselves workaholics.
Employees are working more than ever before and a growing percentage of employees consider themselves workaholics. Gone are the days of physically clocking in and out of a scheduled workday. Increased accessibility of resources and tools needed to perform, has created an unrealistic expectation of 24/7 availability. With cloud-computing, internet and app-based platforms, and a growing percentage of employees working remotely, working from anywhere at any time is easier to do than ever before.
Make sure your managers are monitoring these schedules and reassessing during monthly or quarterly check-ins. Being respectful of your employees' time and contributions to the organization at specific and structured times is a good place to start in maintaining and reducing employee stress.
2. 25% of U.S. workers say work is their number one source of stress.
As an employer, this statistic might feel like your worst fear coming to fruition. An employee spends a lot of their life at work and it's an employer's job to make sure their employees feel safe, secure, and happy while they're there.
Leaders, HR, and managers can each have a direct impact on employee stress but there are also some simple ways employees can reduce their stress levels. Encourage your managers to become advocates for your employees. Building this relationship will help you determine how to address the stress and make specific and informed decisions to reduce it moving forward.
3. 45% of employees say stress is one of the top negative emotions they feel in the workplace.
Negative emotions are a breeding ground for toxic work environments. Get to the root of the negativity by digging a little deeper and avoiding any potential destruction. Utilize feedback as a way to uncover some below-the-surface insight into your employees' stress levels. Give employees a chance to tell organizational leaders if they're stressed and why. Use the data you collect to create solutions for key workplace stressors and give HR the opportunity to champion organization-wide initiatives.
4. 51% of employees feel physically drained after an average day's work.
That's over half of the workforce! Though this statistic takes into account a variety of work schedules and environments, more than half of employees feel this way after experiencing an average day of work. This doesn't include any abnormal and high-stress workdays your organization and your employees may face.
Do your part by addressing your employees' physical environment and opportunities to get out of the office and get moving. Give your employees the chance to decrease stress by improving their health and well-being. Implement formal programs or policies that promote healthy habits, like fitness competitions, healthy cafeteria options, or relaxation pods.
5. 25% of employees frequently feel emotionally drained after an average day's work.
Employee wellness isn't just physical. Wellness encompasses a broad scope of factors including emotional wellness. Employee emotions impact our day-to-day and, if left unattended, can spiral out of control and impact the rest of the organization. As a manager, you have a lot of power to help your employees manage these emotions. Here are a few tips for managers and leaders in dealing with emotions at work.
6. 1/3 of hourly, customer service workers frequently feel physically and emotionally drained after an average day's work.
When the customer is always right, your employees' emotional and physical health can be often be wrong… or at the very least, completely drained. Living up to personal and professional expectations can be overwhelming and oftentimes customer service roles aren't the most rewarding. Consider how your organization handles customer service requests and make sure this team is actually utilizing scheduled breaks and vacation policies appropriately.
7. The average employee spends 13 years and two months at work.
That's roughly 115,000 hours of an employee's lifetime. Maintaining a level of work-life balance is key to engaging and retaining your employees. While it probably feels natural to scoff at the idea of employees owning their own work schedules, providing individuals with the autonomy to get their work done in the way they feel they are most efficient can actually improve your work culture and your bottom line. When employees are putting their best foot forward, they are likely doing the same for your organization.
8. 38% of employees have meal breaks that are less than 30 minutes.
There are a lot of reasons employees need breaks at work. And let's face it – lunch breaks and trips to the bathroom just don't cut it. In fact, more than half of employees whose meal breaks are less than 30 minutes have very low wellness. It's all well and good to tell your employees they have an hour lunch break, but how many of them are actually using it? Or are actually getting out of the office to take a lunch?
Too many times employees will "work through lunch" so they can take advantage of the evening when the sign flips to closed. Encourage managers to meet with employees regularly to discuss any obstacles standing in their way of progress. When managers are aware of common employee obstacles, they can help find a solution to decrease stress, adjust schedules or workloads accordingly, and increase productivity.
9. 23% of employees take zero breaks* during an average workday.
When employees don't get a chance to step away from their desks, productivity decreases. And little or no breaks can take a toll on employee stress. When work and life compete, stress can skyrocket, so it's essential that you help create a workplace where the two can co-exist. Specific work-life balance initiatives might differ across industries, departments, and job roles, but make sure you show employees that your organization is making an effort.
*Does not include meals and bathroom breaks.
10. Only 36% of employees feel financially secure.
Finances are one of the top drivers of employee stress. Financial issues can cause an overwhelming amount of stress in employees' personal lives. Because the paychecks you write are likely the primary source of income for your employees, financial issues at home can cause stress and disengagement at work.
In fact, only 19% of employees believe they're saving enough for retirement. Although organizations and leadership should be careful about inserting themselves into employees' financial decisions unsolicited, its important to note that employees are concerned for their financial future.
---
Employee stress is a common and important part of being a people manager. Find out how managers can maintain and alleviate stress with our new ebook, Stress Management in the Workplace.