All turnover comes at a cost—but losing your top talent is especially costly. When a top performer leaves, it causes a ripple effect in your organization. It's expensive, it's time-consuming, and it's draining for employees left behind.

Download the eBook: How to Keep Your Best Talent >>>
Understanding employee turnover statistics and trends can help you understand why talent leaves, giving valuable insight into your employee retention strategy. We've compiled a list of statistics that reveal common turnover and retention themes to help you move forward, mitigate your retention issues, and shape a highly skilled workforce.


What is employee turnover?
Employee turnover is the number of employees who leave their organization during a given time period. It includes those who leave voluntarily and those who are laid off. You can measure turnover based on different demographic groups, roles, and tenure length.
Your turnover rate is important—it gives insight into the employee experience to uncover workplace opportunities or areas for improvement. By keeping a pulse on your turnover rate, you can avoid unwanted costs and barriers to success.


How to calculate your retention rate
Your retention rate represents the percentage of employees who stay at your organization during a given time period. To calculate this metric, divide the number of remaining employees by the number of initial employees within a set time period, and multiply by 100.
(Remaining headcount during set period/ Starting headcount during set period) x 100


15 Employee Turnover Statistics
Employee turnover statistics can shed light on important stories and trends about your people. Getting your talent to stay requires creating an actionable strategy based on this data. Here are 15 employee turnover statistics that will help you shape an effective retention strategy.


Statistics that explain why employees leave
Understanding why your employees leave—and taking responsive action—helps prevent unwanted turnover. Here are 3 findings that show what departed employees said they were lacking in their day-to-day:
37% of employees left their organization due to a lack of career growth
28% of departed employees left their organization due to pay.
27% of employees left their organization because they felt undervalued or under appreciated for their work.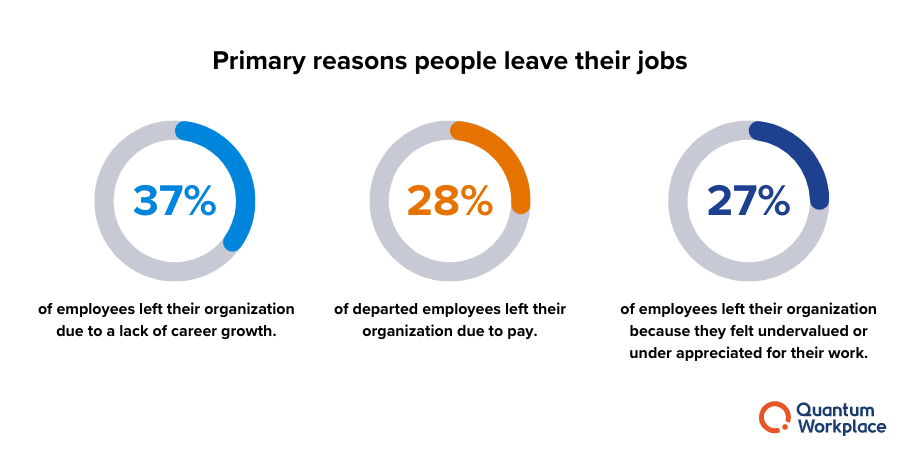 To be proactive in your retention efforts, leaders need to conduct stay interviews and exit surveys regularly. These will help you home in on aspects of the employee experience that could improve to create a strategic action plan.
Forward-thinking leaders are taking advantage of technology to further support their retention efforts. The right platform can detect employee flight risk to help leaders prevent departures before it's too late.


Statistics that demonstrate the impact of employee engagement on turnover
Employee engagement and turnover are inextricably linked. Those who report low engagement levels are more likely to leave, while highly engaged employees are likely to stay long-term. Here are 4 statistics that demonstrate this link:
56% of engaged employees and 61% of disengaged employees have received a job offer within the past 6 months.
Only 11% of engaged employees have interviewed elsewhere within the past 6 months compared to 28% of disengaged employees.
Over one-third of disengaged employees are actively applying to new jobs, compared to only 5% of engaged employees.
90% of engaged employees intend on working at their organization for the next year, compared to only 47% of their disengaged counterparts.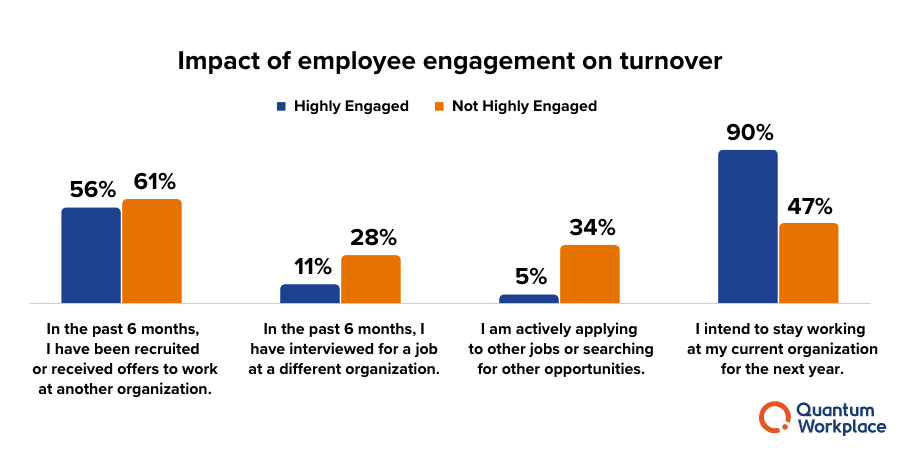 Although engaged and disengaged employees are being recruited at similar levels, engaged employees have different turnover intentions and behaviors. They are less likely to have interviewed elsewhere or applied to other jobs. Plus, they're more likely to say they'll be working at their organization in a year.
With this information, it's clear that centering your retention strategy around employee engagement is the best path to take. Leaders need to listen to employees—the insight you gain can guide your efforts to improve the employee experience.
Train managers to communicate with employees in an open and honest way. When lines of communication are open, employees are better able to relay their perceptions about the employee experience. Once you've collected their feedback, create an action plan with support from senior leaders based on what you've learned.


Statistics that reveal the factors behind turnover
Certain factors within the employee experience can either make or break your retention strategy. These statistics provide insight into what to prioritize moving forward:
69% of employees would leave their organization for better pay.
38% of employees would leave their organization for a promotion or career development opportunity.
21% of employees would leave their organization for better benefits.
18% of employees would leave their organization for more flexibility of working hours or working location.
15% of employees would leave their organization for more meaningful work.
Pay is the number 1 factor that prompts employee turnover. That's why organizations need to create an employee value proposition that's competitive in the marketplace. Your employees need fair pay—without it—you'll risk losing your top performers.
Leaders should also connect the dots between employee performance and the organization's mission and success. When employees feel like their work has purpose and meaning, they're more likely to be engaged, productive, and tenured long-term.
Your company culture is another key factor in retention. Leaders should shape a culture that's focused on flexibility, career growth, and meaningful work to achieve optimal results.


Statistics that give insight into turnover prevention
Most of your voluntary turnover is preventable. And when you prevent turnover, you'll save your time, resources and you'll eliminate barriers to success. Here are 3 statistics that give insight into turnover prevention:
62% of employees discussed their decision to leave the organization with a manager or coworker prior to leaving.
Only 39% of employees were recognized for their contributions in the three months prior to their last job departure.
Only 25% of employees had a growth discussion with someone in the organization in the 3 months leading up to their last job departure.
While employees are often having conversations with their managers about their intent to leave, leaders aren't acting on this information in a timely manner to combat flight risk.
To better retain your employees moving forward, you need to keep a pulse on their perceptions. Use stay interviews to find out why employees choose to stay at your organization. When you understand what employees value in their day-to-day experience, you can take strategic action to prioritize those things.
You should also shape your culture with recognition in mind. Employees need to feel valued and appreciated for their efforts. In addition, leaders should prioritize career growth and development in their company culture. Train managers to conduct effective one-on-ones so that they can have important growth conversations with employees. Your retention strategy can either make or break your success—ensure it actively engages your workforce.
---
Learn How to Keep Your Best Talent by approaching retention with intention in this eBook.