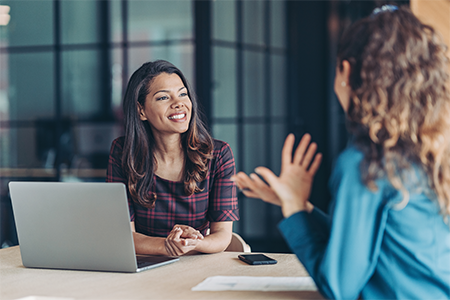 Many employees are leaving their organizations to companies that better fit their needs. And even if many of your top performers haven't left yet, that doesn't mean you shouldn't be taking action to retain them
In fact, a recent survey found that 65% of employees are looking for a new job. But luckily, you can minimize turnover risk with the right strategies. One of those strategies is stay interviews.

What is a stay interview?
A stay interview is a conversation between a manager and an employee to understand what employees like—and dislike—about their organization, team, and work. These informal discussions give a manager insight into what's going right in the employee experience and what improvements need to be made.
Stay interviews are similar to exit interviews, but are conducted with existing employees. They are a preventative measure, helping leaders continuously improve the employee experience before top talent leaves. And these conversations are critical to have, as exit interviews are typically held when it's too late and employees are already out the door.
What is the importance of stay interviews?
Stay interviews are a win-win. When you ask employees for feedback, they feel heard, valued, and appreciated. Plus, the feedback that you receive will help improve many key points in the employee experience:
Improve employer brand and company culture
Build trust between employees and managers
Make employees feel valued for their feedback
Understand what growth and development opportunities are missing
Uncover what employees value about their role
Gain insight into common perceptions or attitudes about the workplace environment
Improve

retention rates
When you have a pulse on how employees feel—and what they need moving forward—you can take strategic action to improve employee engagement and boost retention. Plus, as your company culture improves, it will naturally attract top talent.
How to conduct stay interviews
For your stay interview strategy to be realistic and successful, you should start small. Conduct your first conversations with top performers who have been at the organization for a while—they'll have better insight about the workplace environment.
You should facilitate your various interviews within a short period of time to uncover important workplace trends and commonalities. And to ensure you get helpful, aligned insight, follow an outlined template so that everyone is asked the same questions.
Start your interviews by communicating the purpose of the conversation and encourage honest, open feedback. Help employees understand that these interviews are key to improving the employee experience for everyone.
It's important to ask relevant questions that help you dig deep into the employee experience. Once you have your feedback, store it all in the same place to analyze trends and take needed action.
15 stay interview questions to ask
Asking questions that are relevant to the employee experience is key. When your questions don't prompt the feedback needed to take strategic action, your efforts will go wasted. Here are 15 common stay interview questions to ask:
1. Do you receive adequate recognition for your efforts at work?
A lack of recognition contributes to 44% of employees changing jobs. When employees don't feel valued for their contributions, they're likely to look for that validation elsewhere. Leaders need to understand whether their recognition efforts measure up or not and make needed changes.
2. What do you look forward to about work every day?
Understanding what keeps employees engaged and happy in the workplace is key to continuing the practices that matter most. When you understand what's important to employees, you'll know where to focus your efforts.
3. What do you dislike about work everyday?
While it's important to know what employees like most about the job, tackling workplace pain points is even more critical to retention. By understanding and addressing problem areas, you can prevent unwanted turnover and low employee morale.
4. Do you have the ability to balance your work and home life?
Employees expect to be able to decide where and how they work. If they don't have the ability to balance work with outside responsibilities, they might burn out and seek employment elsewhere. By asking employees where the health of their work-life balance stands, you can understand where improvements should be made.
5. Would you recommend our organization to a friend?
Understanding whether employees would recommend your organization as a great place to work gives insight into your employer brand. Regardless whether your employees answer yes or no, it's important to understand why they feel that way. With this information, you'll know what to continue or discontinue.
6. Which skills do you wish you could use more in your role?
This question will help you better understand what an employee's dream role looks like. If employees feel that their talents aren't being leveraged effectively, managers can help outline new opportunities.
7. What part of your role do you dislike most?
If you want highly engaged, motivated employees, they have to enjoy their role. Keep a pulse on what's grinding on employees to reduce burnout and turnover. Before it's too late, understand what employees wish they didn't have to do on a daily basis and take the right preventative measures.
8. How do you feel about the growth and development opportunities offered to you?
Employees need to see adequate career growth and development opportunities if you want them to stay for the long haul. If employees feel stagnant, and unable to develop, they're likely to start shopping around for other positions. Leaders need to understand where their growth opportunities are lacking and take action to keep top performers.
9. Do you feel like your goals and responsibilities are clear?
Employees need to have clear, aligned goals in order to feel motivated and connected to the broader organization. If many employees feel like they don't know how they're contributing to the organization's success, it's time to make a change.
1
0. Do you feel connected to your teammates?
For employees to drive goals together, they need to have the tools to communicate and stay connected. Without this sense of connection, you risk disengagement and lack of alignment, especially in remote environments. If your interviews bring about trends that point to disconnection, you'll need to outline new communication channels before it's too late.
11. What would make you leave the company?
By uncovering what would make an employee leave your organization, you'll get insight into what you should continue doing and what you should avoid at all costs. With this information, you can avoid making decisions that you'll regret later.
12. What would make your job more fulfilling?
Even when your employees are satisfied with their role and the organization, improvements can always be made. When you go the extra mile, you can keep your entire workforce tenured for the long-run.
13. Is the coaching you receive from your manager effective?
Our research shows that a strong approach to performance is one of the top ways to boost an employee's perception of company culture. But when employees feel like your coaching efforts aren't motivating, productivity may decrease and engagement will plummet. Use your stay interviews as an opportunity to understand where your efforts are succeeding and where they could improve.
14. Do you receive transparent communication from leadership?
When organizational changes are made, employees need to understand why. If your workforce feels left in the dark surrounding change, they're likely to lack buy-in and engagement may decrease. With stay interviews, you can assess whether your communication is adequate and develop your strategy if needed.
15. Do you feel like your feedback is well-received by leadership?
By conducting stay interviews, you're already on the right path to making employees feel valued for their feedback. But when feedback isn't acted upon or is met with negativity, employees aren't likely to give it again. Understand how your employees feel about past feedback and take that into account now and in the future.
When you ask the right questions, you can uncover the insight that's key to informed decision making. And when the action you take is shaped by employee perceptions, they'll feel seen and valued. Don't hesitate to supplement your retention strategy with stay interviews to keep your talent engaged, retained, and contributing to business success.
---
Ready to uncover more questions to ask your employees? Download our Big Book of 350 One-on-One Meeting Questions.