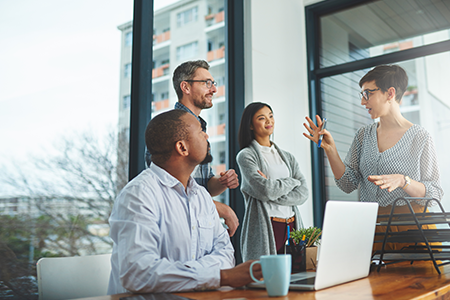 Employee engagement software is more than just collecting employee feedback. It allows teams to recognize outstanding performance, draw actionable insights from employees, and understand employee sentiment on a deeper level.
Developing a robust employee engagement strategy is critical for organizations of any size. To get the most out of your engagement strategy, you need a modern, comprehensive platform that works with your organization at all levels.
In this article, we'll help you prepare to find the right employee engagement software including:
What does employee engagement software do
How to choose the right employee engagement software
What does employee engagement software do?
Employee engagement software measures engagement, but more importantly, it has features that create and support the behaviors that improve engagement and impact business outcomes and success.
Employee engagement software should:
Elevate the voice of the employee.
When employee engagement goes up, so does performance and productivity. Employee engagement software allows organizations to take stock of employee feedback, note of themes or patterns that emerge, and put those themes into context.
Help you act on employee feedback.
Employee voices are one of the most significant assets an organization has at its disposal. Capture the voices of new hires to improve your onboarding experiences, create a pulse survey to highlight strengths and areas of opportunity, and evaluate leadership accountability with targeted, custom surveys.
Celebrate employee and team goals.
According to Gallup, the #1 reason most people leave their jobs is due to a lack of recognition. Employee engagement software allows organizations to create a strategic recognition program that celebrates both individual and team goals. Whether you're celebrating a million-dollar contract or recognizing a team member for a small moment, the importance of employee recognition cannot be stressed enough.
Improve employee retention.
Employee retention leads to more satisfying customer experiences and a more vibrant company culture. Employee engagement allows companies to optimize the onboarding experience and cultivate a culture of feedback and recognition. This type of culture leads to employees feeling respected and valued—and therefore less likely to seek new opportunities.


How to choose the right employee engagement software
Congrats! You've made a big decision about the future of your organization. While it's tempting to simply Google 'the best employee engagement software,' to truly get the most out of your software investment, you must decide on your organization's needs and then find a platform that enables that need.
Ask these questions before starting your search:
What are the strategic objectives of your business?
What challenges do you expect to face in the next five years? Ten years?
How can this software platform help your business stay ahead of these challenges?
Look for critical features.
The best employee engagement software has features that create and support the behaviors that improve engagement. While the wants and needs of each organization are different, this step is essential to determine how you want your engagement software to streamline your everyday work and how you want your individual employees, teams, and departments to connect to the larger culture.
Take a look at these four features to look for in employee engagement software:
1. Empowers managers to own engagement.
The HR department shouldn't be the only ones using the software you select—it should be accessible to managers on the frontline. Managers should be able to create goals for their team, recognize employees for their achievements, solicit feedback, and conduct one-on-ones with ease. In addition, managers should get up to speed on the software quickly and with minimal training. Look for features like manager templates, coaching videos, best practice resources, and tool adoption tips.
2. Integrates with other systems and data.
Administrative information about your employees should integrate seamlessly with your employee engagement software. Make sure the software you select has an HRIS integration. This will not only save your employees significant time by not having to enter data manually, but an HRIS integration will also allow for accurate data on reporting structure changes and organizational shifts. Other valuable integrations include payroll systems integrations, email integration, or instant messaging integration.
3. Reliable support and expertise.
As with any software, you should expect top-notch support when you need it. But reliable support goes beyond calling the help desk. The software you choose should enable your employees to succeed each step of the way. Look for access to templates, expert advice, and coaching resources.
4. Customizable to your organizational culture.
The employee engagement software you use should be customizable. The tools employees interact with should represent your brand and your distinct culture. Look out for features like custom survey questions, one-on-one templates, and tailor-made recognition badges.
Ask the right questions.
By this point, you've made it to the interview stage. The only left to do is ask the right questions of your potential vendors. While the content and quality of the presentation they provide are important, it's also important to listen to how they answer your questions. Are they confident in their response? Do they hesitate or seem unsure?
To evaluate the effectiveness of potential software, reserve some time at the end of your meeting(s) to ask the following questions:
What tools or features do you offer that help managers impact engagement?
Managers are the most significant influence on employee engagement. Does their software enable managerial success? Are managers able to navigate through the software with ease? Will it take a considerable amount of time for them to learn how to use the software?
What type of companies do you work with primarily?
Is the vendor able to work with and support an organization of your size? Your industry? Take stock of any case studies or success stories that will shed light on the company's track record with comparable businesses.
Where is your support department located?
Will their team be available when you need help? Are they located in or available in your time zone? Is it easy to contact them via phone, email, or chat?
Can you share some of your thought leadership content with me?
Thought leadership demonstrates that the company is looking forward and continuing to look out for the best interests of their customers. Take a moment to ask for any resources the company has demonstrating its thought leadership.
Schedule a demo.
The best way to understand what employee engagement software does, how it could benefit your organization, and how you and your employees will be using it every day is by scheduling a demonstration. This is your time to ask questions, understand the benefits, and learn how software can make your job a little easier.
---

Deciding to purchase employee engagement software is a great step for your organization. Follow the nine steps in our Employee Engagement Software Buyer's Guide.