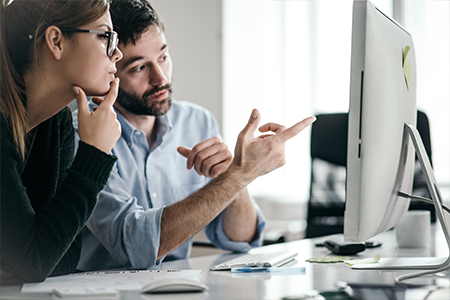 Online systems have revolutionized the way companies look at, measure, and manage employee performance. Effective software makes the entire process easier for administration, engaging for employees—and most importantly—frictionless for managers.
But how do you identify which performance management software is best? Finding the right performance management software provider isn't a process to take lightly; be sure to do your research.
What is a performance management system?
A performance management system helps leaders continuously track and coach employee performance. Not only do these systems ensure that employees are working effectively toward aligned organizational goals, but they help leaders develop their talent toward optimal performance.
Certain features within an effective performance management system help leaders stay on top of employee performance to continuously motivate and engage them, which reduces turnover and maximizes business outcomes.
Why do you need a performance management system?
The modern organization is fast-paced, complex, and faces different challenges than before. While output and production is an important metric in business success, innovation, communication, and adaptability is key. That's why taking an annual, irregular approach to performance management is no longer effective.
Top organizations now need a continuous approach to performance management that prioritizes ongoing performance conversations, to capture real-time data and progress. In fact, roughly 75% of organizations have reinvented their performance management process to be more continuous. It's clear that new-age workplaces need a modern performance management system to adapt, improve, and drive performance—rather than simply evaluating it.
Here are the top reasons that leaders need a performance management system:
To measure performance accurately

To close employee skills gaps with effective coaching

To discuss employee goals—both personal and professional

To increase employee morale and reduce turnover

To show adequate appreciation for employees' work

To create a foundation of trust between employees and their managers

To create a path to success for all employees

To increase company-wide alignment

To drive the outcomes that matter to your business
What are the elements of a performance management system?
When you're considering key elements of a performance management system, it's important to consider all aspects of your performance management cycle. The right software will help you make performance management easier at every stage.
1. Planning
It's important your performance management system helps you facilitate key planning activities like setting and aligning on employee goals. This helps safeguard organizational alignment and gives an opportunity for employees, teams, and leaders to outline an action plan.
2. Monitoring
Your performance management system should help you track key metrics and monitor employee progress to ensure employee and team goals are reached. This is critical in addressing roadblocks and motivating productivity.
3. Reviewing
It's key that your performance management system helps you efficiently review an employee's performance and final results. The right system will facilitate the conversations that allow managers to provide feedback, understand the employee's perspective, and create performance plans for the future.
4. Rewarding
Your performance management system should give you the tools to reward employees for their efforts. By providing adequate recognition, leaders can motivate employees toward optimal performance in the future.


What to look for in a performance management system?
An effective performance management system should help you capitalize on your initiatives. With these features, you can maximize employee performance and drive business success:
1. Set, track, and collaborate on goals.
Why it matters: Goals help organizations achieve more, faster, with less.
Goals should be clear, aligned and shared. Clear goals guide employees to focus on the right priorities and keep their work aligned with organizational strategy. This ensures accountability across the company, motivation to propel the business forward, and strategic alignment at every level.



How tech can help
Make sure you have the tools you need to help your teams set and track goals. Organizational goals should be driving team goals, and team goals should be driving individual goals.
Your performance management software should promote transparency, alignment, and collaboration across the organization.
Look for features such as:
Real-time goal-setting so managers can recognize barriers early and stay on top of team progress

Visibility on company goals so employees can put their work and priorities in context

One-stop dashboard for clear insights into team culture and performance

In-tool tips and reminders to keep employee goals top-of-mind and coach teams on best practices
2. Conduct ongoing performance conversations
Why it matters: Ongoing conversations help organizations get a more complete picture of performance.
Performance conversations should be frequent, collaborative, and documented. And employee-manager one-on-ones are the perfect opportunity to discuss performance. From check-in meetings to formal performance reviews, one-on-ones might be the most important part of your performance management platform. When managers effectively coach and develop their employees, 74% say their performance management systems are effective.
How tech can help
With so many moving parts, it can feel daunting to try to capture the right information, document it, and create an action plan for every single employee, every time.
Your performance management software should empower managers to have regular and effective performance conversations.
Performance reviews should be future-focused, transparent, and two-way. Look for one-on-one software that can help you prepare for and follow-up on meetings with features such as:
Best practice templates

The ability to capture private notes

A shared agenda builder so employees can collaborate on their performance conversations and check-ins
Plus, having access to past meetings, employee goals, feedback, and data from your HRIS or other performance features allows you to get a full picture of employee performance and help managers better coach their team.
3.
Facilitate peer-to-peer, real-time employee recognition.
Why it matters: Recognition encourages employees to perform their best.
Employee recognition should be motivating, public, and reinforce your organization's values. One study found that 69% of employees would work harder if they felt their efforts were better recognized.
Openly acknowledging and praising employee behavior or achievements offers many benefits, such as increased productivity, increased engagement, decreased turnover, and improved company culture.
How tech can help
Only 37% of employees nationwide are satisfied with the way they receive recognition and appreciation at work. And a staggering 45% of workers have not been recognized in the last six months.
Recognition software can help you bridge the gap to celebrate, motivate, and engage teams across your organization.
Look for recognition software that:
Facilitates public, peer-to-peer recognition

Alerts managers in real-time when others have recognized their teams

Enables team bonding and peer recognition through a public recognition board

Allows anyone to share praise and post recognitions across the organization

Provides insight into broader performance by integrating recognition seamlessly into employee goals, one-on-ones, and feedback
4. Collect and share immediate and continuous feedback.
Why it matters: Feedback builds strong relationships to drive performance.
Great companies are built on trust, and trusting cultures are built on feedback. Our research shows that a strong feedback culture correlates with a highly engaged workplace.
Continuous feedback should be individualized, constructive, and unbiased. Regular feedback builds strong relationships by encouraging transparent dialogue and helps drive better performance through continual improvement.
How tech can help
Too many organizations aren't providing enough feedback. In fact, 71% of employees prefer immediate feedback, even if it's negative. The right software can make sure your teams are getting the feedback they need to succeed.
Choose a feedback tool that helps you create a feedback culture across the organization.
Look for software that lets you:
Collect ongoing 360, peer-to-peer, and upward feedback

Request or give feedback anytime, anywhere

Coach employees on feedback best practices to improve the feedback loop

Automate feedback cycles and set reminders to ensure no one falls through the cracks
5. Track vital talent metrics.
Why it matters: Talent reviews allow leaders to develop and retain top talent.
Talent reviews should be frequent, unbiased, and rooted in data. Managers and leaders across the organization need to know who is doing the best work, who is ready for promotion, and who is at risk of leaving. Talent reviews allow leaders to track and evaluate performance, fill talent gaps, develop and retain top talent, and intervene before employees burn out or quit.
How tech can help
Talent decisions should be based on credible data that is easy to access, understand, and act upon. Performance management software can help you track talent metrics on an ongoing basis so you can make informed and strategic talent decisions.
Look for features that simplify the talent review process, such as:
Collaborative reviews that ensure transparency and consensus among leadership

Intuitive dashboards with shared insights across HR, managers, and leaders

Automated evaluations so you always have consistent, up-to-date information
6. Coach employees for ongoing development.
Why it matters: Learning and development leads to a stronger connection between the employee and their work.
Employees want to work at a company that invests in their long-term development and provides opportunities to grow. And the benefits of a strong employee development program are mutual. Employee learning and development should be prioritized, supported, and organization-wide. Successful employee learning and development leads to increased engagement, better employee performance, and happier, more motivated workers.
There are multiple ways to invest in employee development. But one of the most powerful tools is coaching.
How tech can help
In order for coaching to be effective, it needs to be integrated into your organizational culture. That's where technology can make a big difference.
Use a performance management system to build coaching into the fabric of your company culture.
Look for features that help you:
Provide feedback training to both coaches and employees

Communicate expectations clearly across teams
Document and refer to past performance conversations and data to power productive coaching sessions
7. Understand the big picture behind performance.
Why it matters: understanding performance trends helps managers effectively coach employees and make strategic people decisions.
A deep understanding surrounding performance needs to be in place before managers can adequately coach and motivate employees. When managers can see performance activity, it's easier to mentor their talent and drive success. Plus, smarter people decisions can be made as leaders can identify high-risk employees and low performers to shape a retention strategy before it's too late.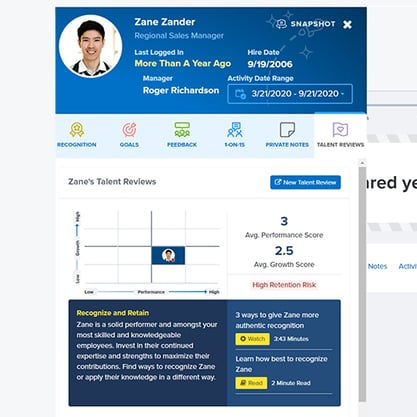 How tech can help
With the right tools, leaders can connect the dots on employee performance, all in one place. And that's where technology comes in. The right software can help you identify where performance is excelling or lacking and understand performance risk. Tools like performance snapshot and flight risk help leaders uncover big picture trends that actively affect performance.
Look for features that:
Highlight employee performance to tell a clear, succinct story.

Create automated, intuitive dashboards that are easy for leaders to understand

Identify high-risk employees so leaders can intervene with informed people decisions.
12 performance management system questions to ask when evaluating a solution
When picking out the right solution for you, there are many things to consider. That's why we've compiled a list of 12 questions you should ask to get the most out of your performance management system.
Big-picture evaluation questions
When first adopting a performance management system, it's important to understand the why behind your performance initiatives. By doing this, you can uncover the opportunities and obstacles that you want your performance management system to help you navigate. This will help you gain insight into whether your system is the right fit or not.
1. Why is it important for us to have a performance management system?
Effective performance management is essential to driving business success. It includes giving and receiving feedback, holding regular performance reviews, recognizing employees, and more. But juggling all these performance activities is time-consuming—for both managers and employees—and can easily overwhelm leaders, resulting in miscommunication, dropped balls, and frustration all-around.
A performance management system can help leaders organize and prioritize performance management activities to enable better outcomes and aligned actions. But what solution you should choose will depend on why you're investing in a performance management system.
This will help guide your decision-making and position the business case to other stakeholders.
2. What should our performance management system do for us?
Similarly, it's important to consider the specific features and capabilities you're looking for in a performance management system. Choosing a system with lots of bells and whistles isn't always the right move if it doesn't provide the core functions you need to improve performance and streamline your processes.
Consider what your performance management goals and needs are. What do you hope to gain from the software?
This might include:
Communicating expectations and accountabilities

Aligning goals with the organization

Engaging and retaining top talent

Developing and coaching employees

Promoting critical thinking, agility, and innovation

Motivating employees toward success
3. What's going well with our current system, and what's not?
Assess what processes are working well and identify what needs improvement so you can pick a performance management solution that addresses those gaps and enhances your successes.
4. What opportunities do we have now vs. in the future?
As you evaluate your current state of performance management, look for short-term and long-term opportunities to drive business outcomes.
For instance, a performance management system can help you fill obvious gaps in the short-term, such as transitioning from annual reviews to quarterly 1:1s, making employee recognition public, and creating team-based goals to further align employee efforts with the organization.
All of these systems can help organizations understand what performance looks like throughout the year and begin connecting the dots from employee to business success.
But performance management systems can also help you take advantage of long-term opportunities like:
All of these describe a more ongoing, iterative process that allows you to understand, motivate, and coach to higher performance across your organization.
Software Evaluation Questions
Use these performance management system questions to drill down to the specific software capabilities and features you need and help you choose a system that aligns with your goals.
5. What aspects of performance management does the system support?
Make sure the performance management software you're evaluating provides all of the tools your managers need to better serve their teams. Sit down with team leaders and ask what kinds of software they need to fulfill their managerial responsibilities.
Could they benefit from a

peer-to-peer recognition

board to make sure their employees feel valued?

Do they need a transparent goal setting and tracking system to ensure team alignment?

Would

one-on-one meeting technology

foster better manager-employee communication?

Would 360 feedback help both them and their employees grow and develop in their roles?
The performance management software you choose should be a benefit (not a burden) for managers.
6. Is the performance management software customizable to our culture?
Ideally, your performance management software will provide you with some structure and process. For example, a system could include one-on-one meeting templates and a suggested cadence for meeting. That's great, but make sure the provider you choose allows for some flexibility. Your company's culture is unique and constantly evolving. Choose a performance management software that can fit your needs now and in the future.
Take personalization one step further and find software that lets you customize employee profiles, include images, videos, or gifs in posts and updates, incorporates your company branding, and emulates your core values.
7. Does the developer use their own performance management software?
You'd be surprised how common this actually is. If a provider of performance management software doesn't use their own tools, your company shouldn't be either. Enough said.
8. Does the performance management software integrate with other systems?
The last thing your managers need are more systems, more passwords, and more hassle. Ask your potential software provider if their tools integrate with other systems your managers use in their everyday workflow, like chat apps for example.
At the very least, your performance management software should integrate with your HRIS so all employee data stays up to date. If your potential provider doesn't have the integration you need, see if they'll make it happen for you.
Service Evaluation Questions
Finally, it's important to evaluate the supporting service behind the software.
9. How easy is it to set up a performance management system?
The easier it is to implement a program, the easier it will be to get buy-in from managers and employees. Look for a performance management system that is easy-to-use and has strong customer support to train and onboard new users, answer questions, troubleshoot issues, and spur adoption.
10. Can we ensure manager and employee adoption of the system?
The last thing you want to do is invest in performance management software that your managers and employees don't use. Ask potential software providers how they encourage organizational adoption. The best systems will provide admins with log-in and usage stats, give you the ability to nudge users who haven't been active in a while, display recent activity for all employees to see.
But, if we're being honest, none of the above should be needed to drive adoption. The best performance management software will be a seamless no-brainer for managers and an engaging solution for employees, earning adoption all on its own. Ask software providers if they offer a free trial of their performance management system to see if it's up to snuff for your workforce.
11. What is the vendor's level of support?
When implementing a new system, you want to know your vendor has your back. Some vendors are only involved with the initial software installment and setup—then they leave it up to you to figure out how to use it, how to communicate the system to your employees, and how to get the most of its capabilities.
This means you're less likely to enjoy the full value and potential of your new system. Look for a vendor that offers reliable service every step of the way—from sales conversations and new customer calls to implementation plans to coaching support along the way.
When evaluating vendors look for things like:
Software and user reviews

Support team ratings or "time to respond"

Availability of support (chat, phone, email)

NPS score of customers

Resources like webinars and help libraries
12. Can the software provider help us measure impact?
Any performance management software worth its salt can prove its impact. Make sure your system can measure what's important to you and your leadership team. Ask potential providers if they can show that public recognition makes employees feel valued. Or if transparent goal setting and tracking lead to greater organizational alignment.
What are the benefits of performance management software?
An effective performance management software can provide a lot of value to your organization. With the right tools, leaders can streamline their coaching initiatives to make them common and continuous in the workplace. As this happens, leaders can close skills gaps, increase revenue, and improve the customer experience.
Plus, employees will benefit from increased engagement, improved performance, and a foundation of trust created between them and their leaders from continuous feedback and coaching. Valuable performance management software has the potential to improve all facets of the workplace to best drive success in a new world of work. When you adopt the right software, the benefits will be clear and expansive across the company, from top to bottom


---
Haven't found the right performance management software? Evaluate Quantum Workplace's toolset to see if it's right for your organization. Click below to learn more.