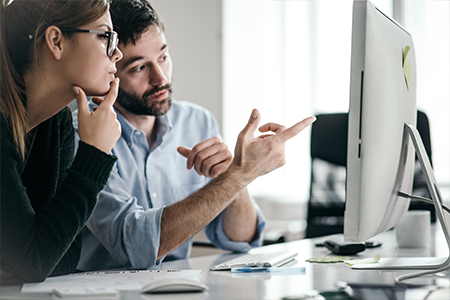 Online systems have revolutionized the way companies look at, measure, and manage employee performance. Effective software makes the entire process easier for administration, engaging for employees—and most importantly—frictionless for managers.
But how do you identify which performance management software is best? Finding the right performance management software provider isn't a process to take lightly; be sure to do your research.
Here are 12 performance management system questions to ask when evaluating software solutions.
Self-Evaluation Questions
Before you compare specific performance management solutions, it's important to understand your current performance processes and evaluate what you're trying to achieve with a new system. Use these questions to assess where you are and where you want to go:
1. Why is it important for us to have a performance management system?
Effective performance management is essential to driving business success. It includes giving and receiving feedback, holding regular performance reviews, recognizing employees, and more. But juggling all these performance activities is time-consuming—for both managers and employees—and can easily overwhelm leaders, resulting in miscommunication, dropped balls, and frustration all-around.
A performance management system can help leaders organize and prioritize performance management activities to enable better outcomes and aligned actions. But what solution you should choose will depend on why you're investing in a performance management system.
This will help guide your decision-making and position the business case to other stakeholders.
2. What should our performance management system do for us?
Similarly, it's important to consider the specific features and capabilities you're looking for in a performance management system. Choosing a system with lots of bells and whistles isn't always the right move if it doesn't provide the core functions you need to improve performance and streamline your processes.
Consider what your performance management goals and needs are. What do you hope to gain from the software?
This might include:
Communicating expectations and accountabilities
Aligning goals with the organization
Engaging and retaining top talent
Developing and coaching employees
Promoting critical thinking, agility, and innovation
Motivating employees toward success
3. What's going well with our current system, and what's not?
Assess what processes are working well and identify what needs improvement so you can pick a performance management solution that addresses those gaps and enhances your successes.
4. What opportunities do we have now vs. in the future?
As you evaluate your current state of performance management, look for short-term and long-term opportunities to drive business outcomes.
For instance, a performance management system can help you fill obvious gaps in the short-term, such as transitioning from annual reviews to quarterly 1:1s, making employee recognition public, and creating team-based goals to further align employee efforts with the organization.
All of these systems can help organizations understand what performance looks like throughout the year and begin connecting the dots from employee to business success.
But performance management systems can also help you take advantage of long-term opportunities like:
All of these describe a more ongoing, iterative process that allows you to understand, motivate, and coach to higher performance across your organization.
Software Evaluation Questions
Use these performance management system questions to drill down to the specific software capabilities and features you need and help you choose a system that aligns with your goals.
5. What aspects of performance management does the system support?
Make sure the performance management software you're evaluating provides all of the tools your managers need to better serve their teams. Sit down with team leaders and ask what kinds of software they need to fulfill their managerial responsibilities.
Could they benefit from a peer-to-peer recognition board to make sure their employees feel valued?
Do they need a transparent goal setting and tracking system to ensure team alignment?
Would one-on-one meeting technology foster better manager-employee communication?
Would 360 feedback help both them and their employees grow and develop in their roles?
The performance management software you choose should be a benefit (not a burden) for managers.
6. Is the performance management software customizable to our culture?
Ideally, your performance management software will provide you with some structure and process. For example, a system could include one-on-one meeting templates and a suggested cadence for meeting. That's great, but make sure the provider you choose allows for some flexibility. Your company's culture is unique and constantly evolving. Choose a performance management software that can fit your needs now and in the future.
Take personalization one step further and find software that lets you customize employee profiles, include images, videos, or gifs in posts and updates, incorporates your company branding, and emulates your core values.
7. Does the developer use their own performance management software?
You'd be surprised how common this actually is. If a provider of performance management software doesn't use their own tools, your company shouldn't be either. Enough said.
8. Does the performance management software integrate with other systems?
The last thing your managers need are more systems, more passwords, and more hassle. Ask your potential software provider if their tools integrate with other systems your managers use in their everyday workflow, like chat apps for example.
At the very least, your performance management software should integrate with your HRIS so all employee data stays up to date. If your potential provider doesn't have the integration you need, see if they'll make it happen for you.
Service Evaluation Questions
Finally, it's important to evaluate the supporting service behind the software.
9. How easy is it to set up a performance management system?
The easier it is to implement a program, the easier it will be to get buy-in from managers and employees. Look for a performance management system that is easy-to-use and has strong customer support to train and onboard new users, answer questions, troubleshoot issues, and spur adoption.
10. Can we ensure manager and employee adoption of the system?
The last thing you want to do is invest in performance management software that your managers and employees don't use. Ask potential software providers how they encourage organizational adoption. The best systems will provide admins with log-in and usage stats, give you the ability to nudge users who haven't been active in a while, display recent activity for all employees to see.
But, if we're being honest, none of the above should be needed to drive adoption. The best performance management software will be a seamless no-brainer for managers and an engaging solution for employees, earning adoption all on its own. Ask software providers if they offer a free trial of their performance management system to see if it's up to snuff for your workforce.
11. What is the vendor's level of support?
When implementing a new system, you want to know your vendor has your back. Some vendors are only involved with the initial software installment and setup—then they leave it up to you to figure out how to use it, how to communicate the system to your employees, and how to get the most of its capabilities.
This means you're less likely to enjoy the full value and potential of your new system. Look for a vendor that offers reliable service every step of the way—from sales conversations and new customer calls to implementation plans to coaching support along the way.
When evaluating vendors look for things like:
Software and user reviews
Support team ratings or "time to respond"
Availability of support (chat, phone, email)
NPS score of customers
Resources like webinars and help libraries
12. Can the software provider help us measure impact?
Any performance management software worth its salt can prove its impact. Make sure your system can measure what's important to you and your leadership team. Ask potential providers if they can show that public recognition makes employees feel valued. Or if transparent goal setting and tracking lead to greater organizational alignment.
---
Haven't found the right performance management software? Evaluate Quantum Workplace's toolset to see if it's right for your organization. Click below to learn more.