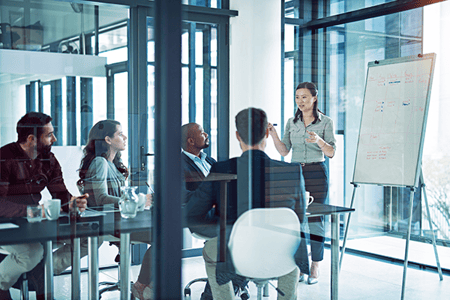 Many organizations have kicked the annual employee performance review to the curb in favor of ongoing performance conversations.
But that sentiment has yet to spread to a few key talent strategies—particularly the talent review.
A stale talent review process (or no process at all!) can be detrimental to your organization's bench strength. You need a process that allows you to keep up with talent gaps and opportunities. It should enable you to identify, develop, and retain top talent.
When done well, talent reviews can fuel the future success of an organization. They can help leaders put the right people in the right roles at the right time.
What is a talent review?
A talent review is an important meeting where leaders and managers come together to assess the state of their talent. Talent reviews help identify who's doing the best work, who's ready for promotion, and who might be a retention risk.
Here are five talent review best practices guaranteed to help you optimize your approach!


1. Make sure your talent review process is agile.
You can't understand your people, their performance, and your opportunities if you're only discussing talent once a year. Your talent review process needs to be more agile.
Your organization and your employees are dynamic. They have ongoing needs, challenges, and risks that change throughout the year. You don't want to ignore these shifts until your next talent review rolls around. If you do, you risk losing your most valuable employees.
We recommend conducting talent reviews quarterly and as key positions open up. This frequency allows you more flexibility and opportunity. It keeps talent conversations (and the data behind them) top of mind, so leaders can easily make strategic talent decisions.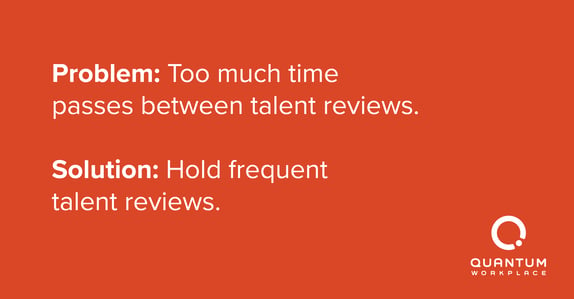 2. Evaluate talent at all levels of the organization.

Most organizations only conduct talent reviews at the Director level and above. But this approach is limiting and disengaging. There are employees in every department—at every level of your organization—who have the potential to lead.
For example, you might have a talented entry level developer with the right skills and ambition to someday lead a large team. But if you can't identify this talent and put some thought behind engaging and developing them for the future, they are likely going to find a better opportunity elsewhere.
If you limit your talent reviews to the top levels of your organization, you'll miss out on the opportunity to engage and develop rising talent. Talent reviews should be happening at all levels, and managers should be empowered to take strategic talent actions from the start.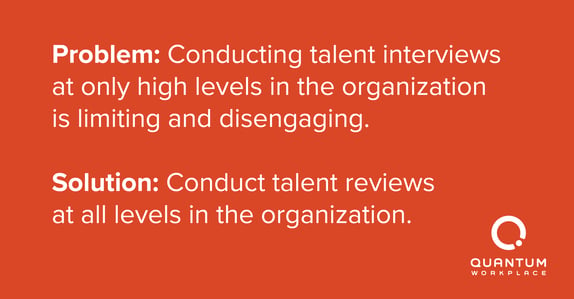 3. Encourage collaboration and calibration.

The modern organization is less hierarchical and more collaborative than ever before. Employees often interact with cross-functional teams and other leaders. Your talent review process should account for these relationships and experiences.
Make your talent reviews more collaborative by offering other leaders the opportunity to contribute to employee reviews. An employee's rating or evaluation should not be based solely on their manager's perception. Encourage leaders to vet and challenge each other's opinions—this helps to reduce unwanted bias and politics that often creep into important talent decisions.
You should also find a way to make talent review data readily accessible to leaders across the organization. There could be a rising star on one team that would be perfect for a new role on another team—but if the data isn't being shared, you're going to miss that opportunity.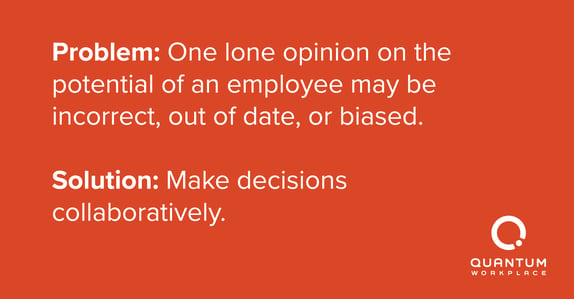 4. Root talent decisions in better data.

Many organizations use less-than-reliable data to fuel important talent decisions. The 9-box, or some form of a performance and potential matrix, has become a widely accepted practice for rating talent. But there are many issues with this approach.
Managers shouldn't be putting employees into a box to rate them—they should be providing good data around a number of factors, such as:
Concrete examples of good performance
Goal accomplishment and progress
Identification of unique traits and skills
Information about employee growth trajectory
Feedback from career development conversations
Information about employee retention risk
Managers need to be more intentional about thinking about, documenting, and sharing this kind of data throughout the year. They need to be in touch with employee needs and perceptions, which are dynamic and evolving—they change much more often than annually.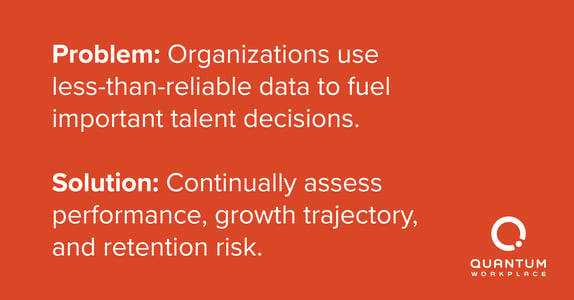 5. Rely on technology to help carry the load.
You might think frequent and collaborative talent reviews sound like a lot of work. That's because today's talent reviews are labor intensive and time consuming.
Leaders spend hours upon hours manually gathering, organizing, and presenting the data back to reviewers. They spend more time collecting data than they do analyzing and acting upon it.
But this doesn't have to be the case! You need to find technology that supports your efforts and that creates efficiencies in your talent review process. Find a tool that:
Helps you capture talent data throughout the year
Promotes ongoing collaboration and discussions among leaders
Provides a real-time snapshot of your entire talent pool
Educates you on talent development best practices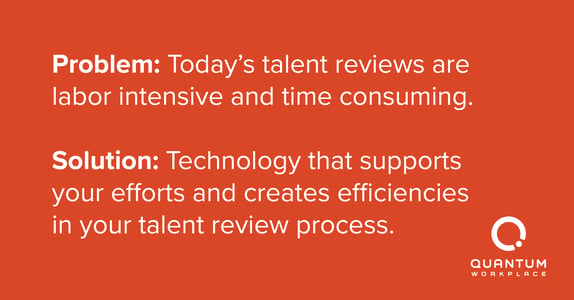 ---
The talent review is just one of six steps needed to know and grow your talent pool. Download our ebook, 6 Steps to Knowing and Growing Your Talent Pool, to learn about the other five steps!