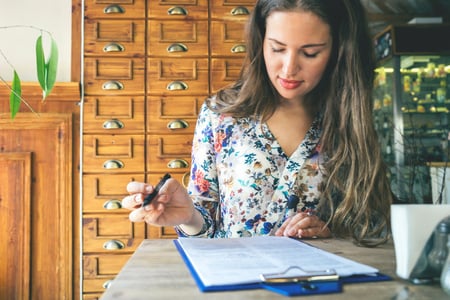 Not all employee engagement surveys are created equal. Our experts say there are certain employee survey questions you MUST be asking when it comes to measuring employee engagement and satisfaction.
If you are looking to refresh your employee engagement survey this year, you're in the right place.
We've compiled a list of expert-recommended questions from our in-house team of I-O psychologists!
Employee Survey Questions About Employee Engagement Outcomes
Employee engagement is the strength of mental and emotional connection that employees feel toward their places of work. Our e9 model measures engagement using a set of nine survey items that tap into work, team, and organizational engagement. The following three questions can help you evaluate employees' connection to work.


1. Would you recommend this organization as a great place to work?
This question is super similar to Net Promoter Score (a simple, widely used measure of customer loyalty). Similarly, this question seeks to measure not just employee satisfaction or connection to the organization, but whether employees like your organization enough to tell their friends about it. Our I-O psychologists have tested this item annually, and it consistently has high correlation with engagement.
2. Are your immediate coworkers committed to the organization's goals?
Commitment to organizational goals increases the likelihood that employees are aligned toward achieving a common outcome. Perceiving that immediate coworkers are committed can give employees a sense of tactical and strategic solidarity: team members are working with—not against—each other.
3. Do you find your work engaging?
It is often beneficial to be as direct and transparent as possible when asking employees questions about a specific topic. In this case, it is highly appropriate to ask about perceived employee engagement within an employee engagement survey.


---
Employee Survey Questions About Career Growth and Development
Do employees have the opportunities they want to learn and grow? Our 2019 Employee Engagement Trends Report found employee perceptions around development to have a high degree of uncertainty. While growth is particularly important among younger employees, more tenured employees might be looking for different types of opportunities.
4. Do you have career growth and development opportunities at this organization?
Employees need clarity around their career path. Do employees understand the direction they're headed? What opportunities are they looking for? If they can't see a growth path at your organization, they're likely to find it somewhere else.


---
Employee Survey Questions About Communication
Communication is the lifeblood of an organization. It builds trust, ensures alignment and understanding, fosters good relationships, and improves morale and efficiency. These next two survey questions target two of the toughest communication challenges.
5. Do you think your opinions count at work?
Nobody wants to work somewhere they aren't heard. It's important that employees have a chance to speak their minds. This survey question can help you understand the organization's receptivity to feedback and new or different ideas.
6. When the organization makes changes, do you understand why?
Change within an organization can lead to a lot of uncertainty among employees: How will this change affect me? What does it mean for my team, my goals, my work, etc.? In uncertain times, leaders can shy away from communication. Many prefer to postpone any communication until the dust has settled. However, both of these tendencies only increase anxiety among employees. This item puts the organization to the test and begs the question, "How do you handle strategic, and at times difficult, communication?"


---
Employee Survey Questions About Resources
Your employees' day-to-day can be greatly impacted by the tools and information they have or don't have at their disposal. Think about Maslow's hierarchy. A sense of belonging, such as the relationships with coworkers and managers, and self-actualization, such as personal growth and development are great. But if your basic needs aren't met, you're not going to survive.
7. Do you have the materials and equipment you need to do your job?
One of the best things about this question is that it can quickly bring to light what resources employees need, and hopefully, these can be quick wins for making improvements. While tackling equipment needs can come with expenses, it is often a simple problem to solve, rather than more complex issues like feeling valued or improving communication.
8. Do you the information you need to do your job?
Similar to the above, this item could be a quick win. If information isn't available, what processes or communication loops need to be added? It can also uncover deficiencies in training or organizational knowledge.


---
Employee Survey Questions About Individual Needs
Revisiting Maslow's hierarchy, recognition and work-life balance are two of employees' basic needs in the workplace. If they feel undervalued or are constantly torn between getting ahead at work and spending time with their family, it's unlikely they'll be engaged.
9. When you contribute to the organization's success, do you feel recognized?
Our research shows that, even among America's Best Places to Work, employees don't feel recognized. Use this employee survey question to understand whether employees feel valued.
10. Does your job give you the flexibility to meet the needs of your personal life?
Do your employees feel like robots or people? Our research shows employees are 20 percent more engaged when they have better work-life balance.


---
Employee Survey Questions About Manager Effectiveness
You know the old adage: Employees leave managers, not companies. While we know managers aren't the only reason employees leave, managers certainly play a critical role in employee engagement.
11. Do you regularly receive constructive performance feedback from your manager?
Constructive feedback is critical to employee growth. The success of feedback interactions can indicate the health of an employee-manager relationship and the ability of a manager to drive performance.


---
Employee Survey Questions About Team Dynamics
How a team functions as a unit can be incredibly engaging or disengaging. You need to know if your teams are operating effectively.
12. Are goals and accountabilities clear to everyone on your team?
Clear communication is fundamental to the success of any team, and among the most important factors to be clearly communicated are individual and team goals. Employees need a clear understanding about who is accountable for achieving, monitoring, and updating goals. Establishing ownership can also empower individual team members and reduce role ambiguity.
---
Ready to build your next employee survey? Take advantage of our best practice Pulse Survey Templates, created by our People Insights team.