Are employees leaving your organization at a faster rate? Are new employees struggling to get ramped up? Are you noticing that some of your best employees are exiting around the three-year mark?
All of these scenarios—and more—can be addressed and prevented with employee lifecycle surveys.
Lifecycle surveys are a foundational block in your employee listening strategy. How employees feel about your organization may change over time. By surveying your employees at specific times in their tenure, you're able to collect targeted listening data. Then, you can use that data to uncover the true meaning behind your employee voice.
In this article, we'll cover:
What employee lifecycle surveys are
Why they're important
How to start designing and launching lifecycle surveys
How to analyze and act on your lifecycle survey data
Why do we need to use employee lifecycle surveys?
Organizations can use lifecycle surveys to understand what the employee experience is like at specific points in their tenure. Employee lifecycle surveys provide you with the listening data you need to proactively and reactively address employee concerns.
Not to mention, lifecycle surveys can provide you with tangible insight into areas where your employee experience can be improved.
For example, you might implement an exit survey strategy if you find that employee turnover is increasing. The data from your exit surveys can help you identify and address those turnover trends.
Lifecycle surveys can help you answer organizational questions by providing listening data about:
Role fit, clarity, and expectations
Manager effectiveness and team dynamics in onboarding
Job satisfaction and likelihood to recommend
Improvement suggestions
Reasons for joining and leaving the organization

When should we use lifecycle surveys?
The most common employee lifecycle markers to evaluate are acquisition, onboarding, and exit. The employee experience can look remarkably different at these three stages.
1. Candidate experience
Evaluating the candidate experience can help you understand the strengths and opportunities of your recruiting and interview process. It can also shed light on how your employer brand is being perceived in the talent acquisition process.
You can use candidate experience surveys to assess anything from your application process to their experience with your recruiters and hiring managers, to their assessment of your values and benefits.
2. Onboarding effectiveness
How effective is your employee onboarding process? Are employees able to get up and running quickly? Do they feel they have the tools, support, and knowledge they need to do their job well?
By surveying in your onboarding process, you can gain key insights into areas that you're doing well, and new opportunities to improve.
3. Employee retention and turnover
Why are people leaving the organization? Are there trends within specific branches or departments?
New employees usually start off highly engaged, but after the first year employee engagement tends to drop significantly before going back up after the 5-year mark.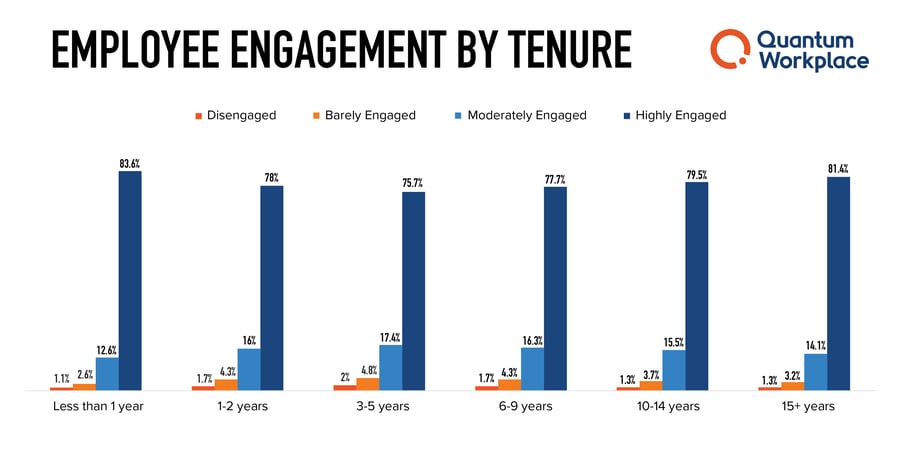 Lifecycle surveys can help you understand how to retain employees beyond that 3-5 year mark. When there are new or consistent trends in retention and turnover, lifecycle surveys can help you pinpoint a specific opportunity to improve retention.

For example, your exit survey may uncover that employees don't see any career or development opportunities in your organization, causing them to look elsewhere. Or, perhaps they don't feel as though their hard work is being recognized.
How to Design Your Employee Lifecycle Survey
Once you understand the 'why' behind your listening efforts, you're better equipped to design, implement, and evaluate employee lifecycle surveys.
For more than 20 years, Quantum Workplace has partnered with thousands of organizations to launch countless lifecycle surveys. Over that time, we've optimized the lifecycle survey design to collect the most meaningful feedback from your employees.
Let's take a look at the steps to get started.
1. Choose Your Survey Tool or Partner
When designing your lifecycle survey, the first thing you need to do is determine the platform you're going to use.
Free survey tools can give you some of the flexibility and reporting you need to start collecting important employee experience data.
However, larger or more complex organizations can benefit immensely from a lifecycle survey software that utilizes best practice, but fully customizable templates and automation.

Ideally, your employee survey platform will allow you to connect the data across your engagement, lifecycle, and pulse surveys. This will help you get a more holistic view of the employee experience—and enable you to take more meaningful action.
The right lifecycle survey tool can give you:
Best practice and customizable templates: Your data is only as good as your inputs. And not all survey questions are created equal. By utilizing science-backed and proven employee lifecycle templates, you're one step closer to getting data that can drive meaningful action within your organization.


A single data source: When siloed teams, departments, and locations are sending disparate surveys or utilizing varying tools, it becomes impossible to identify meaningful organizational trends. With a lifecycle survey tool, you'll be better able to collect, analyze, segment, and act upon your survey results. When there is consistency across your survey items, you can identify organizational-level and departmental-level trends with easy data segmentation by demographic and pre-installed filters.


Easy integrations: By integrating your survey tool with your HRIS tool, you can easily trigger surveys at key moments—like when a resignation is flagged in your HRIS system. Your data is automatically updated without your HR team having to lift a finger.


Automation: Timing is critical when it comes to sending lifecycle surveys. If you send surveys too early or too late, you might miss out on critical information about your employee experience. It can be hard for employees to remember how they felt at specific moments in time. Automation can save HR an enormous amount of time and effort. With automation, surveys are sent the moment an employee has joined, exits, or hits a specific milestone in their journey. Automation ensures surveys are launched to the right employee at the right time.


2. Choose Your Lifecycle Survey Question Types
It may seem counterintuitive, but before you start building surveys, you need to understand the different question types.
The way you ask your question is just as important as the question itself. The right question type can help you collect and scale your data into meaningful reports.
You may be tempted to frame all of your questions as open response so you can get the most feedback from your employees. But open response questions are hard to quantify at scale. Not to mention, participants may feel fatigued by having to fill in answers manually.
To get the best response and reportable results, the majority of your lifecycle survey should utilize:
Multiple choice: A predefined list of options from which you can select one.
Multiple select: A predefined list of options from which you can select more than one.
Likert scale

:

A 6-point sliding scale designed to capture favorability beyond a simple yes or no answer.
Yes/no: A single choice question for simple responses.

3. Build Your Lifecycle Surveys
Now that you have your survey tool and survey question types in mind, it's time to start designing your lifecycle survey questions.
New Hire Surveys
New hire surveys are designed to understand the experience of your newest employees at a structured cadence during their onboarding. These surveys are most effective when they're sent as part of a series at:
1 week
30 days
90 days
180 days


New Hire Survey (1 Week)
The first week of employment can be a whirlwind. And many employees are still in the 'honeymoon' stage of their tenure. The one week new hire survey is an important first step for your employee listening strategy. This survey can not only help you understand more about your organization's onboarding process, but can be the first time you show your new employee how much their unique voice and feedback matters to affecting change at the organization.
New Hire (1 Week) Survey Questions
I understand what is expected of me.
I am able to do what is expected of me with my current skills and abilities.
I feel comfortable reaching out to my coworkers whenever I have questions.
The goals and objectives of my onboarding have been clear.
I have the materials and equipment I need to do my job.
I understand the benefits and policies offered to me by this organization.
I understand the organization's culture, mission, and values.
Onboarding can look very different depending on your organization's industry, location, job function, and more. While new hire surveys can absolutely be customized, standardization in your questions can help to ensure you're identifying organizational trends at a high level.
New Hire (Single Survey) for 30, 90, and 180 Days
After 30 days, your employees will have a better sense of their day-to-day role. They've had more interaction with both their larger team and the organization as a whole. So it's the perfect time to understand their employee experience.
By surveying your employees at 30 days, 90 days, and 180 days, you can understand a number of lifecycle trends.
Not only can you evaluate the lifecycle experience of single employees - but you can zoom out from this data to analyze larger lifecycle trends across departments, demographics, and more.
New Hire (Single Survey) Questions
I enjoy doing my work.
I feel accepted by my immediate coworkers.
I know I can depend on the other members of my team.
Communication is effective among people who impact my ability to do my job.
I have the materials and equipment I need to do my job.
My immediate manager cares about my development.
My immediate manager cares about me as a person.
I receive timely feedback on my work.
The training I have received so far has been effective.
My job allows me to utilize my strengths.
I clearly understand how performance is measured.
The organization's onboarding process is effective.
I feel valued as an employee at this organization.
My experiences so far have matched my expectations.
I recommend this organization as a great place to work.
What is one thing we should START doing to improve how we onboard new employees?
Exit Surveys
Understanding why your employees decide to leave is a critical first step in understanding trends in your employee retention, turnover, and acquisition.
But exit surveys don't just provide feedback into your own organization. A strategically designed exit survey can also help you understand where your employees are going next, and what is most appealing to them about that position. You can use that data to ensure your organization has similar opportunities for existing employees.
Example Exit Survey Questions:
Which of the following factors contributed to your decision to leave (Check all that apply)

Lack of fair pay
Lack of career growth
Poor relationship with manager
Poor relationship with coworkers
Didn't like the role
Workload was too demanding
Felt unrecognized or underappreciated
Disagreed with company strategy
Moral or ethical conflict
Undesirable work environment
Conflict with management practices
Leaving the workforce
Other (leave a comment)

Please elaborate on why you decided to leave:
I saw professional growth and career development opportunities for myself in this organization.
I was paid fairly.
My job gave me flexibility to meet the needs of both my work and personal life.
My immediate manager cared about me as a person.
Everyone here is treated fairly regardless of race, gender, ethnic background, disability, sexual orientation, or other differences.
I felt valued by leaders at this organization.
While the above questions represent a great place to start, remember that your exit survey questions can be tailored to your organization.
4. Communicate the Importance of Your Surveys
Now that your surveys are designed and built, it's time to start communicating their value within the organization.
Lifecycle surveys are always on in the background. Lifecycle surveys, more than some other types of surveys, need to be communicated regularly.
In order to get meaningful data from your employees, lifecycle surveys need to be sent on a regular cadence and to a consistent group of employees. This requires you to gain buy-in from the larger organization.
Start by educating your organization on the importance of lifecycle surveys. Communicate their value by showcasing the types of questions you plan to ask, and how that data can be used to drive change.
Loop in your managers and team leads and allow them to participate in the design of the survey. Or, invite them to customize questions so they feel bought into the data they'll receive.
How to Analyze Your Lifecycle Survey Analytics
Now that your surveys are running and you've been collecting data for some time, it's time to start analyzing your employee data.
In this section, we'll cover some best practices for analyzing your lifecycle survey analytics.
1. Identify Ownership for Analytics
Lifecycle surveys, especially when they're automated, can be easy to set and forget. That's why it's critical to assign ownership not only over the design and development of your surveys, but for regularly reviewing survey analytics.
Lifecycle surveys can enable you to be proactive in addressing employee concerns. But only if you have an established cadence for review. Reviewing your survey results quarterly is a great place to start.
Lifecycle surveys don't have to live exclusively under the HR or People Analytics umbrella. With the right training and education, you can empower leaders to glean insights from data specific to their teams or department.
2. Analyze Your Survey Data
When all of your survey data is in one place, it's time to take a look at trends. There are a few ways you can slice and dice your lifecycle survey data to better understand the employee experience.
Review trending data over time: Take a step back and review your survey trends over time. How do this quarter's results compare to last quarter's results? What does your data look like year over year? Are there events or changes within the organization that align with these survey trends?


Review trending data across surveys: If your employee listening strategy involves the use of other survey types, like employee engagement surveys and pulse surveys, you can start to compare trends in data across all of your survey types. You might find that your lifecycle surveys combined with your engagement surveys are showcasing a need for more career growth and development or flexibility, for example.


Utilize demographics: The benefit to utilizing a survey software is that your data isn't just going to live in a silo. You can start to segment your employee lifecycle data by microculture including job function, department, age, gender, race, and more.
3. Turn Your Survey Results to Action
Once you've identified and reported on your lifecycle trends, it's time to turn your data into action.
Now that you're armed with your survey data, it can be difficult to understand where you can use that data to have the most impact.
We recommend focusing your action with the following tips:
Focus on answering important business and talent questions: You started collecting survey data for a reason. Perhaps it was to improve employee productivity. Or maybe you wanted to reduce turnover. If you started out with a focus area, tying your survey data back to those bottom-line business tangibles can be a great place to start.


Equip your audiences with the tools they need to impact engagement: Coach managers and leaderships on the appropriate ways to use information from surveys. Change doesn't always have to happen from the top-down. With the right buy-in, you can start to equip your team with the tools they need to make change within the team or department level as well.


Act on opportunities that surface across your listening channels and connect that action back to employee listening: The right employee listening strategy means you aren't just collecting data, but you're using that data to drive change, and then communicating that change across the organization. Communicate your survey results beyond your leadership teams. Show your employees that you're hearing what they're saying and help them understand the steps you're taking to address their concerns. In this way, you can start to spin the employee listening flywheel and build a continuous feedback loop.


4. Evolve Your Survey Over Time
Things change fast. Talent trends are changing all the time and your lifecycle surveys need to be able to keep up. Consider a review of your lifecycle survey any time there is a major change within your organization. At a minimum, your survey design and survey questions should be reviewed annually.
Now is also a great time to think about how your lifecycle surveys can align with your other survey types to build an effective employee listening strategy.
Lifecycle surveys are just one element of your employee listening strategy. An intentional employee listening strategy helps you uncover the true meaning behind your employee voice. It helps you confirm or dispel what you thought you knew, leveraging actionable data to drive improvements.
---
Learn more about how to design your employee listening strategy from start to finish with our downloadable ebook: The Employee Listening Flywheel