Employee listening is more than a one-off engagement survey. The pace of change in today's organizations requires a more continuous approach to understand and act on what happens in between employee engagement surveys. Now, more than ever, organizations need to develop a solid employee listening strategy so they're moving the needle on employee success.
The entire organization wants to see success, from the individual to the organizational level. But leaders don't always know what employees need to be successful. That's why asking is critical.
Employees want to tell you about their experience. They want to help you understand what they need and why so they can perform to the highest standards. In turn, they can help the organization achieve its goals.
But if you can't uncover the meaning behind your employee experience surveys, you'll struggle to engage employees and reach business success. Without finding meaning, you can't impact what matters most.
Quantum Workplace research shows that employees in engagement-focused organizations are 2.4x more likely to be Highly Engaged at work.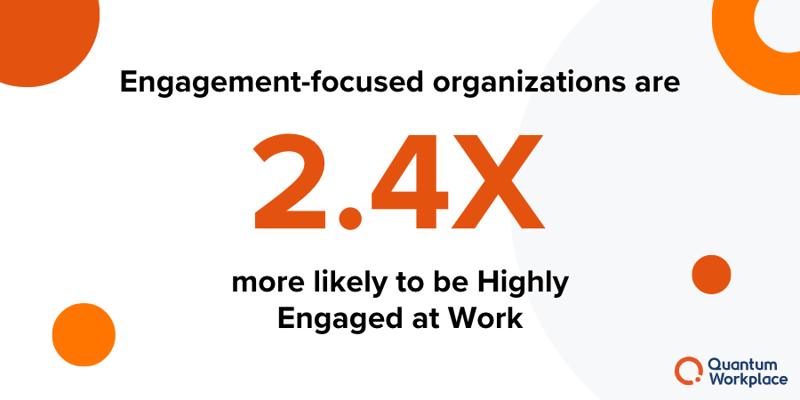 That's why it's important to aim for engagement. To get there, you need a robust employee listening strategy. Listening strategies that consistently uncover the true meaning behind the employee experience consider survey frequency, communication tactics, and the ability to take action.
This helpful guide will answer your questions about employee listening and guide your strategy.
What survey cadence is best for engagement?
How effective are leaders and managers at communicating and taking action on survey results?
How effectively are survey results used to improve the organization?
Establish Your Cadence
You'll need more than an annual engagement survey to gather the insights you need. That doesn't mean the annual engagement survey isn't important.
The annual engagement survey should help you measure overall engagement at your organization year-over-year. But it doesn't check the pulse of your employees during moments in the employee journey or when important things happen. That's why you need to survey more often.
How often should you survey? Our research shows higher levels of engagement are associated with employees being surveyed more regularly. Employees who surveyed quarterly or monthly have the highest levels of employee engagement.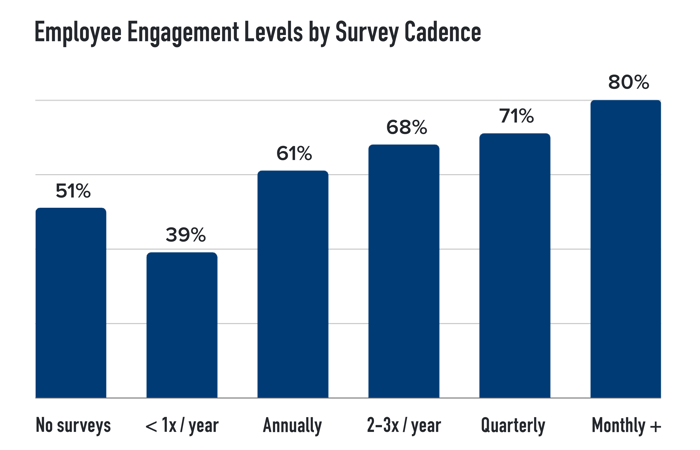 Striking balance is key though. Too many surveys can cause survey fatigue and block you from going from insights to action.
Here are some best practice recommendations for surveying employees:
Launch an employee engagement survey every year. This way, you can hear from all employees on key topics.
Use pulse and lifecycle surveys to supplement the annual engagement survey. Capture feedback at critical moments in the employee journey or on important topics.
The number of surveys you do should match how much action you can take. If you're new to feedback, start small so you can take effective action. Once you have a handle on making meaningful changes, you can launch more. The target number should be four, about one per quarter.
Curious about how new hires are reacting to onboarding? Conduct a survey. Make a significant change and want to see how employees are handling it? It might be time for a survey.
Surveying employees several times per year can help you gather critical information that will help you improve engagement. But don't forget to communicate about what you're trying to do.
Over Communicate Before, During, and After the Survey
Conducting a survey isn't enough. You need to develop a communication plan around the survey, around the results, and in connection with action.
95% of employees who say their leaders and managers are exceptional at communicating and taking effective action on survey results are highly engaged.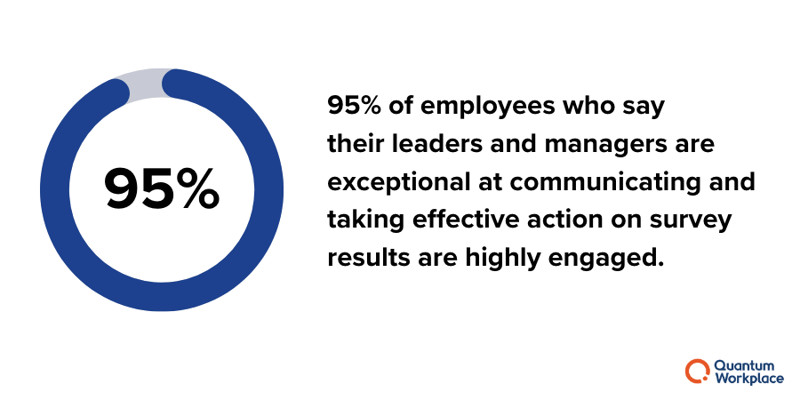 Communication is often an overlooked, crucial step in an employee listening strategy. It's easy to get excited about asking employees about their experience and caught up in reviewing the analytics. But you can't forget to communicate.
Don't know where to start with communication? Think through these things: who, what, when, where, how, and why.
Who you're surveying
What the survey is for
When the survey will be open
Where they can take the survey
How you plan to use the information
Why you want their open and honest feedback
You'll want to communicate more than once and in a variety of ways. Think email, messages, apps, intranet, fliers, and texts. Organizational psychologist Adam Grant reminds leaders that they're more likely to be criticized for under-communicating than over-communicating.
Here are some tips for communicating about your surveys:


Launch
Explain the purpose of the survey and why you want employees to take it. Help them understand why it's important that they be open and honest and how you plan to use the information.


Nudges
All of us need a reminder. Nudge employees through email, messengers, and text. Try to incorporate why it's important for employees to provide their feedback.


Close
Thank employees for providing feedback. Let them know how you plan to use the information and what they can expect.


Results
Be transparent about what you found. Show employees the results and start communicating how you plan to act.


Connections
When you make a change, tell employees how it relates to something they said or recommended. It lets employees know you're open to listening to their ideas and concerns. This helps them feel valued for their comments and be ready to relay what their experiences are like in the future.
Having a thorough communication plan will help you increase survey participation. This gets you the results you need to start strategizing and make meaningful changes.


Commit to Action

Surveying alone isn't going to fix employee engagement. You have to be willing to act to make improvements. In fact, if you only survey with no action, you may even hinder employee engagement.
In the second half of 2021, perceptions of leadership began decreasing and continued that trend through 2022. Leaders have to rebuild trust with employees, and one of the ways you can do that is to act on employee feedback. This helps leadership feel approachable and that you'll act when employees bring things to your attention.
Research on the ROI of surveys shows that 48% of employees say important changes are made at their organization based on employee feedback.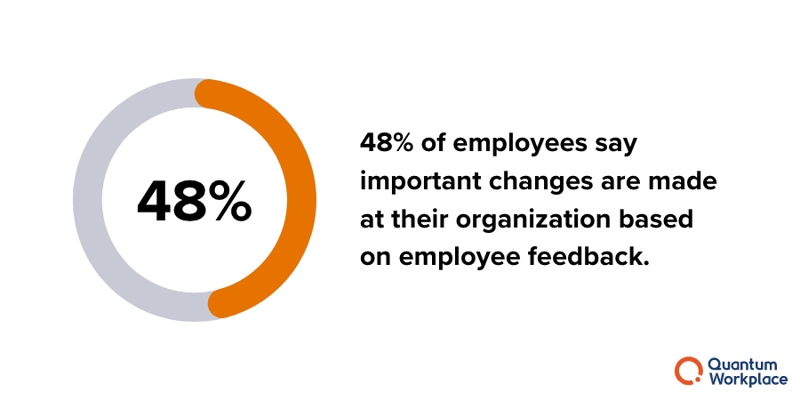 Are you making changes, but employees still don't see the connection? Maybe your communication wasn't clear that the changes were a result of employee feedback. The key is to make sure you're taking action for every survey conducted.
Here are the steps to make a strong plan of action based on survey results:
Look at your survey results. Slice and dice the data to discover connections you never would have seen otherwise.
Identify themes and patterns. This will help you focus your efforts and not feel so overwhelmed with a to-do list.
Brainstorm ideas. Create focus groups to generate more effective solutions.
Pinpoint the solutions that will have the biggest impact. Prioritize items by easy wins and long-term goals.
Outline your plan of action. Describe each step and determine who is accountable.
Changes made based on employee listening look different depending on the organization. Our research shows the top actions related to pay and benefits.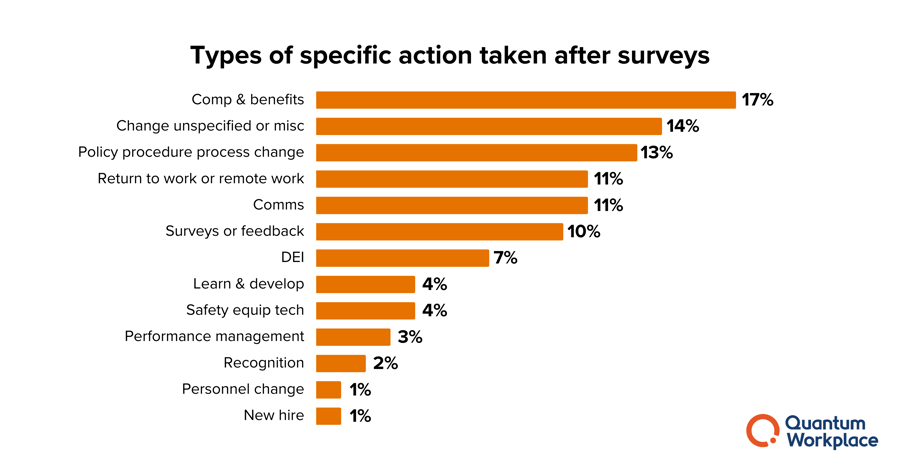 Listening to your employees matters and will help you create a culture of feedback. But our research shows only 65% of employees agree that employee engagement is a strong focus area for their organizations.
Use this research to help you invest in a robust listening strategy and create a positive employee experience that engages workers and builds a culture that attracts and retains top talent.
---
Want to keep learning? Download our complete guide to employee listening and have it sent directly to your inbox. The PDF gives you everything you need to start designing your employee listening framework including a complete list of survey questions, expert tips, and more.