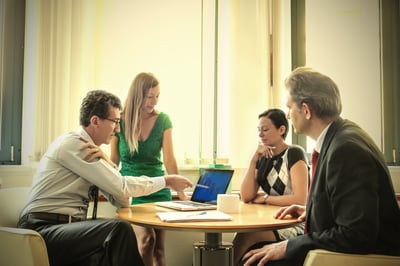 You've just completed your company's annual employee engagement survey. Now what?
Too often, the results of the survey come in, but it's unclear who is responsible for them and how they will be acted on. As a result, nothing happens and employee engagement remains stagnant or, even worse, declines.
There's little reason to survey at all if you don't act on the results.
That's where an employee engagement action plan comes in. An employee engagement action plan helps you:
Identify and discuss key engagement drivers
Commit to the changes that will have the most impact
Hold everyone accountable for the results of your employee engagement initiatives
Use the following framework to develop an effective employee engagement action plan!
1. Review your employee engagement survey results.

To create an action plan, you must understand what is and isn't working when it comes to engaging your employees. This means digging into the survey results to uncover your organization's strengths and weaknesses and identify areas of improvement.
Managers should review the results with their teams. If engagement scores are lower than expected, don't fret. The goal of a survey isn't to make your organization look good, but to help it do better.
Focus less on the scores and more on the employee feedback you received. Pay attention to any themes or patterns in the results. Use comments to put the scores in context and identify reasons you may have scored lower on certain metrics. In other words, use the feedback as a roadmap for moving forward.
2. Choose your focus areas.

Once you've completed your analyses, it's time to decide where you should focus your efforts. As a team, review the data and list out key focus areas to explore further. These focus areas will be your jumping-off point for brainstorming actionable takeaways.
Start with two to three focus areas. Discuss priorities based on the level of impact that driver will have and how much effort it will take to move the needle. A few questions to consider:
Which results could we improve with simple changes?
Which survey questions have the greatest impact on engagement?
Can any items be grouped under one theme?
What were our lowest scoring areas?
Remember: Where you focus your efforts should be a team decision. This ensures greater investment and accountability for your final commitments.
3. Brainstorm solutions.

Next, create focus groups assigned to each target area you've identified. The focus groups will work together to discuss what may be impacting the score for each item, identify possible challenges in addressing those issues, and brainstorm solutions.
This is an important step in developing a successful employee engagement action plan because a score on a survey question can only tell you so much. Bringing your team together to discuss what is happening will help you target your efforts more effectively.
Don't treat these focus groups like any old meeting. Find ways to facilitate a creative and open dialogue—perhaps using some principles of design thinking. This helps teams challenge assumptions, incorporate diversity of thoughts, and reframe problems into opportunities.
A simple way to document your discussion is to outline the following for each focus item:
How do we struggle in this area?
Why do you think we struggle in this area?
What does our team or organization do to help or hurt this outcome?
In an ideal future, how would this look different?
Next, translate those ideas into takeaways.
Review the discussion notes and start brainstorming ideas on how to improve each focus area. List as many ideas as you can, then discuss which ones the group likes best. You should come away with at least a few solutions to act on.
4. Commit to action.

Now that you've identified your top solutions, it's time to commit to your employee engagement action plan. This is a crucial step because you need to hold team members accountable in order to see a long-term impact on engagement.
Without clear commitment and accountability, most people's efforts will fizzle with time as they lose motivation or get distracted by other priorities throughout the year. As you define your action plan, be sure to include the following documentation:
Specific actions you're committing to
Who is responsible
Due dates and timelines
How success will be measured
Timeline for progress reports
By clearly outlining the action steps and who is accountable for the results, you can ensure your plan doesn't fall through the cracks.
5. Communicate progress.

Perhaps the most important part of creating and implementing your employee engagement action plan is regular communication. Share survey results and your final action plan with your employees.
Work with teams to create team goals that are specific to the actions you have committed to and the results you are hoping to achieve. Making these goals public is a simple but effective way to hold teams accountable to the results, measure progress, and share successes along the way.
As weeks and months go by, be sure to follow up with managers and employees who have committed to specific actions. Give progress updates in team meetings and town halls to help keep engagement top of mind throughout the year.
Pro Tip: Conduct periodic pulse surveys throughout the year to check in on employees and find out how well your managers are following up with their teams.


---

Employee engagement is a long-term commitment. Looking for more ideas to move the needle? Download our ebook: A New Era of Employee Engagement.