In many organizations, HR is often expected to "figure out" employee engagement. But employee engagement cannot and should not be owned by HR. It's important that everyone in the organization—senior leaders, HR, managers, and employees—understands and drives engagement.
HR does have a mission-critical role. They need to empower everyone else to play their part in making work better. This requires the right processes, tools, communication, and coaching. But everyone in the organization will need to lean in to build a thriving workplace culture.



So, who is responsible for what when it comes to employee engagement? Let's break it down.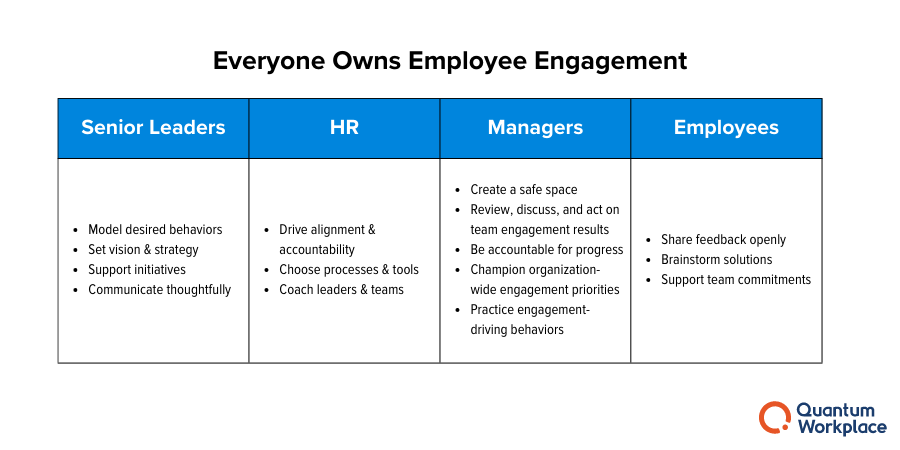 The role & responsibilities of senior leaders in employee engagement
Organizational leaders are employee engagement advocates. They are the most powerful influencers of your organization's culture. Their attitude toward engagement trickles down and influences every part of your company, setting the tone for everyone else. If leaders prioritize engagement, the rest of the organization will follow.
But what does that look like in practice?


Model desired behaviors.
Senior leaders must demonstrate an open and enthusiastic attitude toward employee engagement, feedback, and change. Leadership's posture around engagement matters in the big and small moments. It matters in the midst of an annual engagement survey. But it matters just as much (if not more) in the day-to-day. Senior leaders should model engagement-focused behaviors like coaching, regular 1-on-1s, recognition, feedback, and action planning.


Set vision and strategy.
Leaders should partner closely with HR to craft a long-term vision for an employee engagement strategy. They should help define the "why" behind engagement and connect the dots between engagement and business priorities. This helps everyone in the organization see the value and impact of employee engagement efforts.


Support engagement initiatives.
If senior leaders aren't investing their time, energy, and resources into engagement efforts, neither will anyone else. Senior leaders should help identify strategic focus areas and share how they expect the organization to invest accordingly. While many of your engagement results should be used to fuel department and team action plans, senior leaders should own organization-wide priorities. They should support these priorities through their time, budget, resources, and communication.


Communicate thoughtfully.
When it comes to employee engagement, communication sets the foundation for everything that follows. And your senior leaders should be on the front lines of communication. Leaders can help drive accountability and action across the organization by making engagement an important topic of continuous conversation. Leaders should communicate change and shifts in strategy by sharing the what and the why—and continue to keep the organization updated on progress.


---

The role & responsibilities of HR in employee engagement
HR plays an important role in aligning leaders, managers, and employees around engagement and putting strategy to action. HR should take ownership of the "how" of employee engagement. They help ensure everything runs smoothly and partner with teams to understand and drive action.


Drive alignment and accountability.
HR should work at all levels of the organization to get the input, alignment, and buy-in of everyone in the organization. With senior leaders, this means helping to define the "why" behind engagement and connecting engagement results to key business priorities and KPIs. With managers and employees, it means holding teams accountable for action and next steps.


Build effective processes and tools.
HR is the behind-the-scenes maestro of employee engagement—bringing employee engagement strategy and initiatives to life. The goal for HR is to make engagement a successful, year-round, valuable effort for everyone involved. This includes:
Choosing an easy-to-use employee engagement software that meets teams where they are
Administering employee engagement survey and other employee feedback processes
Building a communication strategy in partnership with senior leaders and managers
Creating training programs and resources around employee engagement and new technology
Supporting teams in analyzing their engagement results
Partnering with teams to implement targeted and effective action


Coach leaders and teams.
HR should be a cheerleader for leaders, managers, and teams as they navigate employee engagement. They should be a go-to source when engagement issues arise, helping others feel confident in their ability to address obstacles head-on. HR should support managers on their engagement endeavors, supplying them with useful tools and resources.


---
The role & responsibilities of managers in employee engagement
Managers are on the front lines with employees and play a key role in employee engagement. Managers should help champion the initiatives of the organization at large, while also serving as a sounding board for employee feedback and ideas. They should take ownership of their team's engagement results and guide the team toward a better future.


Create a safe space.
Employees won't share their feedback openly if they don't trust that it will be heard and respected. Managers should create a safe space for healthy conversations and open feedback. Many managers are not born with the skills to receive and respond to feedback, and this should be a developmental priority for managers and their HR teams. The goal is to create open dialogue around employee engagement all year long.


Review, discuss, and act on team results.
Managers should help guide the team through understanding and discussing team engagement results. These conversations open opportunities for teams to dig deeper into their results and brainstorm solutions for moving forward. Managers should help the team translate insights to action plans—and track and communicate progress to the team.


Stay accountable to progress.
Managers are ultimately accountable for the results and progress of their team. They should take accountability for results, action, and progress. While managers should empower individual contributors to be part of the action planning process, they should not put action back on the team's shoulders. Great managers make action planning and progress feel like important work—not more work.


Champion organizational priorities.
Team engagement results will likely reflect areas of engagement that are out of a manager's control. Managers should focus on what they can personally stay accountable to vs. what might need the attention of HR or senior leaders. That being said, managers should have a crystal clear understanding of organizational priorities and do what they can to support, champion, and communicate around these efforts with their teams.


Practice engagement-driving behaviors.
The greatest thing a manager can do to help improve employee engagement is to remember what drives engagement in the first place. Most of this is in the manager's day-to-day interactions with the team, including:
Developing strong, trusting relationships with each team member
Recognizing and celebrating strong individual and team performance
Working with employees to create motivating goals
Identifying promising individuals who are ready for new opportunities and roles


---
The role & responsibilities of employees in employee engagement
It's impossible to know if your employee engagement strategy is really working without getting honest feedback from those on the front lines. Employees need to understand why initiatives are put in place and how those initiatives will make an impact. Employees should carefully consider what would improve the employee experience and share their ideas.


Share feedback.
Employees' greatest contribution to employee engagement is providing feedback about their own experience at work. Employees should complete employee surveys with thought, care, and honesty. But they also need not wait for an annual engagement survey to share their feedback. Employees should initiate sharing their feedback outside of surveys through open and continuous conversations with their managers, teams, and leaders.


Brainstorm solutions.
Employees should go beyond sharing their opinions—to contribute tangible ideas and solutions. They should be active participants in providing input on what action might look like, brainstorming ways to improve employee experience.


Support team commitments.
It's important for employees to understand their own employee engagement, but also to consider the needs of the team. Employees should gain a clear understanding of their team's engagement and consider their role in the big picture. They should familiarize themselves with the what and why of the team's action plan and do their part in supporting the team's broader commitments throughout the year.
---

To learn more about the role everyone plays and how you can create an environment that prioritizes employee success, check out our employee success hub.