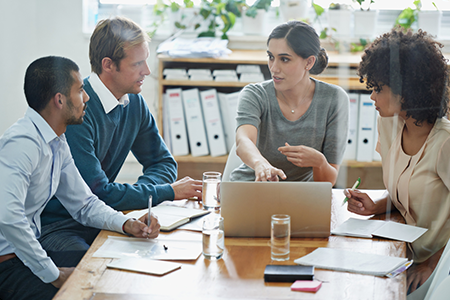 To move the needle on employee engagement, you have to act. There's no one-size-fits-all approach toward increasing company-wide engagement. It's important to focus on things that actually drive engagement. And we have a list of tried-and-true tactics—for all employees—to help you get started.
1. Create an engaging onboarding experience.
Employees begin forming perceptions of your workplace from day one. It's up to everyone to jump start employee engagement. While leaders have increased opportunity to take the action that increases engagement, everyone should be held accountable. Leaders and employees alike should:
Help new employees feel welcome
Help employees get access to resources
Communicate expectations clearly
Introduce new employees to other team members
It also doesn't hurt to plan a few fun activities for new hires. Consider organizing a happy hour or starting a new hire club. If new hires are remote, consider how you'll adjust their onboarding. A positive first impression will go a long way.
2. Spice up the work environment.
The everyday 9-to-5 slog can wear on employees. Prevent this from happening by peppering in some different opportunities. Schedule walking meetings to re-energize and get some fresh air. Allow employees the continued flexibility to work from home and/or remote. Have your next 1-on-1 meeting at their favorite restaurant or coffee shop. If you're an employee, consider offering up your suggestions to make the work environment more exciting.
3. Celebrate people (not just their work).
Your employees are much more than their accomplishments at work. Take every opportunity to celebrate your employees and teammates and their accomplishments outside of work. Bring cupcakes for an employee's birthday. Showcase community awards they receive. Buy them a graduation present. Your employees are so much more than employees—and recognizing that will go a long way.
4. Do a strengths assessment.
Help employees learn about themselves and grow with a strengths assessment. Understand who they are and what they're good at—and put that knowledge to good use! You'll be able to better engage and develop employees and maximize their potential.
As an employee, try suggesting that everyone on your team takes a strengths assessment as a bonding activity. This can help you better understand your colleagues strengths and weaknesses to collaborate better.
5. Be a motivating coach, not a managing boss.
Ditch the boss mentality. Your employees don't want to be bossed around—they want to be advised, coached, and nurtured.
Our research shows that manager coaching can drastically impact employee engagement and performance. This study shows 85% of highly disengaged employees say they don't receive enough coaching from their manager. Organizations with employees who receive frequent and effective coaching improve business results by 21 percent.
As an employee, ask for feedback more frequently if you are feeling disengaged from a lack of coaching. Don't forget to thank your manager for their input and stay eager to grow and learn.
6. Ask employees to write their own job description.
Give your employees ownership of their role by asking them to define it. This gives employees a clear definition of their roles and responsibilities. But it also encourages them to embrace and run with their role. Instead of telling them what to do, allow them to create their part—to an extent, of course.
As an employee, make sure you take accountability for your role. Communicate what you like and dislike about your duties. Highlight what comes easier to you and what is more of a challenge. By doing this, you put yourself in the driver's seat to shape your responsibilities.
7. Ask employees for advice.
Each of your employees has unique strengths that can help both managers and employees alike. When you leaders ask their team for help or feedback, they are acknowledging employee strengths and showing appreciation.
Ask them to proofread your big executive presentation or help you find areas to cut expenses. See what they think of your latest team engagement initiatives. Or ask them for advice on how to tackle your next strategy planning meeting.
Consulting your employees will show you respect their opinions—and help you make crowd-pleasing decisions.
As an employee, ask for feedback from your teammates that aligns with their strengths. Just like you appreciate your manager asking for your feedback, your teammates will too.
8. Encourage individuality.
When employees can bring their whole, authentic selves to work, they tend to feel more engaged. Ask them about their personal lives and uncover what drives them.
Simply learning about their favorite football team or preferred way to unwind on the weekends can really help employees open up. Engagement falls when employees are assumed to be identical drones. Encourage their personalities to shine.
9. Make sure they're not overworking.
Recommend a work schedule that gives employees ample free time to spend with family and friends. Let them know you value their work and respect their personal time as well. Making an effort to show you care can go a long way toward making employees feel valued, appreciated, and help them avoid burnout.
10. Get out of the office and have fun!
Socializing outside of work is an effective way to increase employee engagement at work. Team-building can lead to stronger working relationships, effective communication, and increased job satisfaction.
Think company holiday parties, summer happy hours, or team lunches. Make it a priority to spend quality time with teammates out of the office. It will help relationships blossom and will bring your workplace together.
11. Give new hires a culture coach.
Assign new employees a buddy from another group or department to show them the ropes. This gives employees a chance to get to know coworkers outside of their immediate work group. It can also help boost cross-team communication down the road.
A culture coach can help answer questions that employees might not feel comfortable asking their managers.
12. Take advantage of failures.
When employees and leaders make bad decisions or mistakes, they have a prime opportunity to build trust. Showing authenticity and vulnerability is the best approach. Ignoring failures or, even worse, passing the blame, hurts trust. Don't gloss over these moments and hurry to find new solutions. Use them as opportunities to show you're human.
13. Provide flexible work hours and locations.
Your employees aren't children. If you hired good people, you have to trust them to get their job done. Research shows that remote work increases engagement and boosts productivity. When your employees have the freedom to work where and how they need to, they feel trusted and respected. But make sure you're providing your workforce with the resources and support they need to be successful working remotely.
If you don't have the right resources as an employee, speak up. Communicate your desired work environment to avoid burnout and achieve peak performance.
14. Throw going-away parties for exiting employees.
Turnover is never fun or easy, but you can add some joy by celebrating an employee leaving for a new job. This allows coworkers to say their final goodbyes and ensures you're not burning any bridges. It also shows remaining employees that your organization values them and their hard work.
15. Support volunteer programs.
Is there a cause your workplace is passionate about? Encourage employees to volunteer, even if that time comes during the workday. This helps employees feel like they're making a difference, which boosts morale. It's also an opportunity for new bonds to form and for relationships to strengthen.
16. Create a feedback-safe environment.
Employees need to feel safe. They need to know that if they give feedback they won't face negative repercussions.
This starts with building trusting relationships. It's reinforced by how people receive feedback. Different employees will have different comfort levels with both giving and receiving feedback. It's important to be respectful and not force it. Use emotional intelligence to gauge whether a person is ready to give or receive feedback—and if you can't tell, ask.
Don't hesitate to communicate your comfort level with feedback as an employee. If you are seeking more feedback, speak up.
17. Ask employees how they prefer to be recognized.
Recognition is critical to employee engagement, in fact when employees believe they will be recognized, they are 2.7x more likely to be highly engaged. But each employee is different. Take the time to understand how your employees and teammates prefer recognition.
Some employees prefer public recognition. Others shy from the spotlight and might prefer a private message or a thank-you card. Discovering each colleagues preferred method will help you give the most impactful recognition.
18. Find your champions.
When an employee goes above and beyond or does great work, be sure to call out their success. This pumps up the employee while giving the rest of the office a chance to see what strong output looks like. It motivates others to step up their game. And when teammates consistently do this, a culture of recognition is built, actively boosting engagement.
19. Make space for socializing.
Create areas where employees are encouraged to take a quick break and interact. A lunch room, ping pong table, basketball hoop, or bank of couches all provide areas for a quick break to recharge. And if employees are remote, consider creating virtual rooms so employees can interact at the "coffee station" or in the "cafeteria" throughout the day.
20. Create feedback traditions.
Culture is made up of shared traditions, habits, artifacts, and language. Look for opportunities to create shared experiences around giving and receiving feedback.
At Quantum Workplace, all employees take part in our annual QW Voices survey and focus groups. Every month, managers meet with their employees for monthly GOOD lunches. These meetings are used to discuss performance and development.
Traditions like these make feedback much more than an initiative. It's part of our company culture.
21. Let software do the heavy lifting.
HR has a lot on their plate without the added burden of survey administration and reporting. Survey software can help you spend more time driving positive change. By working with a survey partner, you'll have the added benefits of confidentiality, efficiency, survey design expertise, and robust analytics.
22. Address the results quickly.
You should commit to sharing survey results with the entire organization as soon as you can make sense of them. Send a "thanks for participating" email within 24 hours. Then send a much more detailed announcement with overview results within 30 days.
23. Get everyone involved.
All employees should be invited to be a part of the post-survey process. Action shouldn't rest solely on the shoulders of leaders and managers.
24. Ask for feedback on your survey initiative.
When your next survey rolls around, be sure to gather feedback on how the first one went. Here are some items you can include to gauge effectiveness:
Senior leadership is committed to responding to the results of this survey.
My manager shared the results of the last survey with our team.
Our team developed action plans to address issues raised by the last survey's results.
I noticed positive change as a result of the last survey.
25. Get buy-in.


Buy-in starts with leadership, but that's not where it ends. Managers and employees are also critical to a successful employee engagement strategy. To drive buy-in, start with the benefit. How will the program benefit leaders? Managers? Employees? Customize your message and always be selling.
26. Train your people.
You can't expect employees to figure out a new engagement strategy on their own. If you're introducing a new survey tool or process, be sure to train employees and managers.
27. Make sure you're actually measuring engagement.
You might be using surveys to collect feedback, but that doesn't mean you're actually measuring engagement. Your survey methods need to be research-backed and proven effective.
28. Keep the survey focused on employee engagement.
Survey around what matters most. Focus on actionable survey items that are directly related to engagement, such as career development, manager effectiveness, and team dynamics. Don't survey on every topic under the sun. The last thing you want is for "survey fatigue" to disengage employees.
29. Communicate, communicate, communicate.
Communication is critical to successful implementation and adoption of performance tools. Employees need to understand the what, where, when, why, and how. Communicate before, during, and after the launch of each tool or feature. And if you think you've communicated enough, you probably haven't.
30. Insist on a single solution.
Choose a solution that allows employees to access everything they need in one place. This will decrease hassle and increase usage. Bonus if it connects with your survey software.
31. Integrate with your HRIS.
Performance software can carry a huge administrative burden. Make things easier by finding a software that integrates with your existing HRIS.
32. Extend your voice.
Employees should see and feel your employer brand in all your workplace technology. This will extend the reach of your engagement efforts and reinforce your identity.
33. Make information more accessible.
Make sure employees have easy access to the information they need, such as benefits or career development. Use chat as a safe place for employees to ask questions, get answers, and schedule time to talk more if needed.
34. Clearly articulate professional development paths.
Professional development opportunities are essential for engaging and retaining employees. Make sure that what you're offering is meaningful and effective to the employees who are using them. It should be easy for employees to access information about any opportunities available to them.
35. Re-evaluate how you select managers.
Managers are typically promoted based on performance. But they need soft skills to coach, invest in, develop, and maximize their teams. Shift your focus to selecting managers based on these types of skills. Managers are key to driving employee engagement.
36. Make them move.
Something as simple as your office layout could impact employees. Think: what are the routes my employees take every day? Bathroom, coffee pot, and water cooler are the big three. Get employees out of their routine and into more chance encounters. Chance encounters increase organizational familiarity and grease the wheels for more organic and creative conversations.
37. Take advantage of video conferencing as much as possible.
Use video conferencing and screen sharing to help remote employees stay engaged in meetings. Encourage employees to use video calls for one-on-one conversations as well. This helps team members foster deeper connections and better relationships.
38. Foster social interaction.
Get your remote workers out of their pajamas and into the office. Encourage them to hop into a co-working space every now and then. These environments are ideal for improving work mentality, fostering innovation, and more. Your normal team-building activities should also include remote team members.
39. Pay for a visit.
Pay for your remote employees to visit your home office several times a year. This will cement relationships that are built over the computer and phone.
40. Be accessible.
Managers and employees need to have face-to-face interactions. How can you invest in different shifts? Especially those who don't usually get the benefit of visible time with managers?
41. Host lunches with leadership.
In companies with employees working varied shifts, it can be hard for everyone to see and hear consistent messages. Invite employees to have lunch with leadership. Activities like these increase transparency and communication.
42. Connect your survey data to your turnover data.
Link your engagement survey data to turnover data. Identify items that differ the most between your termed and non-termed employees. If you notice trends among certain groups, schedule focus groups to dive deeper into those differences.
43. Keep in touch.
Maintain a good relationship with termed employees. Consider meeting a couple of times a year to catch up. This will do wonders to boost employer brand. It also shows current employees that you value them outside of the employment.
44. Clearly define values and recognize employees for them.
All employees should have a clear understanding of your values and how they come to life. Reinforce these values by recognizing employees when they exhibit them.
45. Position change management as an ongoing process.
Change management isn't a 'point-in-time' activity that you do once and cross off the list. Make it clear to employees that this will be an organizational journey.
46. Create traditions.
Culture is made up of shared traditions, habits, artifacts, and language. Look for opportunities and activities to create shared experiences around giving and receiving feedback.
47. Don't tolerate poor performance.
An organization is only as strong as its weakest link. Don't let poor performers drag down other employees. Help your managers implement continuous performance strategies so they can identify and manage performance issues early.
48. Set the tone from the top.
Like any element that you want to make part of your organizational culture, it starts at the top. Leaders must model giving and receiving feedback well. And they must do it on a regular basis.
49. Highlight decisions made based on feedback.
When you make a decision or change based on someone's feedback, let them know. Don't only focus on communicating the decision or change; focus on the why. "Why did we do this? Because of your feedback."
50. Commit to a vision.
Who quits their high school basketball team in the middle of the state playoff game? You'd be hard-pressed to find a single example. Why? Because their vision is staring them straight in the face. They might win, they might lose, but you better believe they're going to stay around until it's over. To keep employees around, set a clear vision for individual impact and organizational success.
---
Looking for more employee engagement ideas? There's a lot more where that came from! Check out this ebook for hundreds of ways to kick-start your engagement strategy.