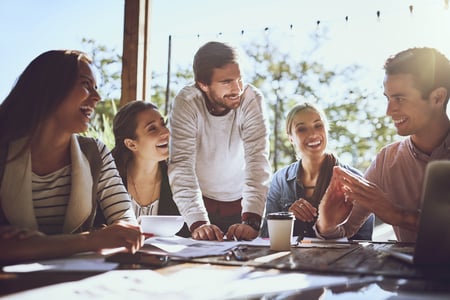 To
really
move the needle on employee engagement, organizations have to act at the local level.
There's no one-size-fits-all approach.
Your managers are in the best position to understand and improve engagement. They're on the front lines with employees day in and day out.
But managers are busy. And they often don't have access to impactful employee engagement ideas. Until now.

Here are 20 employee engagement ideas that are easy for managers to put in place.
1. Create an engaging onboarding experience.
Employees begin forming perceptions of your workplace from day one. It's up to managers—not just HR—to jump start new employees' engagement. Managers should:
Help new employees feel welcome

Provide access to resources

Communicate expectations

clearly

Introduce new employees to other team members
It also doesn't hurt to plan a few fun activities for new hires. Consider organizing a happy hour, starting a new hire club, or giving new hires a late (or Friday) start. If new hires are remote, consider how you'll adjust their onboarding.
A positive first impression will go a long way.
2. Spice up the work environment.
The everyday 9-to-5 slog can wear on employees. Prevent this from happening by peppering in some different opportunities. Schedule walking meetings to re-energize and get some fresh air. Allow employees the continued flexibility to work from home and/or remote. Have your next 1-on-1 meeting at their favorite restaurant or coffee shop.
Also consider employees' physical work environment. Even something as simple as standing desks or new chairs can make the workplace more enjoyable.
3. Celebrate your people (not just their work).
Your employees are much more than their accomplishments at work. Take every opportunity to celebrate your people and their accomplishments outside of work. Bring cupcakes for an employee's birthday. Showcase community awards they receive. Buy them a graduation present. Your employees are so much more than employees—and recognizing that will go a long way.
4. Do a strengths assessment.
Help employees learn about themselves and grow with a strengths assessment. Understand who they are and what they're good at—and put that knowledge to good use! You'll be able to better engage and develop employees and maximize their potential.
5. Be a motivating coach, not a managing boss.
Ditch the boss mentality. Your employees don't want to be bossed around—they want to be advised, coached, and nurtured.
Our research shows that manager coaching can drastically impact employee engagement and performance. This study shows 85% of highly disengaged employees say they don't receive enough coaching from their manager. Organizations with employees who receive frequent and effective coaching improve business results by 21 percent.
6. Ask employees to write their own job description.
Give your employees ownership of their role by asking them to define it. This gives employees a clear definition of their roles and responsibilities. But it also encourages them to embrace and run with their role. Instead of telling them what to do, allow them to create their part—to an extent, of course.
7. Ask employees for advice.
Each of your employees has unique strengths that can help you as a manager. When you ask your team for help or feedback, you are acknowledging their strengths and showing your appreciation.
Ask them to proofread your big executive presentation or help you find areas to cut expenses. See what they think of your latest team bonding idea. Or ask them for advice on how to tackle your next strategy planning meeting.
Consulting your employees will show you respect their opinions—and help you make crowd-pleasing decisions. Talk about a win-win employee engagement idea.
Pro Tip: Make sure you follow up on feedback! You want employees to see their ideas in action and know their voice is truly being heard.


8. Encourage individuality.
When employees can bring their whole, authentic selves to work, they tend to feel more engaged. Ask them about their personal lives and uncover what drives them.
Simply learning about their favorite football team or preferred way to unwind on the weekends can really help employees open up. Engagement falls when employees are assumed to be identical drones. Encourage their personalities to shine.
9. Make sure they're not overworking.
Recommend a work schedule that gives employees ample free time to spend with family and friends. Let them know you value their work and respect their personal time as well. Making an effort to show you care can go a long way toward making employees feel valued, appreciated, and help them avoid burnout.
10. Get out of the office and have fun!
Socializing outside of work is an effective way to increase employee engagement at work. Team-building can lead to stronger working relationships, effective communication, and increased job satisfaction.
Think company holiday parties, summer happy hours, or team lunches. Make it a priority to spend quality time with employees out of the office. It will help relationships blossom and will bring your workplace together.
11. Give new hires a culture coach.
Assign new employees a buddy from another group or department to show them the ropes. This gives employees a chance to get to know coworkers outside of their immediate work group. It can also help boost cross-team communication down the road.
A culture coach can help answer questions that employees might not feel comfortable asking their managers.
12. Encourage leaders to take advantage of failures.
When leaders make bad decisions or mistakes, they have a prime opportunity to build trust. Showing authenticity and vulnerability is the best approach. Ignoring failures or, even worse, passing the blame, hurts employee trust. Don't gloss over these moments and hurry to find new solutions. Use them as opportunities to show you're human.
13. Provide flexible work hours and locations.
Your employees aren't children. If you hired good people, you have to trust them to get their job done. Research shows that remote work increases engagement and boosts productivity. When your employees have the freedom to work where and how they need to, they feel trusted and respected. But make sure you're providing your workforce with the resources and support they need to be successful working remotely.
14. Throw going-away parties for exiting employees.
Turnover is never fun or easy, but you can add some joy by celebrating an employee leaving for a new job. This allows coworkers to say their final goodbyes and ensures you're not burning any bridges. It also shows remaining employees that your organization values them and their hard work.
15. Support volunteer programs.
Is there a cause your workplace is passionate about? Encourage employees to volunteer, even if that time comes during the workday. This helps employees feel like they're making a difference, which boosts morale. It's also an opportunity for new bonds to form and for relationships to strengthen.
16. Create a feedback-safe environment.
Employees need to feel safe. They need to know that if they give feedback they won't face negative repercussions.
This starts with building trusting relationships. It's reinforced by how people receive feedback. Different employees will have different comfort levels with both giving and receiving feedback. It's important to be respectful and not force it. Use emotional intelligence to gauge whether a person is ready to give or receive feedback—and if you can't tell, ask.
17. Ask employees how they prefer to be recognized.
Recognition is critical to employee engagement, in fact when employees believe they will be recognized, they are 2.7x more likely
to be highly engaged. But each employee is different. Take the time to understand how your employees prefer recognition.
Some employees prefer public recognition. Others shy from the spotlight and might prefer a private message or a thank-you card. Discovering each employee's preferred method will help you give the most impactful recognition.
18. Find your champions.
When an employee goes above and beyond or does great work, be sure to call out their success. This pumps up the employee while giving the rest of the office a chance to see what strong output looks like. It motivates others to step up their game.
19. Make space for socializing.
Create areas where employees are encouraged to take a quick break and interact. A lunch room, ping pong table, basketball hoop, or bank of couches all provide areas for a quick break to recharge. And if employees are remote, consider creating virtual rooms so employees can interact at the "coffee station" or in the "cafeteria" throughout the day.
20. Create feedback traditions.
Culture is made up of shared traditions, habits, artifacts, and language. Look for opportunities to create shared experiences around giving and receiving feedback.
At Quantum Workplace, all employees take part in our annual QW Voices survey and focus groups. Every month, managers meet with their employees for monthly GOOD lunches. These meetings are used to discuss performance and development.
Traditions like these make feedback much more than an initiative. It's part of our company culture.
---
Looking for more employee engagement ideas? There's a lot more where that came from! Check out this ebook for hundreds of ways to kick-start your engagement strategy.