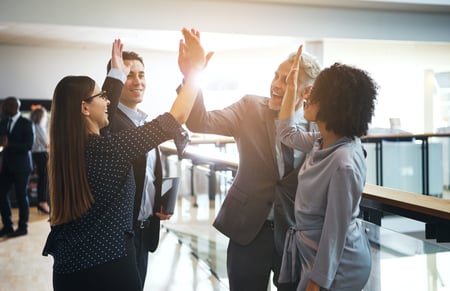 Team building is meant to encourage employees to move outside their normal activities and connect with coworkers. Done right, team building activities for work can increase employee engagement. Done wrong, employees will watch the clock and wonder why the event was scheduled in the first place.
The secret to effective team building is being thoughtful about who is on the team and what you're trying to accomplish. The more personalized the activity, the more engaged they'll be.
Think about the personalities on your team and pair that knowledge with the goals you want to accomplish. Team building can be used for:
Achieving goal alignment
Growing together
Moving more
Getting creative
Personal development
Giving back
Diversity and inclusion
Building relationships
Problem solving
And more!
Here are 38 team building activities for work.
Team building activities for achieving goal alignment
1. Set team goals.
Who drives decisions about your team's goals? Does it start from the top, or can your team influence the goals they're expected to meet? Including team members in goal setting and planning is not only a great team builder, but also reinforces alignment and buy-in. Goals allow you to:
Develop goal-oriented managers

Create clarity and transparency around team challenges and successes

Remove silos and create connection within your team
2. Host a GSD retreat.
Have some big projects or plans to tackle? Hold an offsite meeting or retreat to get stuff done (GSD). Getting away from the office and interacting in a new environment can create a memorable experience. It also lets your team step away from their day-to-day tasks to think outside of the box and accomplish a new goal.
3. Find your team strengths.
Have each team take a strengths assessment and discuss the results. A great assessment will help employees better understand their strengths and weaknesses and how they affect their interactions with others. By understanding their coworkers' individual strengths, employees will:
Gain greater respect for each other's talents
Better understand personal drivers
Know who to rely on for certain strengths
4. Incentivize and align team goals.
Instead of relying only on personal incentives to reward individual achievement of goals, tie incentives to team goals. This can inspire your team to work, achieve, and celebrate together. How accessible and transparent is goal achievement in your organization? To better align your teams, create and track private and team goals
with an easy-to-use online goal setting and tracking feature.
Team building activities for growing together
5. Participate in a focus group.
Following your organization's employee survey, host a focus group with your team. Analyze and discuss your
team's engagement results. Celebrate the positives from the results and work together to brainstorm ideas on what can be improved. When building an effective focus group, make sure you think about:
Providing an outlined agenda
How you'll handle difficult conversations
Ground rules for participants to follow
Ice breakers and talking points
6. Share your knowledge.
Provide opportunities for team members to teach each other something. This could take the form of traditional job skill training and mentoring to highlighting a team member's interests or hobbies. Is there an artist on your team? Have him teach a painting class. Maybe you have a volleyball athlete? Have her teach bump, set, and spike. Learning from team members helps you:
Highlight strengths
Build team member value
Recognize each other outside of work
Encourage employees to be themselves
7. Drive purpose.
In Daniel Pink's book Drive, he suggests an easy exercise that serves as a quick glimpse into your organization. You can do the exercise with your team, department, or entire organization. Give them a notecard, and ask
them to provide a one to two sentence answer to the question, "What is our organization's purpose?" Collect the cards and read them aloud. What do they tell you? Are answers similar, aligned to a common purpose, or are they all over the place?
8. Create cross functional teams.
Put together teams of volunteers from multiple departments to make decisions and problem solve. Farm Credit Services of America, a company that has been named one of the Best Places to Work in Omaha seven times, has approximately 40 to 50 cross functional teams in place at any given time. The teams tackle discussions and projects such as the use of office space, diversity and inclusion programs, and employee well-being strategies.
9. Make new hire decisions together.
Is your team growing? Include your team members in hiring decisions. Involving team members in the hiring process is a good way to let their voices be heard, determine if the new hire would be a good culture fit, and ensure a good first step in transitioning as you grow the team. It can also help ease any concerns team members have about the changing team environment.
Team building activities for moving more
10. Take a hike.
Get out of the office and into nature. Find a local park with hiking or biking trails and go on an adventure with your team. Be sure to read up on elevation and length to determine the best option for all team members. Provide tips on what to wear and bring, from tick protection to suitable walking shoes, so everyone is prepared. Step it up a notch and challenge your team to:
Finish the hike as a team
Spot unique birds, critters, or plants
Pack a lunch for a group picnic
Leave devices at home and focus on being in nature
11. Take on a ropes course.
Ropes courses are a challenging outdoor activity for both personal development and team building. High ropes courses are typically geared toward achieving personal goals and confronting fears, so you'll want to select a low ropes course for your team building event. Low ropes courses focus on group interaction, problem solving, leadership, risk taking, and cohesion.
12. Tackle team sports.
Have an active team? Even if you don't, team sports are great opportunities to get moving! Create a club team, organize a one-time event, participate in charity runs, or start a team workout class. Here are a few ideas:
Sand volleyball
Intramural basketball, soccer, or flag football
Ping pong or kickball tournament
Charity runs
Workout classes
Paintball, laser tag, or axe throwing
Chair yoga
Social dance sessions
Field day with relays, obstacle courses, and capture the flag
13. Experience your city.
What hot spots and attractions are popular in your city? Pick one your team hasn't seen, or one they've been to a million times, and explore your city together. Some cities offer walking tours, trolley rides, and bus tours. Get out of the office and explore!
Team building activities for getting creative
14. Connect through community art.
Provide a large canvas, paint, and brushes and get the creative juices flowing. Commission an artistic coworker to draw an outline on the canvas. Start with your company logo or something else meaningful to your group and invite team members to color in the lines and add their ideas. It can be helpful to add varying levels of structure to this activity. You can also start with a theme and have different groups concept and paint a piece that fits the theme.
15. Create (or listen to) music.
Creating music together requires listening and collaboration. Look to your local musical arts nonprofits to see if they offer corporate team building workshops, or if you have musical talent on staff, ask them to organize and lead the activity. Here are a few examples:
Use unconventional items or office supplies (buckets, a box of paperclips, spoons) to create an office theme song
Learn how to play an instrument together
Write and record a song that describes your team
16. Make a music video, MTV-style.
Whether you lip sync or write an original song, making a music video can be a fun way to collaborate and test your team's creativity. Give them a video camera, laptop with simple video editing software, and one day to tackle the project. End the day with a showing off each team's video.
17. Kick off a runway challenge.
For those not familiar with Project Runway's Unconventional Challenge, here's a quick rundown. Contestants have a limited timeframe and budget to purchase unconventional materials from a store and turn them into an outfit. While you might not have a skilled fashion designer on your team, like those on Project Runway, this challenge is an unconventional way inspire creativity and encourage problem solving. Here are a few locations to get design supplies:
Hardware Store
Office Supply Store
Florist Party Supply Store
Candy Store
Junkyard Used Book Store
Grocery Store
18. Join an improv workshop.
Check out your local comedy scene and see if they offer corporate workshops for teams. Improv comedy workshops are for more than just laughs. They can also help your team:
Boost collaboration
Increase confidence
Spark creativity
Improve listening skills
Encourage risk-taking
Team building activities for personal development
19. Teach each other something new.
Research shows engaged employees prefer coaching from a manager or coworker more than any other form of learning and development. So why not make professional development a team activity? Learn something new together that doesn't have anything to do with work! Learning a new skill can be a great way to bond and learn about your team members. Here are a few ideas:
Attend a training event
Join the chamber of commerce
Pottery class
Tennis lesson
Swing dance session
20. Talk about TED.
You might be familiar with TED, the nonprofit devoted to spreading ideas. TED Talks are thought-provoking and inspiring videos that cover a wide range of topics. Find a few that are interesting to your team and provide two to three questions for discussion. Involve everyone by rotating around the room and sparking a conversation. Gather round and watch a talk about:
Creating stronger connections
Making career changes
Embracing emotions at work
The secrets of giving feedback
Improving relationships with money
Team building activities for giving back
21. Serve the community.
Spending time with people (or puppies) in your community can give your employees perspective. And giving back feels good! Find a local nonprofit and volunteer for an activity as a team. Here are a few ideas:
Build a house with Habitat for Humanity
Spend time with furry friends at a shelter
Help organize or serve at a food pantry
Stuff and label fundraiser mail
Pick up litter and clean up your neighborhood
Volunteer at a nonprofit event
22. Chip in for a great cause.
This one works best if your team or company has a cause that closely aligns with their work or with them personally. For example, an all-women marketing team might find solidarity supporting The Malala Fund. Or a company in the restaurant industry might align toward a cause ending hunger. Planning a fundraising event is a win-win and can:
Bring teams together while doing some good
Find a shared purpose that unites your team
Build teamwork across different functions
Team building activities for diversity and inclusion
23. Break bread (and eat it).
Sharing a meal is a simple but effective way to build relationships with team members. Celebrate your diversity by asking individuals to contribute a favorite, cultural dish and have employees eat their way around the world. For something more interactive, try a progressive dinner. Instead of sitting around a community table, employees eat their way to different departments for different meals or parts of meals. If you have a larger office, spread the event over several weeks, having three or four employees bring in their dish each time.
24. Show and tell.
Have a grade school flashback and institute a show-and-tell. Ask everyone on your team to bring in something that reflects or represents who they are. At the start of your next meeting, set aside 10 minutes to go around and share what everyone brought. It's a great way to get to know your team better. Not sure what to bring? Try these items:
A prized possession
A favorite recipe
A family heirloom
A favorite book
A beloved photo
Team building activities for building relationships
25. Host a happy hour.
Sometimes the best way to improve the workplace is to get away from it. Moving off-site provides a more relaxing environment and provides a clear separation from work. If your team members enjoy a casual beer of cocktail, happy hours are perfect. They're near the end of the day, so everyone can relax and mingle without worrying about returning to the office. Any happy hour is useful, but you can up the ante by:
Touring a local brewery tour
Taking a cocktail mixing class
Learning to make the perfect espresso
Attending a wine tasting
Renting a Pedal Pub
Scheduling a session with Corky Canvas
26. Build something together.
A number of activities and projects are available to teams who want to build something together. They can be a great way to encourage problem solving. Think about something that represents your organization or consider these ideas:
A bike for a local charity
A tower for a community food drive
A robot to take to battle
Something unique for your office
A rocket (or an item that represents your culture)
A sandcastle
27. Host a team game night.
This is a fun way to build relationships with team members. Some games take problem solving and creativity, while others can just be a fun way to get to know your coworkers better. If your team isn't into competition, consider a cooperative game in which the players work together to defeat the game itself. Games like Pandemic and Forbidden Island engage the mind and encourage working together. Build bonds that can carry over into everyday work with these games:
Win, Lose, or Draw
Catch Phrase
Apples to Apples
Cranium
Quelf
Telestrations
Taboo
Water Cooler Trivia (perfect for hybrid teams)
28. Soak up the sun.
Plan an outdoor event to enjoy nature. Catching some rays can inspire a little joy in the summer! And many communities host a variety of team outing ideas when the weather's nice. Grab your picnic baskets and blankets, and consider some of these options:
Have a picnic during your next one-on-one meeting
Attend a local concert or show
Take your team meeting to a park
Go for a swim and cool off
Implement summer hours to enjoy the daylight
Host a cookout with yard games like Giant Jenga™
Team building ideas for problem solving
29. Commit to healthy conflict.
A team that disagrees is a good thing. Disagreement can lead to innovation. It challenges team members to think from different perspectives. And it's bound to happen on any team. But healthy conflict doesn't come easy. Host a workshop on healthy conflict and learn:
Better communication skills
How to effectively disagree
How to work through conflict
30. Conquer a challenge.
Create a series of challenges for your team to tackle. Incorporate mental brainteasers, physical feats, and mysteries to solve. The more variety the better! Make sure everyone has the chance to use their special skills and talents. This is a great way to incorporate problem solving and creativity skills.
31. Sign-up for a social scavenger hunt.
A well-planned scavenger hunt is packed with varied challenges that will rely on different team member strengths, which is a great way to recognize individual talents. Incorporating a riddle and fun problem-solving challenge to encourage your team to use their skills and align over common goals. Incorporate social media by requiring teams to take photos and tweet them with a hashtag for the event. Not into competition? Have each team decide on best moments for each individual team member and vote employee awards for:
Best Photograph of Evidence
Most Creative Solution
Most Efficient Solution
32. Run an Amazing Race.
Send teams all over your city to tackle various tasks, including pit stops, roadblocks, and detours. Make sure your challenges require a variety of strengths and skills, so everyone has the chance to shine. Put a celebration at the finish line—happy hour, team dinner, or whatever celebration makes sense for your team. Make it a competition or don't. The experience itself and getting to the finish line will be reward enough! Here are a few ideas to get you started:
Taste tests or food eating contest
Flipping tires or heavy objects as a group
Build an object like a fort or a bridge
Guess the number of items in a jar
Reenact a moving scene or album cover
Ice bucket challenge
Team building ideas for remote teams
33. Random acts of kindness.
As a team, brainstorm and execute an idea for Random Acts of Kindness Week. Get creative, split up responsibilities, and do something great together. This is a simple way to practice working as a team while spreading joy to others. Need inspiration? The Random Acts of Kindness Foundation has a ton of creative ideas including:
Paying it forward
Planting a tree
Have a kindness coloring contest
Thank someone every week
34. Bunker down in book club.
If you need a low-cost option that won't eat up most of the day, consider starting a book club. Have interested employees select a book, read portions of it each week, then meet to discuss. It's a great way for them to learn and develop while talking about topics unrelated to daily work. These are our favorites:
Fierce Conversations by Susan Scott
Predictably Irrational by Dan Ariely
Radical Candor by Kim Scott
Start with Why by Simon Sinek
The Halo Effect by Phil Rosenzweig
Blue Ocean Strategy by W. Chan Kim and Renee Mauborgne
Built to Last by Jim Collins and Jerry I. Porras
35. Plan a road trip.
Remote workers can feel a little isolated when they're not in the office every day. Where can you go and come back to in a day? Can you meet your remote workers halfway? Whether it's to the Metropolitan Museum of Art in New York City or the Largest Ball of Twine in Cawker City, Kansas, going somewhere interesting can provide a great team bonding experience.
Team building activities for showing employee recognition
36. Spice it up.
Provide the ingredients and hold a team salsa-making contest. Create a variety of awards and let people vote across teams to select the winners. For a fun twist, bring in a local taco truck for lunch to add to the fun. Expressing recognition across teams bring us together. And who can resist a yummy taco? Here are some ideas for awards:
Too Hot to Handle
Best Mild Salsa
Best Green Salsa
Most Creative
Best Fruit Salsa
Tastes Like My Favorite Mexican Restaurant
Just Like Mom's Salsa
37. Battle it out in cake wars.
Salsa not your style? Split into teams for this bake-off challenge. Each team has to concept, bake, and decorate a cake. The best part? Everyone wins when it's time to taste test! Create multiple awards and vote on the winners. Here are some ideas:
Most Delicious
Best Chocolate
Best Fruit
Too Rich to Eat a Whole Slice
Most Creative
Best Decorated
Most Interesting Flavor
Best Pinterest Fail
38. Celebrate milestones
Celebrating individual milestones and accomplishments is a great way to bring together a team. Encourage and create easy ways for team members to regularly recognize each other. Here are a few milestones worth noticing:
Celebrate work anniversaries, goal achievement, and promotions
Send a note for birthdays, new babies, and graduations
Say thank you to express gratitude with a powerful message
Make an announcement at the beginning of a company meeting
Host an annual awards ceremony with fun and serious workplace awards
Celebrate hard work by awarding an extra day of paid vacation
---
Looking for additional activities and ideas for improving employee engagement at work? Download our 200 Employee Engagement Ideas for HR Leaders & Managers to get inspired and creating an awesome workplace for your employees.