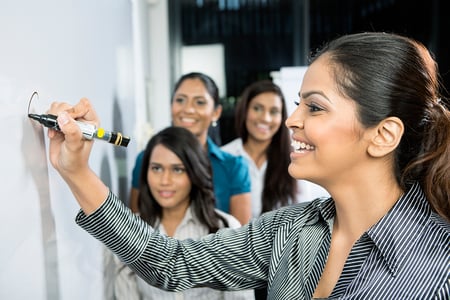 There is no better way to source fresh (and effective) workplace ideas than asking your employees.
Employee focus groups are a great way to gather employee feedback. This feedback can help ensure you're building strategies that will have a true impact.
But if you're a focus group beginner, you may have some questions about how to run a focus group.


Leading an employee focus group takes skill, but with the right tips and a bit of practice, you'll be well on your way. Here's the scoop on employee focus group best practices.
What is an employee focus group?
In an employee focus group, employees take part in a guided discussion on a particular topic. Focus groups are often used as a tool to improve employee engagement. Many organizations use focus groups to leverage employee survey results. In this case, the moderator helps the group examine and discuss survey trends and findings. They probe the group on critical issues and encourage employees to develop solutions.
What is the purpose of focus groups?
Employee focus groups are an easy and efficient way to uncover workplace ideas.
Your employee surveys can help you uncover trends, strengths, and weaknesses in your organization. But surveys usually don't point to tangible action steps for improvement.
Focus groups help build upon the conversation started in an employee survey. Here, you can gather deeper insights on how to boost engagement. Focus groups serve as an extra opportunity to communicate that you value employee feedback and are committed to positive change.
What are some focus group roles and responsibilities?
Focus groups work best when everyone has a clear understanding of their role and responsibility. Here are a few key roles every focus group should include:
The moderator.
The moderator should be someone employees respect and see as a leader. However, it does not have to be the group's manager. In fact, excluding managers from their team's focus group can help encourage employees to speak more freely.
The moderator should act as a go-between for leadership and employees. They should be trained on how to conduct a focus group and handle conflict. The moderator should meet with employees, determine next steps, and report back to leaders.
The coordinator.
The coordinator should be present at each meeting to take detailed notes. They should organize and deliver meeting notes to the moderator after the meeting. The coordinator should also help with scheduling, logistics, and communication as needed.
The employees.
All employees should have an opportunity to take part in focus groups. Each group should have no more than 10-12 employees to ensure everyone has an opportunity to speak. Employees should actively and openly participate in discussions and be respectful of others in the group.
What are some focus group best practices?
Here are a few do's and don'ts for employee focus groups:
DO
Encourage participation
Be an active listener
Accept criticism
Utilize time efficiently
Let discussions progress and change
Stay objective
DON'T
Let individuals dominate the discussion
Get defensive
Steer discussions in a favorable direction
Let discussions steer off-course
Shut down any ideas
Push your opinion
When should I conduct an employee focus group?
You should conduct focus groups as important issues arise within your organization. If you are conducting post-survey focus groups, timing will depend on how quickly you can process survey results. You'll need time for your leaders to:
Review results and share them with employees
Meet to discuss next steps
Roll out reports to individual teams and groups
Then, employee focus groups should begin.
Remember that focus groups shouldn't be a one-and-done activity. Let each group drive itself, deciding if it needs to meet more than once and what next steps should be.
What are the benefits of focus groups?
There are many benefits of employee focus groups. They can help you gain deeper insight into employee perceptions, needs, and wants. They also take less time than one-on-one interviews with every employee. Focus groups can also lead to meaningful action sourced straight from employee ideas.
Finally, focus groups can also help increase engagement. Our research shows that employees who report follow-up after a survey are 12x more engaged than employees who don't report any follow-up.


---
Employee focus groups are a great tool for fostering open and honest communication. Get the low-down on focus groups by downloading our ebook: How to Conduct Employee Focus Groups.