It's no secret that goals help people and organizations achieve more. But many organizations and teams struggle to make the most of goals, often taking a set-it-and-forget-it approach that coordinates with their annual review cycle. This approach creates a huge disconnect among leaders, managers, and employees.
Only 2 in 10 employees strongly agree that their performance is managed in a way that motivates them to do outstanding work.
Performance goals can be a powerful tool in your organization. But to be effective, they must be thoughtfully created, reviewed, adjusted, and aligned. From goal-setting to goal-getting, it's important for everyone to be on the same page and in constant communication around performance goals.
Introducing New Goal Conversation Booster by Quantum Workplace
The Goal Conversation Booster (a Quantum Workplace 1-on-1s enhancement) will help managers and employees keep goals and goal progress top-of-mind throughout the year.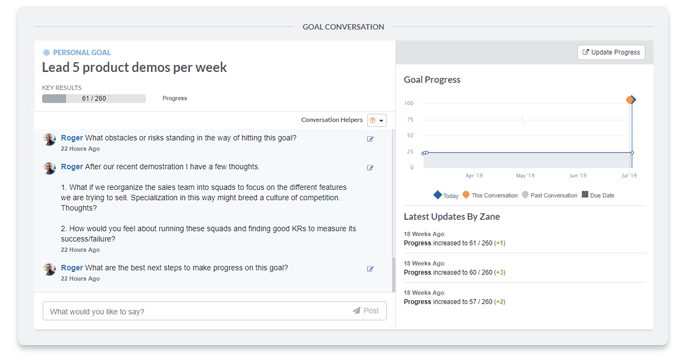 Seamlessly integrate goals into 1-on-1 conversations.
No more navigating back and forth between Goals and 1-on-1s. It's now easier than ever for managers and employees to facilitate continuous goal conversations that fuel performance.

Drag and drop an employee's goals or draft goals into your one-on-one agenda for easy collaboration, discussion, progress review, and action planning.
Keep employee goals and progress top-of-mind.
Don't let important goals fall off the radar after your goal planning period is over. The Goal Conversation Booster allows managers and employees to understand goals and goal progress at a glance, and to see how their conversations are impacting goals.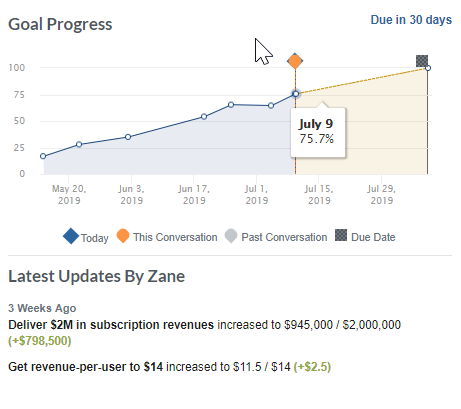 Ongoing goal conversations help ensure that:
Goals are still relevant
Priorities are crystal clear
Obstacles are being removed
Progress is happening
Managers can coach employees around obstacles and provide the real-time guidance and development that employees need to succeed.
Empower managers to facilitate thoughtful goal discussions.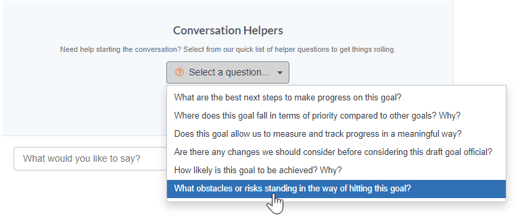 Sometimes managers aren't sure what to ask. Our in-tool Conversation Helpers prompt managers with suggested questions to ignite meaningful discussion around goals and goal progress, such as:
What are the best next steps to make progress on this goal?
How likely is this goal to be achieved? Why?
What obstacles or risks are standing in the way of hitting this goal?
What can you start/stop/continue doing to reach this goal?
Make accountability easy with tracked goal conversations.
As managers and employees discuss goals more frequently, it can be difficult to recall those discussions over time. The Goal Conversation Booster allows managers and employees to keep track of action items and discussion points from one conversation to the next.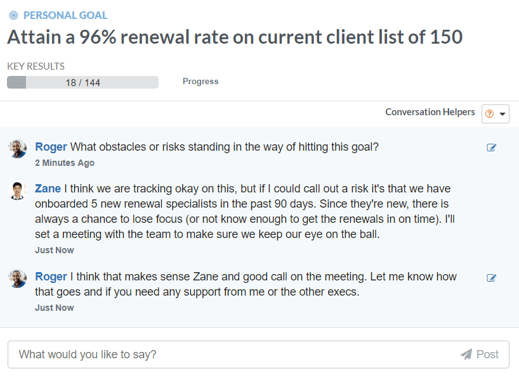 Managers can see when employees have made important contributions to a goal, and can help troubleshoot in real-time if goal progress is stalling.
---
Interested in learning more about how we can help your managers facilitate productive goal conversations? Take a tour of our engagement and performance software. Get a demo today!