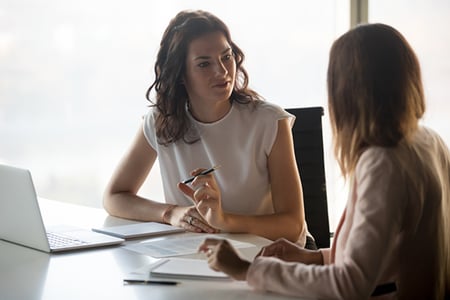 Keeping up on the latest HR trends can be overwhelming. Especially when these trends challenge the processes and policies you've been implementing for years.
The days of top-down, stack rankings and once-a-year appraisals are changing.
Annual employee performance reviews are no longer enough as a stand-alone strategy in your organization. Coupling this change with the amount of instant feedback available through digital technology means that employees of today expect continuous performance management at work.
But employees are looking for more than feedback. They want the building blocks to grow. Continuous performance management involves regular feedback that is focused on performance and professional development. Employees no longer need managers as evaluators—they need managers to be coaches.
Your managers need the right tools, information, and resources to not only do their jobs well, but stay ahead of the curve to become effective and influential coaches for their employees.
What is continuous performance management?
Continuous performance management is the process that leaders use to coach, motivate, and develop employee performance. It's an ongoing practice that replaces the traditional, annual approach to performance.
Frequent performance management is key for many reasons: it helps employees grow, motivates performance, and expedites business outcomes. Plus, annual performance management doesn't engage employees—they want continuous feedback through regular one-on-ones.
According to our research, 36% of employees prefer to have weekly one-on-ones, while only 3% prefer to have them annually. And 71% of employees who have weekly one-on-ones with their manager are highly engaged, whereas only 53% of employees who have annual one-on-ones report high engagement. Your employees need frequent one-on-ones, and it's important to align on a cadence that meets both the manager's and the employee's needs.
With a continuous approach to performance, managers can give timely feedback, address roadblocks that arise, outline development opportunities, align on goals, and provide recognition on a regular basis. Your consistent efforts to drive performance will create a foundation of trust that makes all the difference in employee growth and business impact.
How do you measure the success of a continuous performance management program?
To determine whether your strategy is measuring up, you should keep a pulse on your employees' progress and outcomes to understand what's working and what isn't in your coaching initiatives. If your employees aren't meeting expectations or growing in their role, you may need to make changes in your approach.
Gathering employee feedback is another way to gain the insight you need. By collecting employee perceptions, you can understand how employees feel about the coaching they receive. And with this information, you can decide which practices to continue or adapt and shape an effective performance management strategy for each individual.
It's important to remember that a successful performance management program keeps managers at the center. There's an inextricable link between employee engagement and performance, and your managers are in the position to bolster engagement in a way that drives performance.
Our customer, BKD recognized this link and adapted their performance practices as a result. Now, they leverage templates that guide employee manager one-on-ones, and use pulse surveys and focus groups to track how managers are doing. This way, they can better support managers, hold them accountable, and safeguard the success of their program.
"We build our performance programs by listening to the feedback and themes through our annual engagement survey and other feedback tools, and creating action plans to support improvement. We've identified a direct link between employee engagement and performance," Julie Cummings, CHRO at BKD
What do you need in order to implement continuous performance management?
In order to implement a continuous performance management program, you'll need executive buy-in, appropriate manager coaching, and the right technology. After years of the traditional, once-a-year performance review, executives may not understand the importance of continuous performance management and managers are often unequipped to carry out the right practices.
Outline the importance of continuous performance management and get leadership buy-in early. Help them understand how an approach like this directly impacts the bottom line and contributes to overarching business success. When a clear connection is made between continuous performance management and business impact, executives are likely to support your efforts.
In addition, your managers need training that helps them embrace meaningful, motivating conversations. When they lack the skills to coach effectively, your investment on performance will go to waste. Hold training sessions and seminars that give managers the background they need to manage performance continuously and with a coaching mindset.
Don't hesitate to leverage technology that further supports your manager's efforts. The right tools will serve as an effective performance management business partner, allowing you to carry out your strategy in no time.
How to implement continuous performance management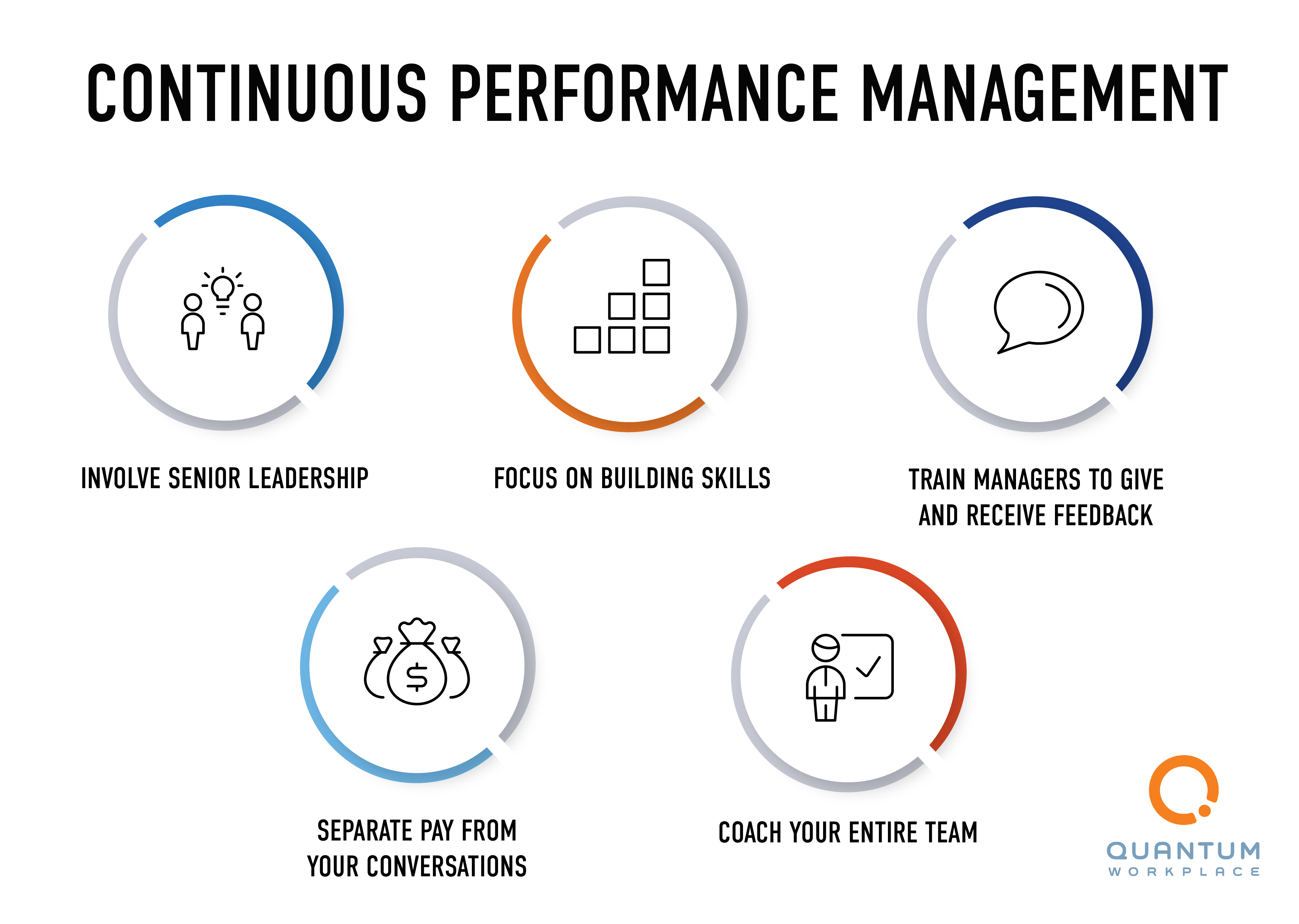 1. Get (and keep) senior leaders involved.
Leaders should be on the same page about an organization's overall performance management strategy. What do they want to achieve with performance management activities? What systems and tactics will best align with the organization's mission, vision, goals, and culture?
Involve an executive sponsor early in your implementation process. They will be able to socialize the idea with other leaders and flesh out any questions or potential roadblocks.
2. Focus performance management on building (not evaluating) skills.
Replace rigid reviews with flexible conversations. Give employees at all levels practical steps to improve their performance. Identify the skills they need to stretch and grow.
It takes time for these conversations to become weaved into the fabric of the culture. Be sure to offer leaders with context behind "the why" of your decision as well as continued training and resources to support your approach. Effective change management is the key to success.
3. Empower managers to give (and receive) better feedback.
Help your managers learn to have less formal, more effective performance conversations. Encourage them to solicit feedback regularly. This will drive trust, engagement, and results.
Ensure managers have received training and are offered continuous support as they have questions or new situations to navigate. With managers and the leadership team on board, training and empowering managers to drive these efforts will go much smoother.
4. Separate performance scores and compensation.
Broaden compensation structures to include things like how the market would compensate an employee, or how difficult the employee would be to replace. How can you offer growth opportunities to employees who have outperformed?
Keep in mind that compensation is deeply personal, so those overseeing compensation administration should be involved from the beginning. Deliver proper training for managers on how and when to talk about compensation. Make sure employees know this change is coming and they understand how their compensation is going to be evaluated going forward.
5. Coach all types of performers.
"Middle" performers are often ignored or undervalued. Help these employees see themselves as valued contributors. This is a heavy lift for any manager, but especially for those managers with many individuals reporting to them. Equip managers with the tools, knowledge, and the time to deliver effective, meaningful coaching to each of their direct reports.
Hold everyone accountable, but give everyone appropriate coaching, development planning, and training to improve. This may mean redistributing some of their work, so they have the time and energy to lead well.
What are the benefits of continuous performance management?
The results you'll see from continuous performance management will benefit many different components of your organization. Your workforce—from top to bottom—will understand just how effective this process is when these top benefits come to the surface:
Increased employee engagement
Higher employee retention rate
Strong organizational alignment
Increased trust between managers and employees
Consistent customer satisfaction
Higher ROI on performance initiatives
Increased productivity
Better awareness around employee performance
Increased business revenue
What to look for in continuous performance management software
Effective performance management software can streamline your coaching practices. Your platform should empower employees to do their best work day in and day out. Look for these features when shopping around for the right software:
Goals
Goals help employees and teams set, track, and accomplish aligned business outcomes. This tool will safeguard employee accountability to ensure goals are reached.
Recognition
Recognition elevates employee success across the entire organization. With this tool, you can celebrate employees for their achievements and encourage good habits in the future.
Feedback
Feedback tools help employees and managers ask for and receive impactful feedback. The right tool will boost trust and performance in a simple, streamlined manner.
1
-on-1s
1-on-1s help facilitate the employee manager conversations that are key to performance. This tool will give you the ability to conduct conversations regularly to increase trust, accountability, and employee success.
Talent reviews
Talent reviews help leaders understand the overall state of their talent. With the right tool, you can elevate top performers and talent risk—all in one place—to make strategic decisions about your workforce.
---
Start supporting your managers for the future of performance management at work. Download our ebook, Moving Beyond Performance Management is Broken.