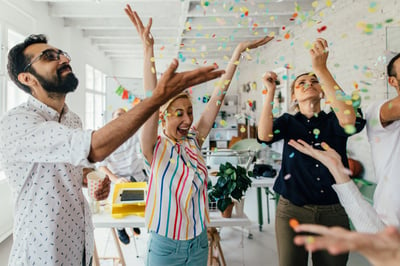 15+ years. Over 7 million surveys. More than 100,000 organizations.
There's a reason our Best Places to Work program has garnered such staying power. It's one of the greatest honors an organization can receive.
The winners carry the prestige that comes with being one of their region's top employers and the bragging rights to inspire a thriving work culture.
But what's the big deal? Why are more than 12,000 companies nationwide competing in this employer of choice program?
The Best Places to Work program is more than just a beauty pageant designed to showcase the best organizations. Our Best Places to Work Survey can help you make work awesome.
Below are eight solid reasons why you should nominate your organization for next year's Best Places to Work contest.
1. Recruit more job applicants.
Having the right to say your organization is one of the Best Places to Work in your city is a big deal. It's a flashing neon sign to anyone seeking employment. Organizations on the Best Places to Work list get additional exposure to the local job market, expanding their reach and improving their talent pipeline.
2. Enhance your employer brand.
One of the most obvious benefits of becoming a Best Places to Work finalist is the numerous public relations opportunities that come along with the recognition. If your organization is named a Best Places to Work, you'll most likely be covered in the sponsoring publication.
You'll also be able to generate press releases, post on your organization's social media sites, and use the Best Places to Work logo in collateral, email signatures, and more. The opportunities are endless.
3. Retain your talent.
It's no secret that awesome workplaces have higher retention rates. Carrying a BPTW stamp not only stirs up employee pride, but it also serves as a reminder of your organization's commitment to its people. When people are proud of who they work for and the work they do, feel valued by the organization, and trust leadership's commitment to making it a great place to work, they're more likely to stay.
4. Conduct a cost-effective employee engagement survey.
Participation in the Best Places to Work program is completely free. You can leverage America's most widely-used employee engagement survey to gauge an accurate read on employee perceptions in your workplace—all at no cost to you!
After the survey closes, you'll even receive a free overview report showing how your company scored in a variety of areas, and how you stacked up against your competitors. (Note that two of our programs – Best Places to Work in Omaha and Inc's Best Workplaces – charge a participation fee.)
5. Drive engagement with participation.
The fact that you care enough about your employees to pursue an award like this communicates a message that you value your people. We consistently receive employee comments that praise their organization for conducting an employee survey.
Asking for honest feedback, even when your organization is competing for the Best Places to Work award, shows that harnessing employee voices to make your organization an even better place to work is what's most important. In other words: You're listening.
6. Increase business success.
Customers want to work with businesses that treat their employees well. One of our studies revealed that companies with higher employee engagement experienced a rate of revenue growth over a three-year period of 39.7 percent versus only 23.7 percent at companies with lower engagement. And Wharton professor, Alex Edmans, performed independent research that concluded companies recognized as Best Places to Work experienced 4 percent stronger compounded stock market returns over long periods of time. Engagement leads to better business results.
7. Boost employee morale.
Some contests hand out awards based on an application process and a panel of judges makes the decision. The Best Places to Work award is entirely dependent upon the opinions of those who know your organization best – your employees. Responses from all 30 questions of each completed survey are compiled and evaluated based on their overall engagement score. Winners are chosen solely on the results of the survey and by the employees themselves.
This contest provides you with an opportunity to get your employees talking so you can make improvements to your workplace (and make your employees happy and engaged) or reap the benefits of being evaluated as a Best Place to Work.
8. Gain insight into valuable employee feedback.
Participation in the Best Places to Work program gives you a true measure of the engagement level within your organization. Our survey tool measures employee engagement in ten areas using statistically validated methodology. That's data you can use to improve your culture, your workplace, and the lives of your employees.
 
The benefits of entering the Best Places to Work contest are invaluable. Not only will you have the chance to become a nationally recognized Best Places to Work finalist, but by selecting the InsightPlus reporting package you'll be able to:
Understand where your organization stands with a high-level overview report of your engagement data
Gain insight into your organization's strengths and weaknesses at-a-glance
Filter and slice your data by demographic to help you dig deeper into employee feedback
Add up to 10 unique questions to your survey to learn additional demographic information about your employees
---
Want to learn more? Download our Best Places to Work: Ultimate Guide to see how to get started and improve your culture.