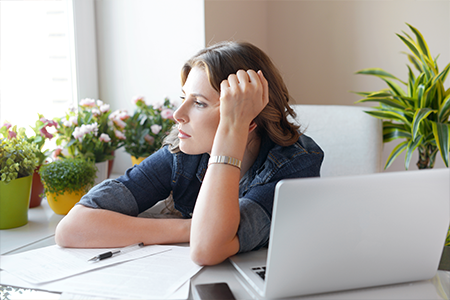 Most employees enter a new job bright-eyed and bushy-tailed. A fresh environment is exciting, coworkers are welcoming, and managers are supportive. Yet after the first year, the honeymoon phase fades away and employee engagement starts to decrease.
Disengaged employees can cause major problems in your workplace. Not only do they underperform, they also create friction for your high performers. It's up to organizations and managers to identify and know how to handle disengaged employees.
What causes employee disengagement?
Though apathy and indifference are usually key indicators of disengagement, there are more telling ways to determine whether employees are just going through the motions or seeking other employment.
Disengagement may be caused by lack of:
Recognition
Feedback
Communication
Work flexibility
Employee development
Trust
Teamwork
Control
Autonomy
In some cases, the root of the disengagement stems deeper than a short-term personal challenge or legitimate workplace problem. But most people want to be engaged. And some are capable of turning things around.
Identify your disengaged employees
Whether or not your disengaged employees can be rescued, it's imperative to the entire organization that you try.
Here are 24 best practices for identifying, handling, and re-engaging disengaged employees.
1. Pinpoint poor performance.
Performance is usually first to decline when employees are disengaged. Employees may begin submitting late or disappointing work, or offer excuses, rather than owning their shortcomings. They might still adequately perform their daily tasks, but their growth potential flatlines.
2. Notice lack of interest in development.
Watch for employees who stop participating in team discussions, rarely contribute new ideas, and are withdrawn during one-on-one meetings. Disengaged employees accept the monotony of their current position and lose the passion to strive for anything greater.
3. Uncover ongoing frustrations.
Highly motivated individuals become frustrated when their ideas aren't acted on, and when their managers and coworkers don't show a similar drive for success. Employees who continually initiate discussions with their manager to voice their concerns may be a flight risk.
4. Be aware of any increases in PTO used.
If employees take a single day off several weeks in a row, they very well may be searching for new jobs and going to interviews.
Determine the impact of disengaged employees
If the employee is worth saving, you need a plan to get them back on track. But as cruel as it may sound, not all employees are worth preserving. Source employee feedback from surrounding teams and consider these tips to determine the impact.
5. Identify adequate skills.
If they're not able to perform the required responsibilities, a change may be necessary. Consider whether further development and learning opportunities could get them where they need to be.
6. Recognize poor behavior.
Explain that you're concerned about their performance or behavior and ask what's affecting it. If employees admit they're struggling, you may be able to identify solutions and help them.
7. Search for possible solutions.
Offer answers to their engagement problem, ask if those adjustments would help, and gauge their response. An enthusiastic reply indicates hope. An "I don't know" or "I don't think so" is further cause for concern.
8. Determine their engagement level.
Managers are among the greatest influences on employee engagement. Do you recognize your employees enough? Do you offer them new and challenging opportunities? Do you discuss their future goals and create plans to help them reach their potential?
9. Discover employee motivations.
Why did they originally apply for this job? What did they hope to accomplish, both for the company and their own growth? Why do they think they're a good fit for their position
10. Analyze recent behavior change.
Why did their enthusiasm fade? There might be something, or someone, negatively affecting their experience. What trigger events may have occurred recently to make a negative impact?
11. Explore manager impact.
Are you the problem? That's a tough pill to swallow. If multiple team members are disengaged, they might not be the issue. It might be time to stop pointing the finger and look inward.
How to handle disengaged employees
Some disengaged employees are simply too far gone or aren't capable of performing the job they were hired to do. But others just want you to invest some time to remedy the situation. Follow these ideas for addressing your most disengaged.
12. Skip the small talk.
Calmness diffuses anxiety every time. If you resort to anger and defensiveness, you lose. Calmly explain why you are meeting. Be clear that things need to improve if the employee is to remain with the organization.
13. Address the problem head on.
Speak with disengaged employees individually. Skip the small and let them know you're concerned about their behavior and you want to better understand the root cause. If you can uncover why the employee is disengaged, maybe you can find a solution and avoid turnover.
14. Listen carefully and allow for pause.
Apply pressure on employees by letting them do most of the talking. When appropriate, repeat their response back to them. Sharing your interpretation helps to ensure clarity. Confirming lets them know that they are being heard. It also validates them when they hear a manager express their concerns. Encourage them to take control of the meeting, explain their behavior, and state their case for why they should be further developed.
15. Ask questions.
"If your [main frustration] were solved today, how would your work performance change?" If a disengaged employee stammers over the answer, document the conversation and begin coaching them out of the organization. If they provide an answer with confidence, it demonstrates an underlying appetite to repair the situation.
16. Document the conversation.
Simply saying that employees are disengaged isn't enough to make a difference. To have a successful behavioral intervention, managers must be able to point to specific infractions. Keeping a log of employee behavior allows the manager to clearly show why the employee's job is in jeopardy. And any feedback could fuel future plans for improvement.
17. Close with a commitment to action.
Disengaged employees should leave with an understanding of what the company will be doing to resolve their concerns. At the same time, they must understand what they need to do to resolve the issues that they are causing. It is especially important that employees understand the consequences poor performance, but also see a clear path for changed behaviors.
18. Share notes and follow-up with next steps.
Managers should always send disengaged employees a memo that contains a summary of the meeting, the action plan, and any consequences for failing to meet the action plan. Managers mistakenly assume that the act of feedback itself creates change. Put your commitments in writing and when the meeting concludes, share feedback and action items to move forward.
How to re-engage disengaged employees
Now that you understand where the disengagement originated and how to identify disengaged employees, you can start correcting it. Consider these ways to re-energize disengaged employees.
19. Create a personal development plan.
Show employees that you care about and are invested in their success with an employee development plan. Ask employees how they want to grow and which skills they'd like to develop. Identify potential growth opportunities or stretch assignments. Consider conferences, webinars, speakers, and training sessions to drive development.
20. Set goals and hold employees accountable.
Work with disengaged employees to set attainable goals. By developing these opportunities together, employees will feel more supported and see how their work matters within the organization. Post public goal updates to increase visibility to all team members and boost accountability of individual contributors.
21. Encourage greater participation in one-on-one meetings.
Don't dominate the conversation. Encourage employees to voice concerns and wishes. After the meeting, act on what you discussed. Few things are more disengaging than having feedback fall on deaf ears.
22. Conduct regular 360 feedback.
Ask disengaged employees what would make their experience better. Source opinions from other team members and managers who work closely with them. Try to identify when disengaged employees are most engaged. What is it about those responsibilities that motivate them?
23. Recognize positive behavior.
Employees who aren't recognized are twice as likely to quit in the next year. Make sure you acknowledge strong performance and good behavior in a way that fits the employee's personality. Even a simple "thank you" goes a long way toward making employees feel valued.
24. Continually monitor employee performance and potential.
Are things getting better? Are disengaged employees showing more effort and potential? Document ratings and notes on employees' performance impact, retention risk, and growth potential so managers, leaders, and HR can stay up to date on progress and add insights.
Disengaged employees can wreak havoc on your organization. Connecting with employees one-on-one and approaching each conversation head on will help you better identify and handle all levels of engagement.
---
Want to develop a fool-proof strategy for engaging employees and avoiding disengagement? Download our ebook, A New Era of Employee Engagement to learn how to keep engagement top of mind at your company.