The most successful organizations recognize that people are their most valuable asset. A motivated and engaged workforce benefits your business. It unlocks potential, boosts productivity, and drives sustainable growth.
This acknowledgement has led to an increased focus on employee engagement in the past several years. But while 92% of executives say engaged employees perform better, only about half say they've achieved positive ROI from their engagement efforts.
Organizations must focus on the foundations of employee engagement to close this gap. Leaders need a true understanding of what engagement is, what drives it, and how to measure it. It's the only way to create a workplace where engagement is strong and contributes to the bottom line.


At the heart of this foundation is a reliable, proven employee engagement model. Without this framework, it's difficult to understand what's really happening within your organization. And to invest in the right engagement initiatives.
An employee engagement model helps you truly understand, validate, and improve employee engagement. It's a roadmap for implementing the right strategies in the right areas at the right time. It will help you more effectively boost engagement, increase performance, drive retention, and improve business results.
In this article, we'll help you:
Define employee engagement

Understand the importance of an employee engagement model

Dive into the details of Quantum Workplace's e9 employee engagement model
With the right mindset, model, and listening strategy, you can unlock the power of an engaged workforce and see greater business success.
What is employee engagement?
Employee engagement is defined as the strength of the mental and emotional connection employees feel toward their work, team, and organization.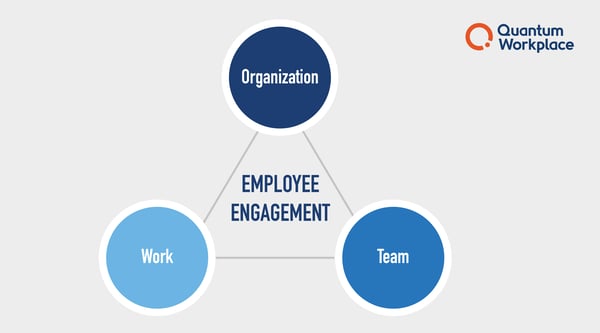 What is an employee engagement model?
An employee engagement model provides a consistent framework for measuring and driving engagement. It provides a structured approach for understanding what is driving (and hindering) engagement. It helps organizations identify the factors that are influencing employee engagement at any given time.
Why is an employee engagement model important?
An employee engagement model is an essential foundation for your employee engagement strategy. It provides the structure you need to get a reliable measure of engagement. This helps you better understand engagement, analyze it, and take action to improve it.
A tested employee engagement framework should be at the heart of your employee engagement survey. It should guide your survey content, analysis, and action planning.
A validated model will help you separate signal from noise in your employee feedback. This will help you create an engaging employee experience with more efficiency and effectiveness. You can avoid spending time or money on initiatives that aren't likely to move the needle or drive key business outcomes.
If you're using an engagement survey tool that isn't rooted in a scientifically validated, well-researched model, you should consider your options carefully. Otherwise, you're likely to find yourself throwing spaghetti at the wall. It will be difficult to understand what truly matters and nearly impossible to enact meaningful change.
Finding the right engagement survey partner can help you make progress on engagement faster. Your survey partner should be able to explain their employee engagement model clearly and help you apply it to your organization.
Examples of

employee

engagement models

& frameworks
We'll dive into Quantum Workplace's e9 model of employee engagement next. But first, let's look at some other common employee engagement models and frameworks.


Aon Hewitt's Engagement Model
Aon Hewitt's model focuses on four key dimensions of engagement:
Say:

employees' willingness to speak positively about the organization

Stay:

employees' intention to remain with the organization

Strive:

employees' willingness to put in extra effort

Share:

employees' inclination to advocate for their company as a great place to work




Gallup's Q12 Engagement Model
Gallup's Q12 model consists of 12 survey questions that assess different aspects of employee engagement. The questions cover topics such as clear expectations, recognition, development opportunities, and the presence of a best friend at work.


Deloitte Employee Engagement Model
Deloitte's model leverages five engagement-driving elements, including:
Meaningful work:

autonomy, select to fit, small & empowered teams, time for slack

Hands-on management:

clear & transparent goals, coaching, manager development, modern performance management

Positive work environment:

flexibility, humanism, recognition, DEI

Growth opportunity:

training & support, mobility, learning culture

Trust in leadership:

mission & purpose, investment in people, transparency, inspiration
Quantum Workplace's employee engagement model
Quantum Workplace has helped organizations design, build, and scale their employee engagement surveys for more than 20 years. Our e9 employee engagement model is scientifically validated, well-researched, and highly effective. It helps organizations understand, validate, and improve employee engagement—making action and progress easier.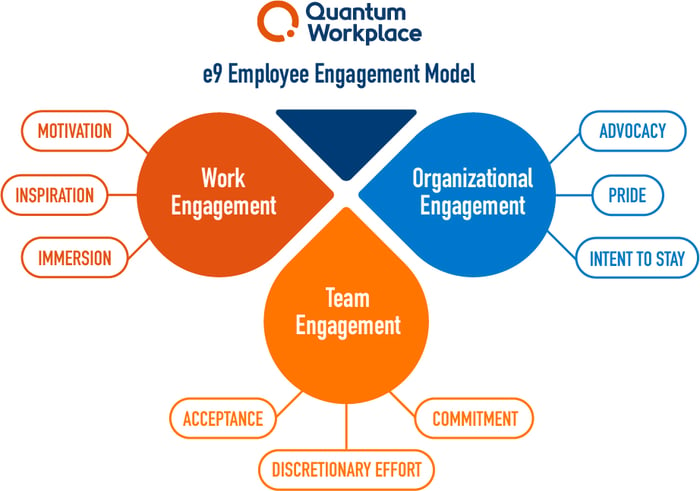 Quantum Workplace's model of employee engagement is unique in that it measures three key areas that work together to build employee engagement. This includes:

The work employees do

The teams they do the work with

The organization they work for



When leaders think about employee engagement from this multi-faceted perspective, they are better able to problem solve at each level of employee engagement.
Quantum Workplace's engagement survey contains two types of items: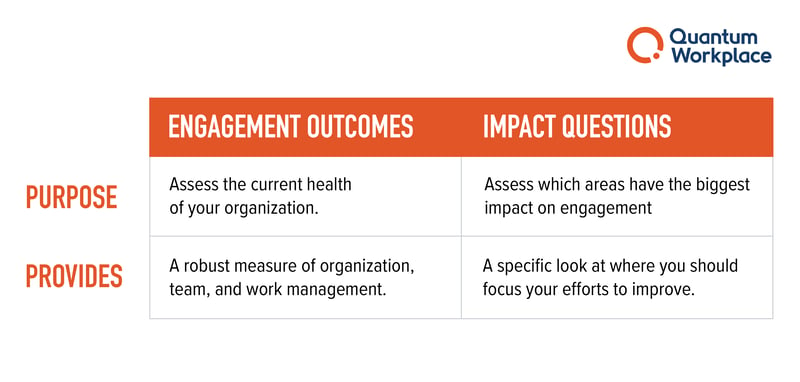 Employee Engagement Outcomes
Engagement outcomes are at the core of how we measure employee engagement. They help reveal the current state of employee engagement within your organization. Outcomes are not actionable. Rather, they are the targets the organization should strive to maintain or enhance.
Engagement outcomes focus on the three areas of engagement—connection to work, team, and organization—with each containing three outcome items.
Work Engagement
Answers the question: How connected am I to my work?
These questions help you understand how employees feel about their individual, day-to-day tasks. They examine areas like motivation, inspiration, and immersion.
Team Engagement
Answers the question: How connected am I to my immediate coworkers?
Feeling like part of a team can be critical to engagement metrics. These questions are designed to evaluate to what extent employees feel part of their immediate team.
Discretionary effort:

My immediate coworkers consistently go the extra mile to achieve great results.

Commitment:

My immediate coworkers are committed to this organization's overall goals.

Acceptance:

I feel accepted by my immediate coworkers.
Organizational Engagement
Answers the question: How connected am I to the organization as a whole?
Engagement with the company starts with alignment with its missions, goals, and actions. These questions are designed to measure employee advocacy and pride.
Advocacy:

I recommend this organization as a great place to work.

Pride:

I am proud to work here.

Intent to stay:

It would take me a lot to leave this organization.
Engagement Impact Items
Engagement Impact Survey Items help us figure out what can be done to positively influence employee engagement. They guide action to help maintain or enhance engagement outcomes.
Quantum Workplace recommends the following categories & employee engagement survey questions for Engagement Impact Survey Items:

Career Growth & Development
I find my job interesting and challenging.

I see professional growth and career development opportunities for myself here.

This job is in alignment with my career goals.
Communication & Resources
There is open communication throughout all levels of the organization.

I have the information I need to do my job well.

I have the materials and equipment I need to do my job.
Future Outlook
I believe this organization will be successful in the future.

I understand the company's plans for future success.

I know how I fit into the organization's future plans.
Individual Needs
I am paid fairly.

My job gives me flexibility to meet the needs of both my work and personal life.

If I contribute to the organization's success, I know I will be recognized.
Manager Effectiveness
My immediate manager cares about me as a person.

My immediate manager regularly gives me constructive feedback on my performance.

My immediate manager cares about my development.
Team Dynamics
Goals and accountabilities are clear to everyone on my team.

My coworkers are committed to producing top quality work.

Teams collaborate well with other teams.
Trust in Leadership
The senior leaders of this organization demonstrate integrity.

I trust our senior leaders to lead the organization to future success.

The senior leaders of the organization value people as their most important resource.
Diversity and Inclusion
I trust this organization to be fair to all employees.

Senior leadership is prepared to effectively manage a diverse workforce.

I am included in decisions that affect my work.

I feel like I belong here.


When used together and in a meaningful way, these categories, outcome, and impact segments can provide a comprehensive and holistic view into the engagement levels in your organization.
Conclusion
A reliable employee engagement model is essential to your organization's success in measuring and driving employee engagement. When you have accurate insights on what's helping and hurting engagement, you can take the right action at the right time in the right areas. Results will follow, and the business value of employee engagement will be obvious.