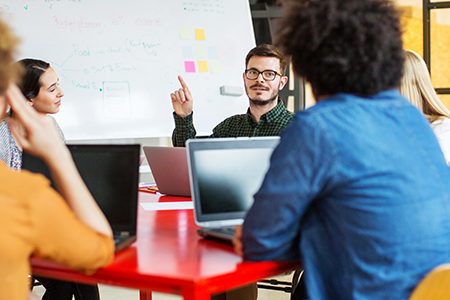 After conducting employee engagement surveys with hundreds of organizations, like Buffalo Wild Wings and the University of Notre Dame, that switched from other employee engagement survey vendors, we've learned a few things about what other providers are missing in their approach to employee engagement.
The list below summarizes the top six criteria that other employee engagement survey vendors tend to leave out, but we've found to be absolutely necessary to an effective employee engagement survey.
1. Little lead time to survey launch.
An employee engagement survey is just one of many items on an HR professional's checklist. Time is precious. So minimizing the timeline of your survey project is a huge benefit to you and your organization.
Efficient and effective employee engagement survey vendors are respectful of your time and reduce the amount of time you must spend on administering your survey. So what's the going standard on prep-time? We believe a modern-day employee survey partner should be able to launch your survey in two to four weeks, depending on the complexity of the project.
If your vendor requires more time to launch a relatively straight-forward survey project, start questioning whether they have the technology or staff to support their project load.
2. Fast access to employee survey reports.
Again, your time is precious. But more than that, employee engagement survey results are time-sensitive. Employees' feelings and opinions change. And employees are expecting to hear from you following the survey. How long do you have to keep them waiting while your vendor compiles the results and hands over your survey reports?
If you think of your survey as a conversation, where you've asked questions and your
 employees have answered, timing is crucial when it comes to delivering your next part of the conversation. Your employees expect a response. They expect to hear about the findings of the survey. You shouldn't have to wait a month to hear what they said. By then, employees will have moved on, and you will lose your momentum.
Any employee engagement survey vendor worth its salt should give you access to your results within four to eight business days following the close of your survey.
3. Intuitive reporting system built for managers.
Chances are, your managers don't have degrees in I/O Psychology. And they shouldn't be expected to. Instead, your employee engagement survey vendor should provide your managers with clear, understandable, intuitive reports that help them stay in tune with their teams. Look for a vendor that provides a simple manager dashboard that includes reporting features like drivers analysis, item breakdowns, heat maps, comment analysis, and more.
Nervous about giving managers full access to results? Don't be. When managers have access to their teams' survey results, they're in a better position to understand team dynamics, create action plans for problem areas, and retain high-performing employees. Safe-guarding your results with reporting suites that are only fit for your C-Suite will send the wrong message and put your entire engagement initiative at risk.
4. Accessible and customizable survey reporting.
Do you have to specify exactly what reports you want in advance? Do you have to make special requests for additional reports showing specific demographic breakdowns or customizations for your managers?
A modern-day engagement survey provider will give you the tools to create and customize your reports, as you need them. This is another benefit of having an intuitive reporting suite.
You shouldn't have to depend on your provider to send you additional reports following your survey administration. You need a smart toolbox that allows you to access new reports as quickly as your team can think of them. A savvy reporting suite and user-friendly technology will give you the ability to slice and dice your data however and whenever you want it.
5. Responsive and reliable tech support.
This one can be the most difficult criteria to assess. Why? Because how do you know what bad tech support feels like until you've experienced something better?
Here are a few questions to use to evaluate your partner:
What kind of tech support do we receive?
Can we upgrade to additional, more hands-on support if we need it?
When I have a question , will I hear back within one business day?
Can my employees contact your support line (instead of me) for any help they need?


6. Tools to improve employee engagement.
While conducting an employee engagement survey is a great step toward an engaged workplace, it doesn't move the needle on engagement. A survey is a measurement, like stepping on a scale. But if you're only surveying, you're not doing enough: you're making a note of where you currently stand, but you're doing nothing to change that engagement level.
The best employee engagement survey vendors know this and will have other tools you can utilize to make an impact. (Think: peer-to-peer recognition, goal setting and tracking, 360 feedback, one on one conversations, and more.)
Want to hit the vendor jackpot? Find a partner that provides a proven employee engagement survey AND the tools to increase employee engagement — all at the price of a single survey.
7. Bonus! an engaged culture.
You should seek out an employee engagement survey vendor who practices what they preach. Most people evaluating employee engagement survey vendors don't even consider this as a must-have, but just because it's labeled bonus doesn't mean it's just a "nice-to-have."
If your engagement partner lacks a strong culture, a high level of engagement, and a proven history of listening to and acting on employee feedback, then it's probably time to run. When your vendor has an engaged organization, it's proof that they believe in what they're selling and understand how an engaged culture works.
---
Want to learn more about the Quantum Workplace platform? Click below to get started.