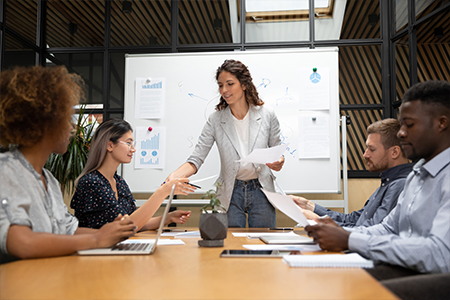 After conducting employee engagement surveys with hundreds of organizations like Notre Dame University and Sammons Financial, we've learned what organizations are looking for in an employee survey provider that has an effective approach to employee engagement.
The list below summarizes the top six criteria that other employee engagement survey vendors tend to leave out, but we've found to be absolutely necessary to an effective employee engagement survey. Keep these criteria in mind when choosing an employee engagement survey vendor.

1. Little lead time to survey launch.
Efficient and effective employee engagement survey vendors should help reduce the amount of time you spend on administering your survey. A modern-day employee survey partner should be able to launch your survey as fast as you need—depending on the complexity of the project.
Ensure that your preparation time gives you the ability to develop a strategy behind your surveys to communicate and increase employee buy-in. Take the time to set expectations for your employees and communicate what steps they need to take and why, so that you can get the data you want.
If your vendor requires more time to launch a relatively straight-forward survey project, start questioning whether they have the technology or staff to support their project load. Don't choose a vendor who holds you back.
2. Fast access to employee survey data.
Employee engagement survey results are time-sensitive because employees' feelings and opinions change. Your employees are expecting to hear from you following the survey. How long do you have to keep them waiting while your vendor compiles the results and hands over your survey reports?
If you think of your survey as a conversation, where you've asked questions and your employees have answered, timing is crucial when it comes to delivering the next part of the conversation. Your employees will expect a response and will be curious to hear about the findings of the survey. You shouldn't have to wait a month to hear what they said. By then, employees will have moved on, and you will lose your momentum.
Your vendor should allow you to see results right away. Once you've received enough responses to hit the threshold and compile sufficient data, your results should be available to those who need it. This level of visibility expedites responses and helps you gain a sense of your employees' perceptions during the survey process to formulate your strategic response as feedback comes in.
3. Intuitive reporting system built for managers.
Your employee engagement survey vendor should provide your managers with clear, understandable, intuitive reports that help them stay in tune with their teams. Your dashboard should be made attributable to you and optimized for quick understanding and action. Look for a vendor that provides an overall metric, favorability and response rate, and gives you access to all of the questions and comments provided.
In addition, a simple manager dashboard should include reporting features like ,item breakdowns, heat maps, comment analysis, highlights and more.
When managers have access to their teams' survey results, they're in a better position to:
Understand team dynamics
Create action plans for problem areas
Retain high-performing employees
Safe-guarding your results with reporting suites that are only fit for your C-Suite will send the wrong message and put your entire engagement initiative at risk. Think about your feedback as intelligence and don't be afraid of negative responses. Your employees' perceptions exist whether you measure them or not. Put these perceptions in the hands of managers to start an effective course of action that helps your organization grow.
4. Responsive and reliable service.
Reliable service and support is key to ensure your survey process is smooth. Leverage a partner that prioritizes your goals and understands what you want to discover from your surveys. Your partner should provide a success plan to serve as a north star in pushing your initiatives.
A reliable and responsive account team should help you design an effective survey and visualize and interpret meaningful data trends. Support should be provided throughout the survey process to ensure you feel comfortable using the software.
5. Tools to improve employee engagement.
While conducting an employee engagement survey is a great step toward an engaged workforce, it doesn't move the needle on engagement. A survey is a measurement, like stepping on a scale. But if you're only surveying, you're not doing enough—you're only making a note of where you currently stand, versus actively working to change that engagement level.
The best employee engagement survey vendors know this and will have other tools to utilize that help you make an impact. These tools could include peer-to-peer recognition, goal setting and tracking, 360 feedback, one on one conversations, and more. When a variety of employee engagement tools are provided, your employees and managers are better equipped to push business success.
6. A culture dedicated to employee success.
You should seek out an employee engagement survey vendor who practices what they preach, and implements their employee engagement surveys into their own organization. Many people evaluating employee engagement survey vendors don't even consider this as a must-have.
But, when your survey vendor leverages their own software, they understand the most effective ways to launch and use their tools. They have insight into which tools are working well or not, to more effectively maintain a strong toolset.
If your engagement partner lacks a strong culture, a high level of engagement, and a proven history of listening to and acting on employee feedback, question the legitimacy of their product. When your vendor has an engaged organization, it's proof that they believe in what they're selling and understand how an engaged culture works.
When you prioritize employee success you drive business success. Utilize these criteria when looking for an employee engagement survey vendor that effectively supports your people initiatives with their software.
---
Want to learn more about Quantum Workplace platform? Click below to get started.