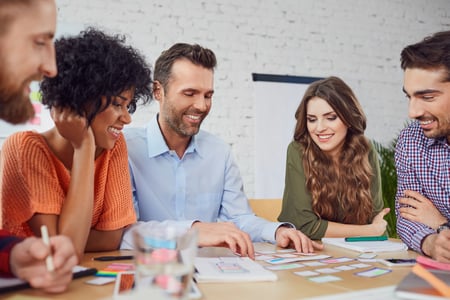 If a tree falls in the forest but no one hears it, did it really make a sound? This frequently-asked hypothetical accurately sums up an employee engagement survey.
If you conduct a survey but don't communicate or act on the results, what's the point? Did it actually make a difference? (Hint: Probably not.)
Without action, your employee engagement plans will fall short. So how can you make the most of your employee engagement surveys?
Use the following tips to understand what to do with employee engagement survey results to increase engagement across the board.
1. Communicate clearly.
Communication is a crucial part of launching a successful engagement survey. Keep both managers and employees in the loop at each stage—before, during, and after the survey.
Thank employees for participating.
After the survey closes, send an email to thank your employees for participating and providing their feedback, and share the overall response rate.
Set expectations, clarify accountability, and commit to a timeline.
Work with team managers to share next steps in the action planning process and set expectations for the timeline and accountability for engagement survey results.
2. Review your survey results.
Review and analyze your employee survey results with your provider and internal survey project team. There are multiple ways to assess your survey results. Here are some quick tips:
Evaluate favorability.
Favorability gives you a high-level view into your organization's engagement. Overall favorability is a combination of responses that are either "Strongly Agree" or "Agree" across all survey questions asked. An overall favorability of 70% or higher is healthy.


Understand your unique engagement drivers.
This helps you identify survey questions that have the highest correlation to employee engagement so you can pinpoint which results to focus your action on.
Do you notice any themes?
Which key drivers are most favorable?
Which key drivers are least favorable?
Which key drivers have improved or declined since the last survey?


Compare results to your last survey.
Review areas of greatest improvement and decline since your last survey so you can understand what progress you've made (and can continue to reinforce) as well as what areas need more attention.


Examine group level differences.
Slice and dice your data to compare different demographics within your organization. This can help you understand unique employee perceptions across teams, departments, locations, functions, gender, tenure, etc. so you can better target your efforts.
With your results and analyses in hand, you can present your findings to the leadership team to begin initial discussions on takeaways, areas of focus, and potential action plans.
3. Share key survey findings with employees.
After analyzing and sharing results with senior leadership, loop your employees in on some of the key stats and findings.
Share encouraging and relevant insights such as "most improved," "largest gap compared to last year," and other stats your employees will find interesting. Updating your employees helps keep the survey top of mind and demonstrates that their feedback has been heard—even if you haven't yet taken action on those results.
Provide access to managers.
Provide access to the employee engagement survey results and analyses to your managers. Your managers are your biggest asset when it comes to employee engagement because they are on the ground with teams. They can provide important insight into the results and should play a key role in shaping what happens next.


Hold focus groups to discuss results.
Hold focus groups with employees to discuss survey results and uncover deeper insights and actionable engagement steps you can take from the survey. Focus groups also reinforce your commitment to listening to employee feedback and show you value their input.
4. Make a plan.
The results are in and leaders and employees have weighed in on the initial findings. Now is the time to make a plan. Develop employee engagement action plans at both the organizational level and on the team level. Focus on two or three main areas to work on as a company, then use those broader goals to guide your managers at the team level.


Encourage managers to make a plan for their individual teams.
Managers are best positioned to understand their employees and their team's unique strengths, weaknesses, and dynamics, so they can more effectively work with their teams to design a successful action plan. This will empower your managers (and their employees) to take ownership of the action items and engage more meaningfully in the work.
5. Act on the plan.
With a plan in place, it's time to take action. Employees who saw action following a survey were 12 times more likely to be engaged the following year than those who don't experience follow-up.
Your plan should include action items, assignments, and timelines (for both leadership and employees). Communicate expectations, follow up with managers on progress, and share what actions you are taking as an organization as a result of the survey.
6. Communicate those actions regularly.
It's easy to lose steam over time, but don't let your plans fall to the side. An employee engagement survey is only as good as the action taken as a result of the survey. Our research shows that response rates decrease the following year when you do nothing, or don't communicate what you've done, with the data.
That's why it's important to continue communicating with your employees about actions taken throughout the year. Even if you made changes based on your data, if that isn't clearly displayed to employees, they won't make the connection and understand the importance of the survey.


Communicate the changes you made and connect them back to the survey.
Adding a simple statement like, "As a result of last year's engagement survey..." can make all the difference in connecting action to survey results.
For example: "As a result of last year's employee engagement survey, we implemented a company-wide recognition tool, installed taller cube dividers, and held Start/Stop/Continue meetings across teams to improve cross-functional relations and collaboration."
7. Get ready to survey again.
For best results, plan ahead. How did your last survey go? What bumps or kinks could be ironed out (or avoided)? Does everyone know their role or responsibility?
Provide clarity for the role each person plays in employee engagement. Develop a plan before the survey launches: what role will HR play? How will managers act on the results? Will leadership be involved?
Assigning responsibilities in your employee survey action plan will ensure that the results lead to action, not fall on deaf ears. Involve managers early on to communicate with their teams about upcoming surveys and encourage employees to participate. If you've successfully communicated and acted on past surveys, you should have solid participation again.
---
Communication and follow-through are critical. Don't be the tree in the forest. Make your employee survey results count and take action today—download our ebook A New Era of Employee Engagement: What It Is and How To Move The Needle.