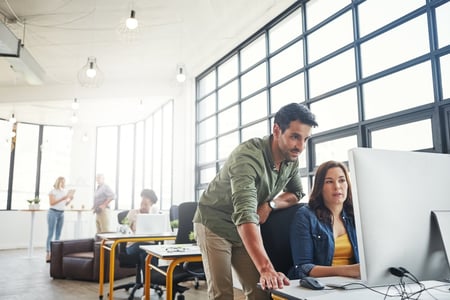 Employee engagement is an ongoing strategy, requiring commitments and actions throughout the year. There are many benefits to improving employee engagement and proof that it impacts business success.
To stand a chance at increasing employee engagement, your organization needs robust and integrated engagement tools. Standalone information systems make it difficult to see the impact of engagement on employee, team, and business success.
Harvard Business Review Analytic Services found that 1/3 of business executives view the disconnect between their employee engagement and performance management systems as one of the greatest barriers to getting business value from their company's investments in these areas.
Below we'll cover the types of employee engagement tools you need to understand and increase engagement across your organization.
Types of employee engagement tools
Unfortunately, there is no silver bullet or quick fix when it comes to engaging your employees—though that would make our jobs a whole lot easier!
Engagement requires a multi-pronged approach that strategically and consistently moves the needle over time. That's why you need multiple tools in your engagement tool belt to get the job done right.
This includes employee engagement tools that help you:
Uncover employee experiences and engagement opportunities
Have meaningful one-on-one conversations
Give and receive continuous feedback
Set and track important goals
Recognize employee achievements
Help managers become better leaders
Fuel your workplace decisions with data and insights
Use the following employee engagement tools and techniques to step up your engagement game.
1. Tools to uncover employee experiences and engagement opportunities.
No engagement software is complete without employee surveys. But an annual engagement survey isn't the only tool you should use. Look for employee engagement tools that include annual, pulse, and lifecycle survey options.
A lot can happen between annual engagement surveys. Pulse surveys allow you to get quick, mass feedback in real-time (without the hoopla of a larger, annual survey). These surveys help you increase communication and transparency and build trust.
Employee lifecycle surveys (such as new hire, stay, and exit surveys) have the same benefits, but target issues that are unique to certain stages of the employee journey. These surveys help you understand what is happening at key moments in an employees' tenure so you can optimize their experience and engage them no matter where they are in their journey.
2. Tools to have meaningful one-on-one conversations.
One-on-one meetings give employees and managers an opportunity to talk in-depth about issues that might not be on the weekly to-do list. This is the time to talk about learning and development, career path, and job satisfaction—all demonstrating care for the employee.
Engagement software can take care of the administrative parts of one-on-ones, such as:
Facilitating discussions
Connecting performance
Documenting notes and next steps
Quantum Workplace's one-on-one meeting software facilitates performance conversations to increase trust, accountability, and feedback and drive employee success. Our tools help managers review employee performance at a glance, set clear agendas with meeting templates, and integrate employee goals and feedback into 1-on-1 notes for more productive conversations.
3. Tools to give and receive continuous feedback.
Better performance depends on better feedback. But giving (and receiving) feedback isn't easy. Make sure your employees get the feedback they need to succeed by using the right tools. The right feedback software can help managers become better coaches and employees become better team members.
Take advantage of feedback tools like a 360 feedback cycle, which allows employees to ask anyone—peers, managers, and direct reports – for help understanding their strengths and weaknesses.
Quantum Workplace's 360 feedback software can take the pain out of a normal 360 by:
Consolidating answers
Connecting feedback to other metrics
Storing feedback indefinitely
4. Tools to set and track important goals.
To be successful, your entire organization needs to be pointed in the same direction. But if no one knows what the direction is, it'll be challenging to achieve your goals.
Quantum Workplace's goals tool can help align all employees and teams to your company's vision for success—think cascading goals, publicly visible OKRs, and weekly progress tracking. Our platform that lets you integrate your goals tools into other key engagement areas, such as recognition, performance, and one-on-one conversations for a fully aligned initiative.
5. Tools to recognize employee achievements.
Recognition is a powerful team engagement tool. Employees want (and need) to feel valued for their contributions. That's where recognition tools come in. Quantum Workplace's recognition software will keep your employees motivated while breaking down departmental silos. The difficulty a lot of organizations face, however, is finding a system employees will actually use.
Our tool works for both managers and employees. It's easy to use, mobile-friendly, and allows personalities to shine (e.g., GIFs, funny pictures, and hashtags galore). On the back end, alerts and analytics help managers celebrate employee successes in a timely manner, so nothing (and no one) falls through the cracks.
6. Tools to help managers become better leaders.
Not a single person is born knowing how to lead people—and that's ok. But, that means you need to help your managers find ways to engage their employees.
Look for an employee engagement tool for managers that prompts best practice ideas so HR can educate managers in real time. Make sure, however, that the ideas and alerts fit seamlessly into your managers' existing workflow, giving them the right information at the right time.
Take advantage of employee engagement tools like Quantum Workplace, that help you take action on:
Creating employee goals
Preparing for 1-on-1 conversations
Recognizing employees for a job well done
Automated in-tool nudges and coaching promote good leadership habits so managers never miss an opportunity to engage.
7. Tools to fuel your workplace decisions with data and insights.
If you want to improve engagement, you have to understand your people. That is why no employee engagement tool is complete without a robust people analytics component.
Collective intelligence and actionable insights help leaders uncover how, where, and why people are engaged (or disengaged). Quantum Workplace's people analytics tools will help you understand insights such as talent risk and dig deeper into the context of your engagement and performance data.
Administrators should be able to compile information from all their software to see a clear picture of how the culture is behaving and changing. For best results, share your data with all employees to enable any employee to take the lead on improving engagement.
Why you need an all-in-one engagement solution
All of these tools are useful on their own. But their real power is unleashed when you combine their data, insights, and capabilities into one employee engagement platform.
For example, Quantum Workplace's employee engagement software integrates employee goal creation with employee recognition to notify managers when someone has reached a noteworthy milestone. This helps managers coach more effectively and recognize employees in real-time, maximizing engagement opportunities.
In other words, a one-stop engagement tool simplifies the process for managers and employees, while leveraging each tool to strategically impact engagement consistently over time.
---
Employee engagement isn't a destination—it's a journey. We know that each organization is different, which is why we designed our platform to meet you where you are today. And we want to make understanding the power of our platform easy for you, with our Employee Engagement Program Models guide.