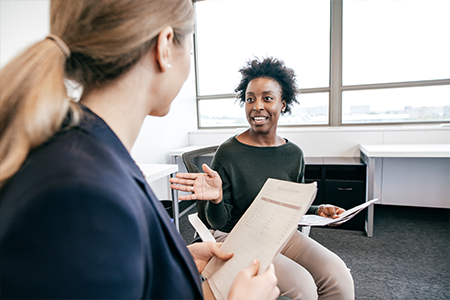 The annual employee engagement survey has been a staple of human capital management for decades. This low survey cadence was the gold standard for years, but leaders started to want more actionable and fresh results.
To avoid any stale feedback, the industry increased their survey frequency by leveraging monthly, weekly, and "always-on" surveys. This shift led to a lack of understanding among organizations about optimal survey frequency levels, prompting many missed opportunities to gain effective employee feedback.
Getting employee feedback that prioritizes actionability and relevance requires the right survey frequency, but understanding what frequency to leverage can be difficult. To maximize your employee feedback process, design a comprehensive listening strategy to get worthwhile employee feedback data.
Learn how to gauge what frequency works for your organization to promote relevant, actionable, and timely data to engage employees and promote organizational growth.
Determine the right survey cadence to promote engagement.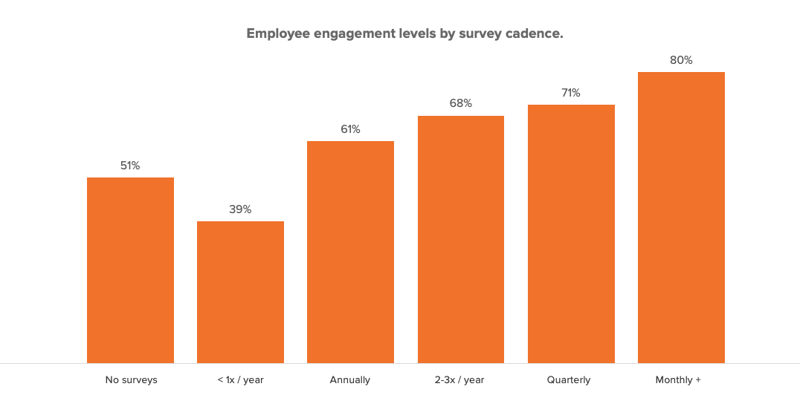 Our research shows that organizations who administer more regular surveys have highly engaged employees. The reality is that organizations who prioritize the employee survey process, and frequently survey employees, probably value employee feedback more than those who don't. When organizations develop their listening strategies to produce actionable, relevant results, employee engagement levels rise as feedback is regularly implemented into the organization.
The lowest engagement levels are associated with employees who are asked to complete surveys less than once a year—even organizations who don't administer any surveys have higher engagement levels among their employees. This isn't to say that never surveying your employees is a good strategy, but speaks to the importance of adopting a comprehensive listening strategy that is constantly seeking actionable employee feedback.
Once your organization has developed a listening strategy that prioritizes taking action on feedback, administer surveys 4 to 5 times a year to achieve optimal results. Supplement an annual employee engagement survey with pulse and lifecycle surveys to gauge the success of your HR initiatives. Ensure you take action as a result of your findings to boost employee engagement and growth.
Produce actionable results.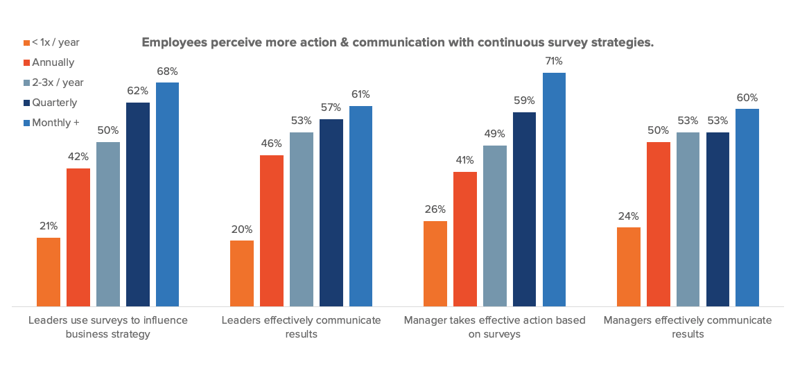 A high survey cadence leads to positive employee perceptions about the actions their leaders take—employees who are surveyed often see more effective measures taken as a result of their feedback. Taking action is an essential component of the survey process.
Actionable surveys produce insightful results. More frequent surveys prompt action from your leaders—without action, surveys lose their purpose. Ask for feedback that is directly related to organizational and team specific improvement and have a plan in place to act on that feedback.
Meet with teams at local levels to ensure that any survey data is translated into actions that are tailored for each team. Organizational engagement initiatives are good, but team and local level specific actions are better.
To best understand your data, don't focus only on the "scores" you receive. The metrics of your surveys are a valuable tool to understand big picture trends, but the specific feedback is even more important. Focus on high impact items to create a better course of action.
When organizations produce effective surveys and take action on their findings, employee engagement rises and survey fatigue is less apparent.
Avoid survey fatigue.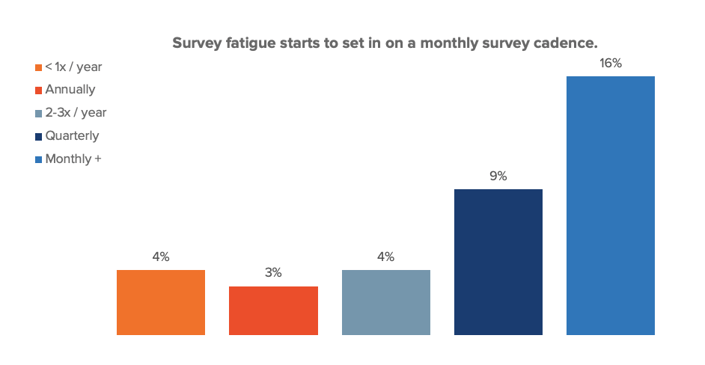 Consistency is key within the realm of employee surveys—survey fatigue doesn't set in until organizations survey employees at a monthly or more cadence. Unless you are producing highly frequent surveys without a goal, survey fatigue shouldn't pose a major threat to your organization. In fact, only 7 percent of employees, overall, say their organization sends out too many surveys. Don't use survey fatigue as an excuse to opt out of the survey process.
To further safeguard any possibility of survey fatigue, evaluate the maturity level of your organization's employee listening strategy. If you don't have a feedback-rich culture in place, consider adopting a less frequent survey cadence.
Ease into the survey process by working up to a more consistent survey frequency over time. This ensures that your management feels comfortable acting on any findings they receive. To gain a feedback-rich culture, develop your survey experience to consistently produce worthwhile surveys that bring about feedback that's implemented back into your organization.
To optimize your listening strategy, leverage actionable, quarterly surveys. Build your survey process to prioritize this actionability and frequency to best engage your employees. To streamline the process, leverage employee engagement software that helps you gain the tools that promote the ease and effectiveness of any survey implementation.
Mature organizations use employee surveys as an opportunity to uncover possible areas for improvement and room for growth—use employee surveys to boost business success and push your organization to the top of its industry.
---
Ready to improve your listening strategy? Explore our guide to Conducting an Employee Engagement Survey to better understand who to survey, what to ask, and when to launch.