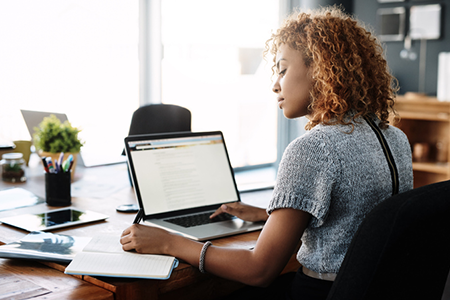 Engagement surveys, like any other organizational initiative, take up precious time, energy, and resources. They're an investment—one that you can't afford to take lightly.
However, simply sending out an annual employee engagement survey isn't enough to make sure all voices are heard. You can't get accurate, actionable data to assess and improve engagement if your employees don't or can't respond to surveys.
Your survey response rate is a good indicator of how successful your survey efforts are. The survey response rate is the number of employees who participate divided by the number of employees you sent the survey to. The higher the rate, the more people who responded to your survey.
Naturally, you'll want your survey response rate to be high, but also realistic. A good response rate is usually somewhere between:
70-80% for larger organizations (more than 500 employees)
80-90% for smaller organizations (less than 500 employees)
If your response rate is lower, that could be due to a number of factors including communication, access to technology, confidentiality, and local business or team conditions.
In this blog we'll discuss how to increase survey participation with actionable steps you can take to improve your survey response rates.
Here's how to get people to take a survey:
1. Make a formal announcement.
This may seem like a no-brainer, but formally announcing your survey plans and initial launch is an important first step to getting people to actually participate in the survey. After all, if your employees don't know there is a survey, or why it's important, it's more likely to get lost in an email or forgotten amidst other work and priorities on the ground.
Keep the survey top of mind by announcing the engagement survey, its purpose, and details about timeline and confidentiality. But don't stop there. Communicate about the survey in:
All-company meetings
Invitation emails
Reminder memos
Staff meetings
1-on-1 meetings
Day-to-day work environment
During the survey period, the simple act of a reminder can motivate employees to participate in the survey and give you actionable, representative perceptions about your company.
2. Communicate with an employee-first lens.
Communication is crucial at every stage of the survey process. At every interaction, frame your messaging with the employees in mind. Let them know you value their voices and opinions.
For example, before and after the survey period, employees want to know that their voices are heard and will be used to drive positive change.
Provide real examples of feedback that led to changes in the organization in the past and your plans to use feedback from the survey to continue listening to employee voices. Outline your next steps and timeline for analyzing and acting on survey results so employees know what to expect and are confident their participation matters.
3. Designate a specific time to take the survey.
This is a simple but effective strategy for increasing survey participation. Carve out time specifically for your employees to take the survey instead of leaving it up to them to find a spare moment during their busy workdays. Give them 15-30 minutes to complete the survey without cutting into lunch or personal hours.
Make sure managers are on board with this strategy and provide clear permission for their team members to take the survey. If the survey time is built in to the day and everyone is expected to participate at the same time, you are more likely to get responses.
4. Leverage SMS survey invites
It can be difficult to reach dispersed or deskless employees who are constantly on the go. Regardless, all voices are important and it's key to capture them. That's why you should equip employees with flexible and accessible survey options. Leverage a platform that sends survey invitations and reminders straight to your employees mobile phones.
Automated survey invitations send employees a survey link via text message or email, asking for their feedback. After clicking the link, employees can take the survey at their own convenience, from anywhere. Reminder texts and emails will increase survey participation further, helping you gather the voice of workers who didn't initially provide feedback. Our survey messages will meet workers where they're at and empower all employees to be heard.
5. Hold managers accountable.
Help managers confidently communicate about the survey and its purpose—and hold them accountable for getting their teams to participate.
This includes keeping managers in the loop at each stage of the survey process. Even after the survey has closed, keep managers informed about the next steps and when they can expect to see the results and takeaways.
This will enable them to communicate more effectively and ensure their messaging is aligned across the organization. When communication is clear and consistent, there is less chance of misunderstandings or misinformation that could undermine your credibility or employees' trust in leadership.
6. Communicate the importance of high participation.
When people understand the why behind an initiative or request, they are more likely to get on board. Highlight the value and benefits participation can have for them and tie that value back to the organization's mission and culture.
Let employees know that a high response rate means that more voices will be heard, data will be more accurate, and results will be more meaningful and tailored to employee needs and concerns. A win-win for everyone.
7. Prioritize changes based on feedback.
The ultimate goal of an employee engagement survey isn't to confirm how great your organization is so you can give yourself a pat on the back. The goal is understanding what is working well and what isn't, so you can improve. To achieve that, you have to be ready to act on the feedback you receive.
If you haven't been good at implementing feedback (or communicating how you implemented feedback) in the past, you will need to up your communication game the next time around.
Before you even start the survey, explain what you will do with the data once the survey is complete. Then, once the survey has closed, be sure to communicate the survey results, make changes based on the results, and communicate those decisions, priorities, and plans broadly and clearly.
8. Follow up.
Employee surveys, regardless of topic, should not be the only form of communication between employees and their managers, HR team, or executive leadership. The survey is a jumping-off point to help you gauge what is working and what's not. Employee comments in those surveys can add a bit of context behind the numbers, but those comments and numbers should never replace actually talking with others.
After the survey closes, follow up with employees about the survey results. Share team insights or takeaways you learned from the survey. What ideas do your employees have for addressing those results?
Pro Tip: Form employee focus groups to dive into results more carefully and brainstorm priorities and an employee engagement action plan.
Follow up is an important part of increasing survey participation because it demonstrates that action is being taken and includes employees in the problem-solving process. Then, when you are ready to survey again, your employees already know that their feedback was taken seriously and they have a real opportunity to make an impact.
The Takeaway: Communicate and Act
Employee feedback is a return on your investment in their talent, a vehicle for growth in employee engagement, and business outcomes. Prioritize communication at every stage and every level so everyone is on the same page, then follow through with action.
When you follow up and follow through, employees will trust that their voice matters. If employees don't think actions will be taken after providing feedback, they might view the survey as fruitless and forego participation in any following surveys. And sometimes, receiving fewer responses can speak louder than the responses themselves.
---
Looking for more employee engagement survey participation tips and best practices? Download our Complete Guide to Conducting an Employee Engagement Survey.