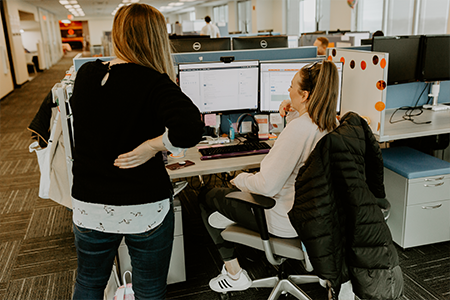 Disengaged employees cost U.S. organizations a staggering $450-550 billion each year. For companies that want to stay competitive, that's no small problem.
Yet despite the efforts of businesses across industries, U.S. employee engagement reached only 34% in 2018.
So when better benefits, higher pay, free lunches, and ping pong tables don't do the trick, what's left to move that engagement needle?
The answer: managers.
Managers can make or break your employee engagement and performance. Below we'll cover how to leverage your most effective engagement resource to motivate, empower, and retain your workforce.
Why managers are key to employee engagement
If you've ever had an ineffective manager, you know how much they can impact employee engagement. According to the Gallup Business Journal, 70% of the variance in team engagement across business units is explained by the quality of the manager.
In other words, engagement is a management issue.
And this makes sense. Employees naturally gauge their connection and engagement with an organization through their local relationships and environments. And no one has a greater influence on those day-to-day interactions, processes, and operations than the managers on the ground with them.
Good managers fill the role that HR can't—they build personalized relationships and connections with their employees, leveraging individual strengths to empower and motivate their people where they are. But what if you don't have effective managers?
Fortunately, leadership is a learned skill and you can train your current management to better understand and address their employees' needs. To do this, you first need to know what your employees want.
Top 3 things employees want from their managers
The first step to upping your management game is understanding what your employees actually want. (Hint: It's not ping pong—even though we love ping pong).
Research by Quantum Workplace found there are three main ways managers can do better. And the good news is anyone can learn and apply these principles. Let's dive in.
1. Growth and development opportunities
Employees want opportunities to grow and develop at your company. Growth opportunities consistently rank high for employees across the board including
#1 for new employees who have been at the company less than one year
#2 for employees age 26-35
#5 for employees of all demographics
This means that prioritizing employee development can have a significant impact on engagement no matter what your team looks like.
Our recent employee development research found that 79% of employees who had a formal development program were engaged, compared to 58% who said their organization doesn't have a formal program.
Not only do growth opportunities impact engagement, but they also impact performance. Employees who take advantage of development programs are more motivated, more empowered, and feel more equipped to do their jobs.
Pro Tip: Managers can help by working with their employees to create individualized goals and roadmaps for their career, assigning work and recommending employees for projects based on those goals, and communicating with their team about development opportunities within the company.
2. Recognition and appreciation
Everyone wants to be appreciated for the work they do. Yet employee recognition and appreciation remains one of the top reasons for disengagement and dissatisfaction among employees.
When you look at the numbers, it's no surprise why. Our recent employee recognition research found that over 52% of employees report wanting more recognition from their immediate supervisor. But 22.1% of employees say they never or rarely receive that appreciation.
Managers that want to engage employees must work on bridging that gap.
One of the top five drivers of employee engagement is believing the leaders of the organization value people as their most important resource.
An employee recognition strategy is a great way to demonstrate you care.
Managers are the first line of defense in an employee recognition program. Managers are the ones working with individuals and can see and respond to progress and performance in real-time.
Managers also have personal relationships with their employees, so recognition from their immediate supervisors is often more meaningful and authentic.
Pro Tip: Employee recognition doesn't have to be a huge initiative. As you build a recognition program, consider incorporating the following strategies:
Ask your employees how they want to be recognized.
Give specific and detailed praise.
Aim to recognize each employee weekly.
Small and consistent praise can be just as empowering as bigger recognition events.
3. Communication and feedback
Today's workforce values regular feedback and honest communication from their leaders.
Often, companies consider annual reviews to be sufficient—but they're missing a valuable opportunity to connect with their employees if they only provide formal feedback once a year.
Research by Gallup indicates that teaching managers and employees to have more frequent, meaningful conversations about work expectations and progress leads to higher engagement and performance.
Regular one-on-one meetings with each team member are crucial for making personal, authentic connections with employees and give managers valuable insight into what motivates (or demotivates) their people.
By meeting regularly with their team members, managers can build trust, better address employee concerns, and help them meet their goals—resulting in happier and more engaged workers.
Pro Tip: The frequency of your one-on-ones will depend on the needs and experience of your team. A brief weekly check-in or a more in-depth monthly review may work well. Experiment with the frequency to find what works well for you and your employee(s)
Whatever cadence you choose, make sure to schedule it as a recurring event on the calendar and respect your employee's time. This means:
Be on time.

Come prepared.

Don't cancel. (If you must cancel, be sure to reschedule it immediately for the next earliest availability).
How HR can help managers engage employees
HR can play an important role in supporting and enabling managers' efforts. Use the following tips to support your managers' engagement efforts.
Gather employee feedback.
Managing people can sometimes feel like throwing spaghetti at a wall and seeing what sticks. HR can help take the guesswork out of employee engagement solutions by helping managers gather and analyze employee feedback through formal surveys.
Engagement surveys are a great way to:
Uncover employees opinions
Identify potential points of friction in processes or operations
Pinpoint gaps between organizational initiatives and the employee experience
Gather actionable recommendations for improvement
Break down engagement metrics into actionable items.
To improve employee engagement, you need your managers to buy in and make it a priority. The easiest way to do this is to demystify the data and break it down into actionable takeaways.
When managers know both what the problem is and how to solve it, they are much more motivated to tackle it.
For instance, when HR presents their engagement findings, show the actual engagement questions (and how they scored) like "In the last seven days I have received recognition or praise for doing good work.
By presenting the individual items that make up an engagement score, managers are better equipped to solve the problems at the source.
Leverage engagement software.
Employee engagement software can help HR enhance communication, improve data collection and insights, and support management initiatives.
Quantum Workplace makes it easy for HR to understand and improve engagement across the organization and share key insights with management. The intuitive interface seamlessly integrates into your existing workflow so managers can surface real-time insights and use smart suggestions to prioritize engagement activities that will have the greatest impact.
Engaging employees doesn't have to be a mystery. With the right tools and smart management, organizations can connect with and empower their employees for mutual success.
---
Learn more about the manager's role in employee engagement plus tips, resources, and insights in our ebook The Manager Jackpot.