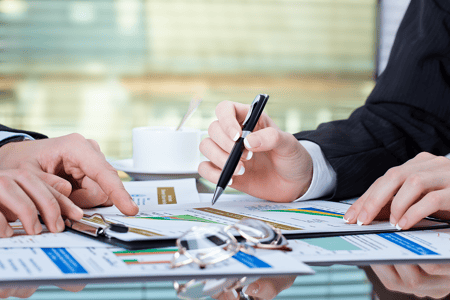 There's no arguing that turnover is costly in terms of both time and money—so how do you prevent it?
It's common knowledge that replacing and training employees are costly tasks for an organization. And you might be shocked to know just how high that cost is.
We teamed up with the Center for Management and Organization Effectiveness (CMOE) to identify employee turnover statistics that shine a light on the true financial burdens turnover causes.
Consider these stats and helpful tips to retain your top talent and keep talent poachers at bay.
Recruitment and Hiring
1. Losing an employee can cost anywhere from 16% to 213% of an employee's salary.
Source: Center for American Progress
2. 80% of turnover is due to bad hiring decisions.
Source: Harvard Business Review
3. Employers need to spend the equivalent of 6-9 months of an employee's salary in order to find and train their replacement.
Source: SHRM
PRO TIP: Provide challenging work and goals.
Employees become bored and disengaged when their work is repetitive and mundane. Spice up their role and provide new challenges, supported by goals. Achieving these new initiatives brings a sense of accomplishment and pride, keeping employees engaged in their work.
Performance and Productivity
4. A new employee can take up to two full years to reach the same level of productivity as an existing staff member.
Source: Josh Bersin Academy
5. More than one-third of executives feel the top factor leading to a failed hire, aside from performance issues, is a poor skills match.
Source: Robert Half
PRO TIP: Give frequent, quality feedback.
It's critical to coach your employees early and often. When employees receive feedback, they feel cared for and cared about. It improves communication between manager and employee and identifies performance issues, leading to fewer terminations.
Training and Development
6. 40% of employees who do not receive adequate training leave their post within a year.
Source: go2HR
7. Companies that invest $1,500 or more annually on each employee's training average 24% higher profit margins than companies with lower yearly training investments.
Source: HR Magazine
8. Companies that offer comprehensive training h

ave 218% higher income per employee.

Source: American Society for Training and Development

They also:
Enjoy a 24% higher profit margin than those who spend less on training.
Generate a 6% higher shareholder return if the training expenditure per employee increases by $680.
PRO TIP: Provide paid opportunities for developing new skills.

Engaged employees want to grow and develop new skills that will advance their careers. Offering training or funds to take classes shows employees that you care about their future. Consider paying for skills classes, sponsoring conferences, or simply encourage employees to take on new responsibilities.
Career Growth
9. 76% of employees reported they aren't given enough opportunities for growth at work.
Source: Clear Company
10. The top reason Millennials leave their companies is because they received a better job offer from another company (30%).
Other top reasons include their career goals aren't aligned with the company (27%), or they saw a lack of career opportunities within the company (13%).
Source: G2
PRO TIP: Support career development.
Employees want to develop, but their workplace isn't helping them. Invite an employee to a meeting that might not directly affect their day-to-day work, but shows them a different part of the organization. This exposes them to teams and employees they're not used to working with and can spark new partnerships or ideas.
Encourage them to set up the next team outing, organize an office potluck, or plan a volunteer project. These off-brand jobs give employees a sense of accountability and add variety to their daily duties.
Employee Recognition
11. Happiness leads to a 12% spike in productivity.
Source: University of Warwick
12. Google saw employee satisfaction rise 37% after making investments in its workers' happiness.
Source: Andrew Oswald
On the other hand, unhappy workers proved 10% less productive.
13. Nearly two-thirds (66%) of workers would likely leave their position if they didn't feel appreciated by their manager.
Source: OfficeTeam
PRO TIP: Recognize your employees.
Companies that invest in employee support and satisfaction tend to succeed in generating happier workers. And research shows that 86 percent of employees say recognition makes them feel happier at work.
Employee recognition encourages staff members to see positive attributes in one another. Allowing coworkers to nominate one another is extremely valuable, as it demonstrates they value each other's contributions to the team.
---
To learn more about turnover and how you can predict and prevent it, download our free ebook, Top 5 Predictors of Employee Turnover.