A healthy company culture is a basic component of any successful organization. It lays the groundwork for strong employee engagement, retention, and performance. And this reality isn't going unnoticed by business leaders. In fact, almost 70% of employees and leaders say culture is more important to business success than strategy and operations. And 69% of leaders credit much of their success during the pandemic to company culture. Now's the time to face culture head on and use it to drive employee, team, and business success.
Our organizational culture research shows 65% of employees say their culture has changed in the past two years. While some organizations have successfully adapted to this new world of work, others have struggled to build, improve, and maintain company culture. In this article, you will learn the best ways to improve your company culture moving forward.
What is company culture?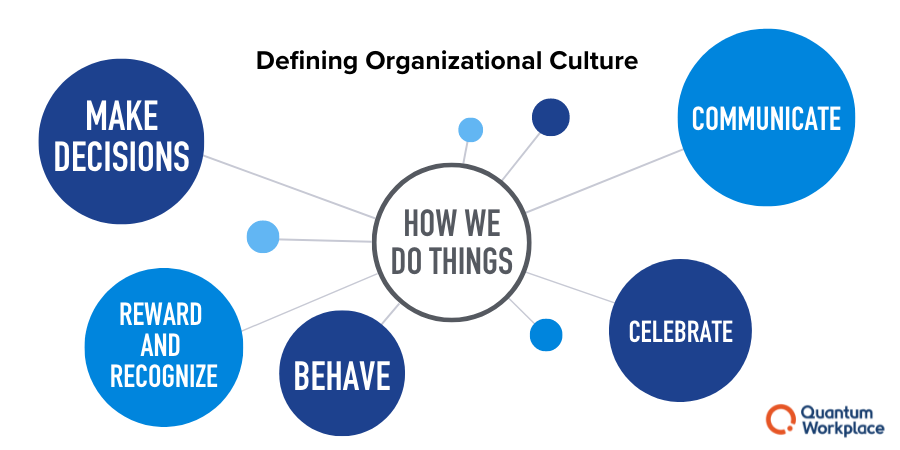 Culture has traditionally been defined as norms, rituals, and in-office happenings. But your company culture is more than that—it sets the standard for how work gets done.
Culture is the way you communicate, behave, celebrate, and coach performance in the workplace, whether in-person, remote, or hybrid. And it's shaped by the attitudes, behaviors, and values adopted throughout your company. Culture impacts everything within an organization, and it can either make or break your business success.
Why is company culture important?
Your company culture shapes the employee experience—for better or for worse. It has a positive, negative, or neutral effect on employee retention, performance, and engagement. When your company culture is positive, you can drive growth in these areas. Here are the top benefits of a strong organizational culture:
1. Improves employee retention.
Your company culture plays a big part in employee retention. A toxic culture will repel top talent, making employees likely to search for employment elsewhere. Our research shows disengaged employees are 2.8x more likely to leave their company for a better culture than engaged employees.
And because culture is one of the driving factors behind engagement, your culture can be used to boost retention. When you have a strong, positive culture, you can hire employees based on shared values and beliefs. A good culture fit will make talent want to stay for the long haul.
2. Strengthens employee performance.
A culture of strong performance management will help employees stay motivated, aligned, and on track to meet important goals. With the right coaching practices, you can support employee and business success day in and day out. 50% of employees experience culture most strongly through their manager's approach to performance. Your performance management practices matter—let them work for your culture, not against it.
3. Boosts employee engagement.
A healthy culture is driven by healthy behaviors that help employees feel more connected to their work, team, and organization.. Employees who say their culture is positive are 3.8x more likely to be engaged. If leaders want to strengthen employee engagement, they can use culture as the driving force.
Corporate culture statistics
It's important to understand the research and statistics around how employees experience culture. This gives you insight into what to focus on and where to make changes. Here are the top statistics about corporate culture to help you move forward.
1. 67% of employees believe their culture is positive and 66% believe it positively impacts their work everyday.
While the majority of employees say they're impacted positively by corporate culture, over ⅓ of employees are neutral or disagree. This is tough to swallow considering the connection between culture, engagement, and retention. To maximize business success, leaders need to shape a culture that all employees can thrive in.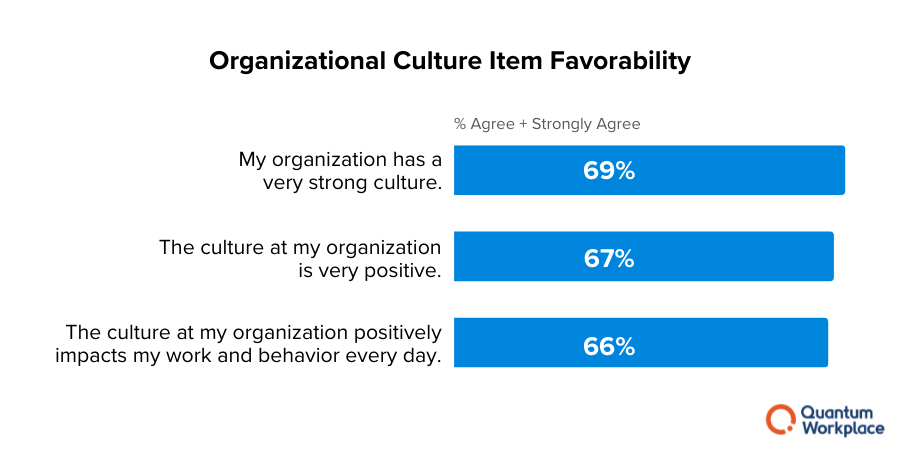 2. 35% of employees say their culture has changed dramatically in the past 2 years.
Culture is changing, and 23% say it has changed for the worse in the past two years. After the onset of the pandemic, some organizations have adapted and thrived. But other organizations haven't effectively adapted their culture, and employees are feeling it. 69% of organizations that adapted amid the pandemic say culture offers them a competitive advantage. To move the needle in the right ways and remain competitive, leaders need to understand how employees actually experience culture.
3. 50% of employees feel culture most strongly in their organization's approach to performance
Your approach to performance sets the standard for organizational culture. How managers create alignment, communicate, and give feedback all shape an employee's experience. Gone are the days shaping culture through the physical workspace—employees feel it through the day-to-day behaviors at your organization.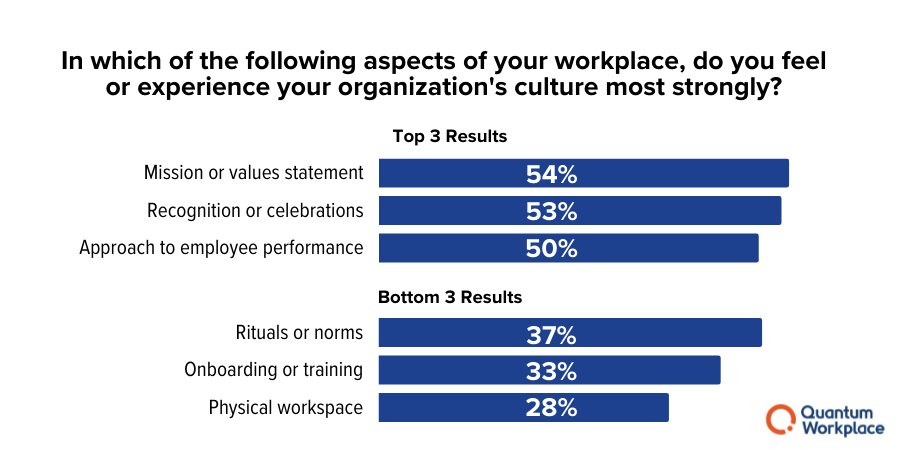 4. 53% of employees experience culture through recognition and celebrations.
The way leaders recognize and celebrate employees plays a big part in company culture. It's important that leaders show appreciation for employees' efforts and recognize the right things. When employees demonstrate a behavior or action that aligns with your mission and values, recognize them for it. 69% of employees would work harder if they received more recognition—don't hesitate to make it a priority.
5. 54% of employees experience culture through the company's mission and values.
Your mission and values statement outlines how work gets done and defines which outcomes are important. Unfortunately, only 54% of employees feel connected to their company's purpose compared to 77% of senior management. That's why it's important to communicate about your core values and mission often. If you use your mission and values to guide your everyday efforts, they will become more visible in the workplace.
6. Employees who say their culture is positive are 3.8x more likely to be engaged.
A positive company culture is a key way to strengthen engagement. When you shape a culture that engages employees, your workforce is better equipped to succeed. The link between culture and engagement is strong—ensure your culture is helping engagement, not hurting it.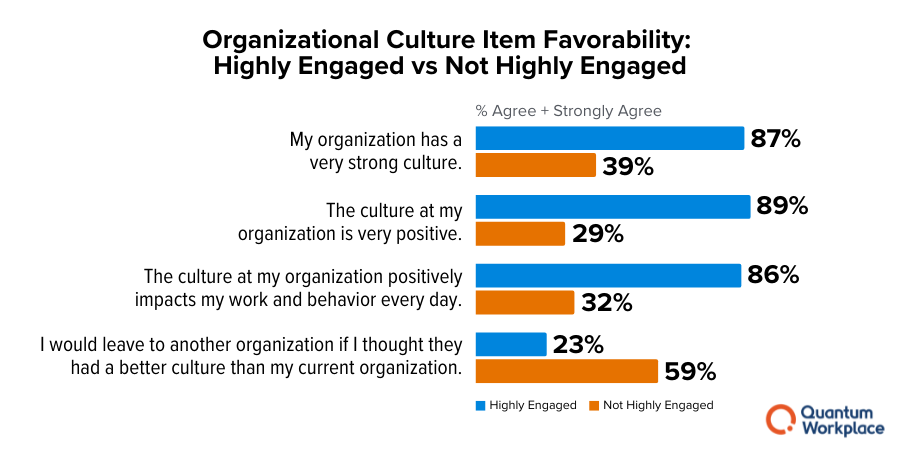 7. Remote and hybrid employees are more likely to report a strong and positive company culture.
Only 65% of on-site workers believe their culture is strong, compared to over 70% of remote and hybrid employees. And only 58% of onsite workers believe their culture is positive, compared to roughly 70% of remote and hybrid employees. Despite what many leaders believe, culture doesn't disappear in flexible work environments.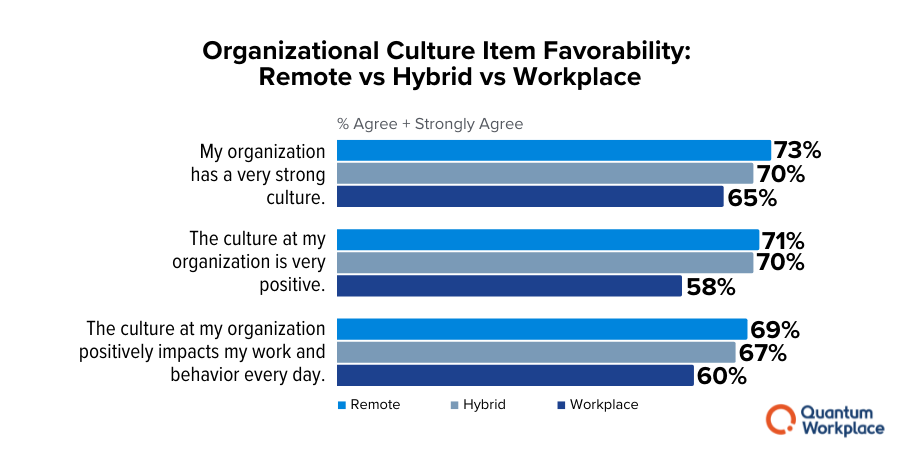 Who is responsible for building organizational culture?
Everyone plays a part in building organizational culture. While employees believe the job should fall on the shoulders of leaders, managers, and HR, culture should grow and evolve with each and every employee. Here's how each role can play a part in company culture and create business impact: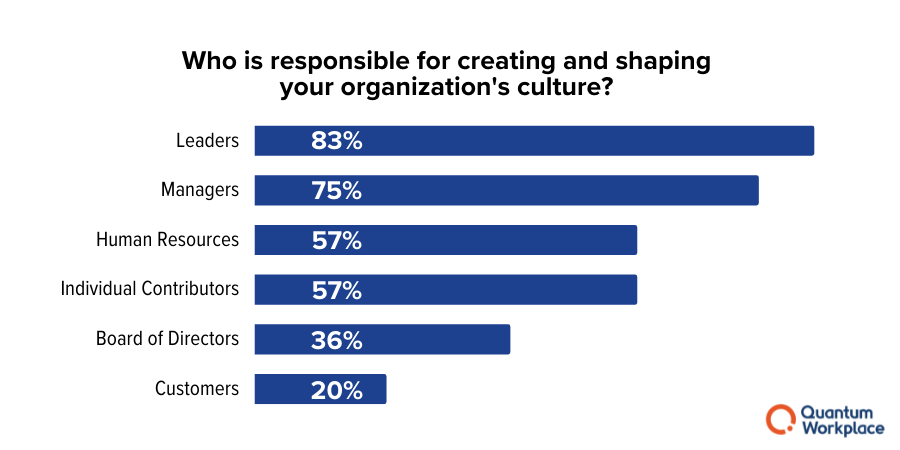 1. Leaders
Senior leaders play a big part in shaping organizational culture. They should outline, communicate, and live out organizational values. When leaders communicate culture regularly and set a positive example in their own behavior, employees are empowered to do the same.
2. Managers
Like leaders, managers should live out company culture every day. They should recognize employees for demonstrating behaviors that align with culture, help employees set individual goals that align with organizational goals, and provide helpful feedback to promote employee growth.
3. Human Resources
Many organizations delegate culture as an HR project, but HR can't take on that role alone. Instead, HR leaders should help keep people accountable for organizational culture. They play a big part in aligning employees and managers with company culture and ensuring it's practiced in the right ways.
4. Individual employees
The healthiest company cultures grow and evolve with each employee. Empower your workforce to live out culture in a way that resonates with them. The job of shaping culture is never done—everyone should continuously help it grow in the right ways.
The types of organizational culture
Employees describe their organizational culture differently, because there are multiple types of cultures. But it's leadership's job to ensure their company culture is the right fit. To support company goals, you should understand which culture—or blend of cultures—will serve your employees best.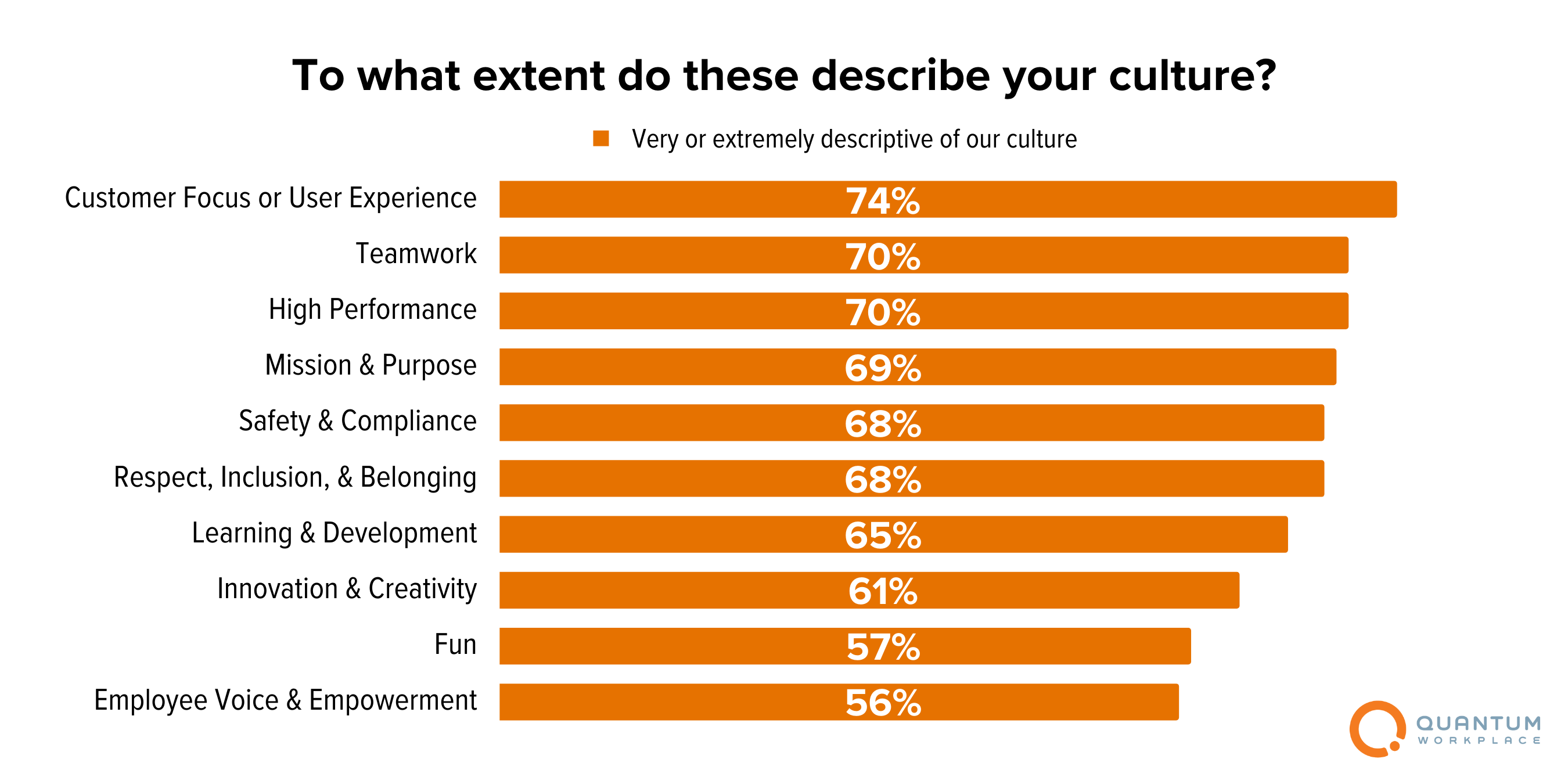 1. Culture of customer focus or user experience
Customer-centric cultures ensure that the experiences and products they provide cater to customers' needs. These cultures place a lot of importance on understanding each customer to deliver the best services possible. To provide optimal service, employees should be engaged and empowered to do their work with customers in mind.
2. Culture of teamwork
In cultures of teamwork, collaboration is a shared and important value. In these cultures, teamwork is at the center of all thinking, planning, and decision-making. Goals are shared and communication across teams happens often. Healthy teams will engage employees and drive business results.
3. Culture of high performance
In cultures of high-performance, employees are equipped to drive consistent business outcomes. In these cultures, employees reach their full potential with ongoing coaching and growth opportunities. To create a culture of high performance, managers should communicate often, recognize employees for their efforts, provide helpful feedback, and outline opportunities for development.
4. Culture of mission and purpose
Every great culture starts with a mission and purpose. These cultures give employees a reason behind their work, helping them feel like they're a part of something bigger. As each employee lives out the company mission and purpose, organizational alignment and engagement will grow.
5. Culture of respect, inclusion, and belonging
Respect, inclusion, and belonging is important in all workplace cultures. This ensures that every employee can grow and succeed, regardless of background, role, or tenure length. When employees feel supported and comfortable in their role, they're more equipped to drive valuable outcomes.
6. Culture of safety and compliance
Safety and compliance is always important—especially in the industrial sector. Leaders and managers should develop procedures and provide training about needed safety measures. That way, workers can think safely before acting, behave appropriately, and prioritize safety over production.
7. Culture of learning and development
In a culture of learning and development, employees continuously search for, contribute, and apply new knowledge and skills. But for employees to do this, managers and leaders need to empower learning and development. Leaders should invest in learning opportunities and regularly outline them to employees. Ongoing feedback is a must, helping employees reach their full potential.
8. Culture of employee voice and empowerment
In cultures of employee voice and empowerment, leaders provide continuous listening to employees. Keeping a constant pulse on the employee voice—and taking the right action—will make your workforce feel valued.

How to measure your company culture
A strong culture boosts employee engagement, drives performance, and improves retention. That's why organizations must define their culture and communicate it across the company. But if you don't understand your culture, it's nearly impossible to spread it throughout your business. Here are the top strategies to measure your company culture:
1. Employee surveys
Employee surveys are a great tool to gather feedback about culture. Employees experience culture everyday, and they can help you interpret culture accurately. They can help you understand where your culture stands and where improvements should be made.
2. Anecdotes
Leaders should keep track of informal employee comments too. Employees' remarks in meetings or on company review websites can give you more information than you think about culture. Employees give genuine insight about culture everyday—ensure you're listening for it.
3. Focus groups
Having genuine conversations with employees helps you understand important details about culture. Ask employees for their personal stories and experiences in the workplace. This will help you find trends and commonalities among each employee to better understand culture.
4. Business KPIs
Business KPIS can provide valuable insight about culture. These metrics include customer satisfaction, customer retention rate, revenue, and sales. If there are notable or sudden changes in these metrics, culture shifts—positive or negative—may be happening.
5. Tracking behaviors
Tracking behaviors across the organization is a great way to measure the strength of your culture. If you notice employees aren't demonstrating behaviors aligned with company values, your culture may not resonate with employees. Or, your employees might be unaware of cultural values. Tracking behaviors will give you insight into what to adapt or modify in your culture strategy.
6. HR KPIs
HR KPIS, like absenteeism, turnover rates, employee referrals, and internal promotions illustrate whether your company culture is effective or not. These metrics help leaders measure employee behavior and understand whether their culture is helping—or hurting—employee success.
How to improve company culture
Some leaders struggle to create, maintain, and improve organizational culture. But your business success is reliant on a strong company culture, and it needs to grow in the right ways. Here are 7 strategies to improve workplace culture:
1. Encourage teamwork.
Don't view employees as individual contributors working toward separate goals. Instead, look at them as members of a cohesive team, working together toward common objectives. This will make a difference in business outcomes and strengthen each employee's connection to their team and organization.
2. Connect employees to a bigger purpose.
When employees understand why their efforts are important, they're more likely to care about their work. Communicate your organization's mission and purpose often and tie it to employee goals. This is a key way to engage your workforce.
3. Recognize employees frequently.
Employees need to feel valued for their contributions. Recognize employees for important outcomes and for demonstrating behavior that's aligned with company values. By recognizing employees for the right things, they'll know which actions and behaviors to continue.
4. Provide transparent communication.
When changes happen within an organization, employees need to understand why. Without proper communication around change management, employees may feel confused or left in the dark. And this does nothing to help company culture. Communicate often and transparently to create a culture of trust.
5. Empower employee autonomy.
Flexibility is becoming the norm in the modern workplace, and employees want to decide how and where their work gets done. To create a culture of mutual respect and trust, avoid micromanaging at all costs. Instead of telling teams what to do, give them guidance and set positive examples in your daily actions.
6. Facilitate regular one-on-ones.
Employees and managers should stay connected through frequent one-on-one conversations. One-on-ones help employees and managers align on goals, build trust, and grow in their roles—which are all important aspects of a healthy culture.
7. Ask for ongoing feedback.
An ongoing listening strategy will empower employees to voice their opinions and concerns. When leaders make an effort to understand employees, they will feel more valued in their role. Plus, the insight leaders gain from feedback can help shape strategic action toward business success.
How to shape remote and hybrid workplace culture
It's important to build a culture that resonates with all employees—including remote and hybrid workers. But some leaders struggle to build a culture that engages employees in a remote or hybrid world. Here are 3 tips to shape a strong remote and hybrid workplace culture:
1. Focus on the purpose of your culture initiatives
Leaders can't simply virtualize aspects of their company culture and expect them to resonate. They need to shape culture initiatives with remote and hybrid teams in mind. Think about the goal of your culture initiatives and create ideas to accomplish that goal virtually. It's all about the intent—not the activity at face value.
2. Build time for informal conversation
To foster a strong connection virtually, try to form genuine relationships with employees. Carve out time during meetings for casual conversation. Remember that your employees are human—try to bond with them on a personal level.
3. Form employee resource groups
Employee resource groups are voluntary, employee led groups that connect employees based on common challenges or interests. Some examples include women's networks and mental health advocacy groups. These help people across your organization feel connected—even when working remotely.
Words to describe company culture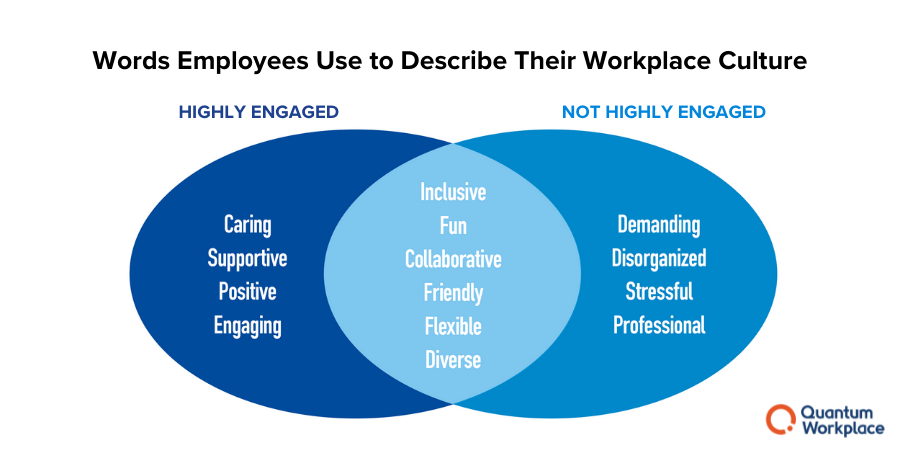 Employees describe culture in many different ways—both positive and negative based on their engagement levels. Engaged employees typically describe their culture as:
Inclusive
Caring
Supportive
Fun
Collaborative
But disengaged employees have different perceptions of culture. A few ways these employees describe their culture are:
Demanding
Disorganized
Stressful
Professional
But regardless of whether your employees are engaged or disengaged, they know what they want from their culture. The top 10 ways employees describe their ideal company culture are:
1. Flexible
2. Inclusive
3. Supportive
4. Caring
5. Collaborative
6. Fun
7. Engaging
8. Innovative
9. Diverse
10. Positive

Using software to improve organizational culture
The right technology can support and streamline your culture strategy. With a robust platform, you'll be on your way to a healthy culture that promotes employee, team, and business success. Here's the tools you should look for:
Employee surveys
Engagement, pulse, and lifecycle surveys will help measure employee perceptions at all points of their tenure. With this vantage point, you can measure deep perceptions about culture and take the right action.
People analytics
People analytics help you uncover the big picture behind your people. These tools help surface insights about your workforce that say a lot about company culture—like turnover trends, flight risk, and employee performance metrics.
Goals
A robust goal platform helps teams set, track, and complete clear and aligned goals. These goals are elevated to the entire organization so your entire workforce understands how everyone contributes to business success.
Feedback
Two-way feedback helps employees, teams, and leaders ask for and receive feedback. Managers can ask employees for feedback about company culture and take the needed action.
Recognition
A recognition tool helps you celebrate employee contributions and shares success stories across the organization. This will help you build a culture that motivates and values employees for their work.
Talent reviews
A streamlined talent review tool helps leaders understand the overall state of their talent to make better business decisions. These trends can help you understand whether your company culture supports or hinders employee success.
1-on-1s
An efficient 1-on-1 feature helps employees and managers increase clarity and communication. This helps leaders build connections, trust, and accountability—which are all critical to a healthy culture.
---
Ready to drive business success through your culture? Download our 2022 culture research report and get the insight you need to build a strong company culture.