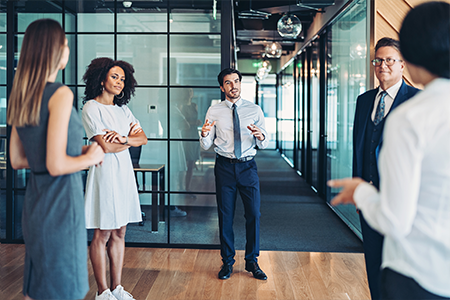 Culture is at the heart of every business and organization. But it's more than just feel-good HR policies or foosball Fridays. Your organizational culture encompasses all your processes, workflows, policies, and more. And it impacts everything from employee retention to productivity—and ultimately, your bottom line.
So what is organizational culture? And how can you harness company culture to improve performance, engage employees, and make your company a great place to work?
In this article, we'll answer what organizational culture is, why it matters, and how to create your own culture-centric organization.
What is organizational culture
Why it matters
Characteristics of organizational culture
How to start building a culture-centric organization
What is organizational culture
Culture can be hard to define—especially at an organizational level. But the better you understand what it is, the more effective you'll be at strategically cultivating the kind of culture that drives performance and engagement.
In short, organizational culture is your company's personality. It encompasses your company values, expectations, communications, and your overall employer brand.
Harvard Business Review defines organizational culture as the "consistent, observable patterns of behavior in organizations." In other words, organizational culture is the glue holding your company and its people together. It's the air you breathe and the way you do business. This includes everything from your customer service and work processes to compensation and benefits packages.
Why it matters
Company culture touches every aspect of your organization. A strong organizational culture can:
Shape strategy
Drive performance
Promote innovation
Improve efficiency
Accelerate your business
However, your company culture also has the potential to impact your organization negatively. That's why it's so important that you not only understand what your culture is but that you take a proactive approach to build the kind of culture you want.
Characteristics of organizational culture
So what makes up a positive culture? Every company is different, but our research uncovered four common characteristics of positive organizational culture:
Common values
Shared accountability
Mutual respect
Collective commitment
Cultures centered on shared values and accountability, mutual respect, and a collective commitment to organizational goals and priorities have the foundation to direct positive change and move forward together.
Of course, cultivating this kind of positive culture is easier said than done.
How to start building a culture-centric organization
Rome wasn't built in a day, and neither is your culture. A positive culture-centric organization takes time to develop. After all, your culture is embedded and promoted in every area of your business—from billing and payroll to customer service and sales.
To cultivate the kind of culture that inspires action, engages employees, and drives performance, you need to approach it thoughtfully and intentionally.
Use these tips to strategically build and guide your company's culture from top to bottom.
Get leadership buy-in.
A strong company culture starts at the top. Cultures are dynamic, and company leaders have an opportunity to significantly influence and impact culture on the ground.
If you want to reap the benefits of a positive culture-centric organization, you will need leadership buy-in and active participation across all levels. However, generating buy-in remains one of the most difficult challenges HR faces when leading culture initiatives.
Integrate culture into your strategy.
Don't leave your culture up to chance. Culture can't be an afterthought—it must be an integral part of your strategic vision. If you want to make an impact on your company culture, it should guide everything you do.
When you set culture as your strategy, you can proactively plan, develop and align programs and initiatives with your culture. Consistently and intentionally communicate your company values, goals, and priorities, centered on the culture you want to create and reinforce.
Build a feedback culture.
Strong cultures are built on accountability and respect. To create these positive mutual relationships between employees and the organization, HR leaders and managers should work together to practice employee listening and provide regular, constructive feedback.
Offer training and support to managers and other people leaders on effective ways to communicate feedback, coach employees, and build trust. Make sure leaders have the tools they need to solicit and track feedback and manage performance so that nothing falls through the cracks.
Clear communication at every level of your organization reinforces your shared values, clarifies expectations, and boosts collective commitment.
At the end of the day, your company culture shouldn't be something left just to HR and the executive suite. Your cultural values and priorities should infuse every level of the organization. Work with senior leaders and managers to communicate your values consistently and regularly, so that employees are empowered to own your culture too.
---
When everyone participates and contributes to your shared community culture, employees and leaders at every level will feel more engaged and more connected to your business' success. Find out how you can build a culture-centric organization in this partner research, The Culture-Centric Organization.