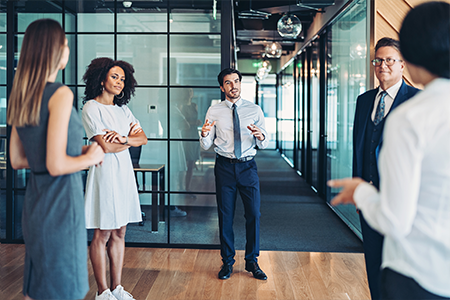 Culture is at the heart of every business and organization. But it's more than just feel-good HR policies or foosball Fridays. Your organizational culture encompasses many facets of your organization—and ultimately, your bottom line.
So what is organizational culture? And how can you harness company culture to engage employees, improve performance, and make your company a great place to work?
In this article, we'll answer what organizational culture is, why it matters, and how you can build a strong and engaging culture.
What is organizational culture?
Organizational culture is the way that organizations get things done. It's how we make decisions, how we communicate, and how we celebrate employees. It's the daily actions, attitudes, and behaviors that individually and collectively make up our organization.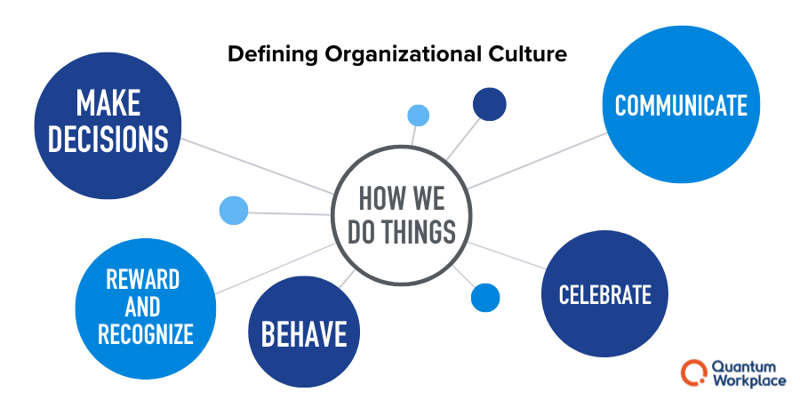 Why is organizational culture important?
Your company culture impacts everything within your organization. It can help or hinder you, depending on how intentional you are with it. An engaging organizational culture helps you:
Attract high quality talent
Boost employee engagement
Increase employee retention
Strengthen employee performance
Adapt to change
Accelerate business outcomes
Your workplace culture is a key driver of the employee experience. It can have a positive, negative, or neutral effect on key business metrics like retention, recruitment, and engagement.
65% of millennials rank a strong workplace culture as more important than salary.
Workplace culture matters to prospective employees. For millennials, it matters more than money! A positive and engaging culture can help you attract top talent.
Employees who say their culture is positive are 3.8x more likely to be engaged.
Company culture and employee engagement are inextricably linked. If you want to improve employee engagement, take a look at your culture.
An engaging culture connects, equips, and empowers employees to do their best work.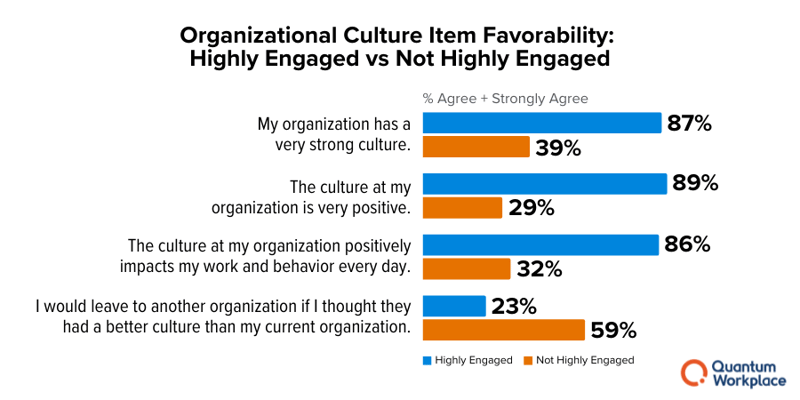 Employees who say their culture has improved since the pandemic are 2.9x more likely to be highly engaged.
Workplaces have been through a lot of change since the pandemic—and so have their employees and cultures. Employees have taken notice of improvements in those organizations that have been intentional about shaping their culture in this new world of work.
Disengaged employees are 2.6x more likely to leave their company for a better culture.
Company culture and engagement are sticky factors that make employees want to stay. A Glassdoor survey says 7 in 10 employees would look for a job elsewhere if their workplace culture were to weaken. Culture is a critical retention strategy.
70% of high-performing organizations agree or strongly agree that culture is what drives their success on organizational and business outcomes.
There's a reason company culture has become a top priority for leaders—especially leaders at high-performing organizations. They understand the connection between culture and success.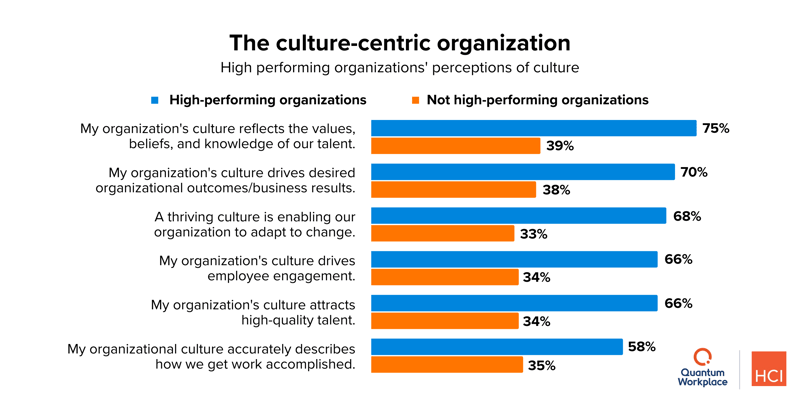 How organizational culture has changed
Workplace culture has historically been defined as organizational norms, rituals, and values. But how employees perceive company culture has changed.
35% of employees say their culture has changed dramatically since the start of the pandemic.
As the workplace has shifted since the pandemic, culture has shifted too. Some employees say it's changed for the better—others say for the worse. Whether or not you're actively investing in your culture, someone or something is shaping it.
It's important for leaders to keep a pulse on company culture to ensure they're driving the right changes at the right times.
1 in 3 employees has neutral or negative perceptions of their organization's culture.
Many organizations have successfully navigated turbulent pandemic times and have adapted to remote and hybrid work. However, about a third of employees have poor perceptions of their workplace culture. This is a tough number to swallow considering the connection between culture, employee engagement, and employee retention.
50% of employees experience culture most strongly through their organization's approach to employee performance.
In today's employee-driven work environment, the way you manage performance has a strong impact on engagement and culture. Building a high performance culture is key.
Our workplace culture research shows that how managers create alignment, communicate, recognize, and give feedback all shape how employees experience your culture.
Only 28% of employees experience culture most strongly through the physical workspace.
Many leaders have expressed thoughts about the importance of the physical workspace on culture. But our research shows it's least important to how employees experience culture.
Remote and hybrid employees are more favorable toward workplace culture.
Remote and hybrid work environments are becoming the norm—and this shift has impacted employee perceptions of culture. 70% of remote and hybrid workers believe their company has a strong and positive culture, compared to 65% and 58% of on-site employees, respectively.
Tips for shaping culture in a remote/hybrid work environment
Culture cannot and will not look the same as it once did. Forward-thinking, adaptable leaders need to shape their culture strategies with remote and hybrid employees in mind. These 10 strategies, backed by our research, will help you build an engaging culture for all employees.
Listen to your employees through surveys
Evolve your approach to employee performance
Make culture part of your business strategy
Promote activities that build connection
Recognize and celebrate your employees
Find opportunities to deepen understanding of your mission and values
Rethink how you onboard employees
Develop your managers to thrive with remote and hybrid teams
Consider new ways of communicating and collaborating
Prioritize flexibility and autonomy
Learn more about shaping company culture in a remote work environment >>>

Why leaders are responsible for organizational culture
WeWork describes culture as an employee-powered concept. It truly takes every person inside your organization to build an engaging and successful culture.
But employees say leaders and managers are primarily responsible for creating and shaping culture. Culture starts at the top. Leaders should clearly define culture, communicate about it regularly, set a good example, and tie business outcomes to company values. This will empower all employees to develop, practice, and evolve cultural norms.
Tips for developing a strong organizational culture
Rome wasn't built in a day, and neither is your culture. A positive, culture-centric organization takes time to develop.
To cultivate the kind of culture that inspires action, engages employees, and drives performance, you need to approach it thoughtfully and intentionally.
An article by the Harvard Business Review describes culture as dynamic—shifting incrementally and constantly in response to change. This requires a flywheel approach to collecting feedback, analyzing it, and acting on your culture.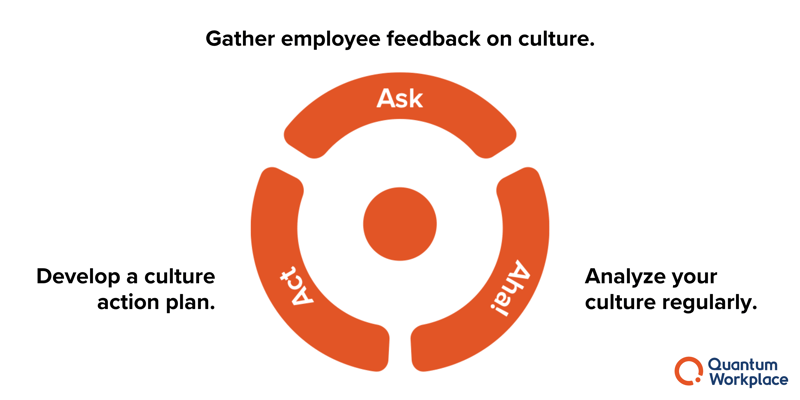 Ask: Gather employee feedback on culture.
You can't rely on your gut to understand your culture. You need to ask employees about their experiences at work—they'll tell you what they think and what they need from you. Collecting their feedback will help you understand what's working and what's not.
To develop an employee listening strategy that helps you measure and improve your culture, you should gather feedback at many milestones in the employee journey.
Don't simply rely on your annual employee engagement survey. Supplement your listening with regular pulse surveys and employee lifecycle surveys to capture feedback at key moments like onboarding and exits.
Not sure what to ask? Here are some recommendations for employee survey questions about culture:
The work I do contributes to fulfilling our organization's mission.
I see behaviors displayed across our organization that are consistent with our company's core values.
I have a good understanding of our organization's mission, values, and goals.
Our organization constantly looks for ways to improve products and services.
The pace of work at our organization enables employees to do a good job.
Our culture supports employees' health and wellbeing.

Aha: Analyze your culture regularly.
Once you've got some data from your employee feedback, dig into it. Don't analyze the feedback in a silo—connect it to other data and metrics like turnover and performance conversations. The goal is to paint a picture of what's happening across the organization.
Figure out what an engaging culture should look like and plan goals and initiatives to get there.
Act: Develop a culture action plan.
Show employees you are committed to improving your culture by making meaningful changes that better the employee experience and help everyone reach their goals. When your employees are successful, you will be successful too.
A healthy culture drives employee engagement first and foremost. When you evaluate "how work gets done" at your organization, try to understand how each aspect could impact employee engagement. You want to ensure employees feel connected to their work, team, and organization through your culture strategies.
Find the right tools to help you improve your culture.
A robust employee engagement, performance, and people analytics platform will outline the big picture behind your culture and help you understand where to focus and when.
With the right tools, you can uncover deep insights, measure employee perceptions, and create a thriving culture. Here are the top benefits of a robust culture platform:
Understand employee perceptions of culture
Explore culture metrics and trends
Recognize employee success
Create conversations around culture
Align employees and teams by elevating what matters


How Quantum Workplace can help
Engagement

Our employee engagement survey platform helps leaders understand obstacles and opportunities in the employee experience. You'll understand how employees feel, can focus your efforts where it matters, and shape a culture that works for you.

Performance

Our continuous performance management platform provides the tools you need to streamline your culture strategy. Keeping everyone connected and aligned will improve the day-to-day behaviors and processes that make your culture thrive. Your culture is key to your organization's success.

Intelligence

Our people analytics tools bring it all together. You'll understand how the changes you're making to your culture are impacting key people and business metrics like engagement, performance, and retention. You'll have access to the information you need to make informed decisions that lead to meaningful change and improvement.
---
Focus on what matters when it comes to culture. Download a copy of our 2022 Organizational Culture Research Report today.