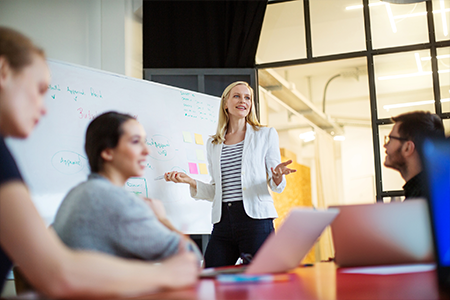 When HR departments operate in a silo—and their programs are disconnected and misaligned with the business' strategic goals—it's a missed opportunity for both HR and senior leadership.
In fact, 70% of CEOs expect their CHRO to be a key player in enterprise strategy, but only 55% say their CHRO meets this expectation.
HR is in a unique position to impact key performance indicators, including company culture and employee engagement. But without a strategic HR partner to guide those efforts, your impact will fall short.
In this article, we'll cover exactly what it means to be a strategic partner in HR, why it's important, and how you can become a strategic partner in your organization.
What is a strategic HR partner
The role of HR as a strategic partner is to develop and direct an HR agenda that supports and drives the overarching goals of the organization.
In other words, a strategic HR partner bridges the gap between the work of the HR team on the ground and the mission of the C-suite.
To do this, strategic HR partners make sure that the HR policy, procedures, and governance align with the big picture. Strategic HR partners ask, "How can HR help create an engaging, high-performance culture that drives the whole business forward?"
HR Manager vs. HR as a Strategic Partner
So what's the difference between a strategic partner and an HR manager? While your HR department can operate as a strategic partner collectively, the individual roles of a strategic HR partner and a manager are distinct.
The strategic HR partner is responsible for working with the senior leadership of the company to develop and communicate the organization's strategy. It is a high-level, birds-eye-view role.
Unlike an HR manager whose job is involved in the day-to-day administration of HR policy and programs (such as payroll and recruiting), a strategic HR partner operates as a:
Strategic advisor
Problem solver
Mentor and coach
Independent leader
Strategic HR partners are not involved in the "weeds" of HR administration and execution. Instead, they focus on the big picture, collaborating with the HR department and consulting with the leadership team to make sure everyone is pulling in the same direction.
Why you should become a strategic HR partner
Too often, HR teams operate in a silo, disconnected from the conversations and decision making happening among senior leadership. This fosters misalignment between HR and the rest of the business and hinders HR's ability to support (and ultimately drive) strategic business outcomes.
Successful, high-performance organizations build alignment across teams and departments. And HR is uniquely positioned to enable and promote this kind of engagement when working together with senior leadership as a strategic partner.
HR is the glue that binds teams and organizations together—which means it has potential for high impact across the organization. From behind-the-scenes administration to internal communication, leadership training, and recruiting and onboarding programs, HR plays a critical role in company culture, employee engagement, and ultimately, business performance.
That's where HR as a strategic partner can really make a difference for both HR efforts and overall business success.
Strategic HR partners can help drive individual, team, and organizational performance by:
Connecting HR efforts and initiatives to business goals
Collaborating with leadership to communicate the company mission and strategy
Building HR programs, policies, and initiatives strategically
How to become a strategic HR partner
Executives want HR leaders who are strategic partners. Use the following tips to become a strategic HR partner and start transforming the HR relationship in your organization.
1. Know your business.
While you probably have an in-depth knowledge of HR operations, to be a successful business partner, you have to understand the entire business inside and out.
Take time to educate yourself on the company products, services, and business model. Spend a day shadowing employees "on the ground" to see how they work, what processes they follow, and uncover key strengths and pain points.
Understanding how each department and role actually work and how it all fits together is the first step to being able to act strategically.
2. Look at the big picture.
It's easy to get stuck in the weeds of HR. The daily HR operations touch every aspect of the business from compensation and benefits to hiring and firing.
However, if you want to be a strategic partner, you can't be constantly stuck in firefighter mode. You need to be able to zoom out and look at the big picture. Take time to assess the current state of HR and think about the long-term future of your organization.
Consider what your needs will be for the next 1-5 years so you can plan the programs and processes that will help your company reach its goals now and in the future.
3. Make data-driven decisions.
Data is your friend. HR strategy should always be driven by data and evidence—not hunches or assumptions. Get comfortable pulling reports and reviewing and analyzing data.
Your ability to use data to identify key insights and tell stories that drive action on the right things at the right time is one of the most valuable contributions a strategic HR partner can make.
4. Assess business readiness and prioritize investment.
Since no business has an unlimited budget, you won't be able to invest in every idea or opportunity. As a strategic HR partner, you need to be able to identify what resources are available and where to invest them for the most impact.
Use the data and HR metrics you've compiled to evaluate whether you have the organizational resources and support for different strategies and prioritize your plans accordingly. This is where your value as a strategic partner comes in focus. The more effective you are at assessing business readiness and priorities, the more aligned your HR efforts will be with the overall business goals.
---
HR has the potential to make a huge impact on your business success. Start bridging the gap between the C-suite and the HR department by becoming a strategic HR partner with our HR Pro's Guide to Business Success Metrics.