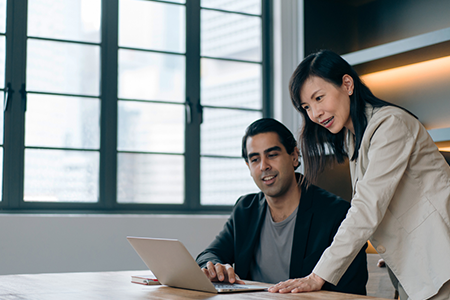 To evaluate performance within your organization and determine what your employees need to succeed you need a tried-and-true process. Enter the performance review.
The annual performance review is one of the key pillars of a performance management program—and as performance strategies have evolved, so has the need and purpose of the performance review.
In this article, we'll share our performance review definition and explore different types of performance reviews and their benefits.
What is a performance review?
Types of performance reviews
What is a performance review?
Performance reviews are a foundational way to leverage talent, understand needs and opportunities, and gather intelligence for making connections with employees and larger organizational strategies. They also play a central role in empowering employees by helping reach their fullest potential.
Performance review definition
A performance review is a two-way, individualized conversation between a manager and an employee about performance impact, development, and growth. It's a critical component of a continuous performance management approach to evaluate and propel success for the employee, team, and the organization.
Types of performance reviews
There are many different types and approaches to performance reviews. To simplify, we can group into two general types: multi-rater and single-input.
Regardless of what you choose, your performance review process should fit your organizational culture and be relevant and meaningful for both the employee and manager. Let's face it, no one wants to participate in a disengaging or invaluable process.
Here are a few types of performance reviews organized by:
Number of voices
Cadence or frequency
Topic or focus
Multi-rater performance reviews
360 reviews have been around for quite some time. Today, they are still an integral part of a modern approach of reviewing performance. Why? 360s include multiple voices and perspectives as most work is done and evaluated via matrixed teams.
Here are a few examples of multi-rater performance reviews.
360 performance review
At the heart of a 360 performance review is evaluative feedback. Yet 360 reviews are the most effective when they are built on a broader foundation of trust. Employees should leave with clear, actionable forward steps for what to continue and what to improve for future impact.
360 reviews help with:
Diversifying performance data and measurement
Providing unique vantage points and perspectives
Showing leaders where they can improve
Self-assessment
The purpose of a self-assessment is to improve shared accountability, buy-in, and alignment between manager and employee. The manager receives insight for how to better coach and guide the employee and the employee can discuss their performance with the perception of their manager.
A critical component of growth and change is reflection. The self-assessment is an important opportunity to evaluate past challenges and success, but also determine future goals and priorities for further action.
Peer review
Managers can't be everywhere, all the time (nor should they). Successful organizations position managers as coaches or facilitators. When teams are strong peer feedback improves. Peer feedback is important because:
Peers have a unique vantage point to share insights and ideas
Recognition means more when it comes from peers
Peers can often be trusted confidants or mentors
Peers may know how to identify and share feedback so it's well-received
Upward feedback
When employees and leaders approach feedback with a healthy mindset, upward feedback can help both parties realize they are in this together and help each other improve. This helps build a more trusting relationship between individuals where employees feel comfortable discussing what's going well and what's not.
Performance feedback can sometimes feel discouraging to employees, especially if they don't get the opportunity to provide feedback in return. It's liberating and engaging to be asked to provide feedback to your manager or someone in charge. Upward feedback is important for continued ongoing dialogue about performance.
Team performance review
Team performance conversations help managers evaluate and coach to performance in the context of a team. A clear picture can be realized to help identify strengths, development opportunities, goal adjustments, and further potential.
Team performance reviews can help you:
Understand what's important to the team
Set

goals that align

with individual needs and business needs
Promote shared ownership and accountability of priorities and performance
Demonstrate support to improve overall

team performance

and dynamics
Continuous performance conversations
Continuous performance conversations address what is happening in the current moment. Immediacy is important because it allows managers to coach to what matters now and employees space for agility and change. When employees adjust their performance before it's too late they are more successful and so is your business.
Here are a few examples of continuous performance conversations by annual, mid-year, quarterly, and monthly cadences.
Annual performance review
There's an important role for an annual performance review, but not in the traditional sense. Think—long forms, forced-rankings, and excessive scores. A modern approach provides the opportunity for managers and employees to look back and celebrate a year's worth of contributions, challenges, growth, and accomplishments.
This conversation should always be summative and focus on the big picture. It's also a great opportunity to reflect on where to focus long-term goals and priorities in the future. Fine-tune your agenda to review all goals and recognitions that have already taken place and avoid bringing up new information or behaviors that can't be changed or adjusted.
Mid-year performance review
If monthly or quarterly performance conversations aren't feasible for your organization, consider a mid-year cadence. Mid-year performance reviews still allow for adjustments and corrections for the remainder of the year, while also creating touch points to discuss key milestones and progress. This is also a time for light-weight performance ratings and performance look-backs.
Quarterly performance review
Having regular performance check-ins are ideal because it creates a mindset that development and progress is more important than perfection. At a minimum, a quarterly check-in is an ideal cadence for reviewing performance with a future-focused and continuous mindset.
Monthly performance conversations or GOODs
The G.O.O.D. framework is our monthly approach to continuous performance conversations. It provides a shared outline for both parties to build an agenda around goals, opportunities, obstacles and decisions. This facilitates clear, practical, and relevant discussion that is continuous and builds upon itself.
Performance conversations by topic
Performance conversations don't have to be isolated and rigid. These conversations should be flexible and incorporate all aspects of overall employee performance.
Here are a few examples of performance conversations by topic.
Professional development
Professional development should be a regular part of performance conversations. Employees who develop and grow feel like they are moving forward, which helps fuel performance. This form of individual success is often aligned with further performance contributions for the organization. Development conversations should be aligned with individual wants and needs.
Behavior change
The old adage of doing the same thing and expecting a different result holds true when it comes to performance reviews. Outdated performance processes will not motivate, inspire, or drive performance (or engagement).
Organizations that are not agile, adaptable, or innovative will cease to exist—so employees must be comfortable and successful in that kind of environment. Any approach to reviewing performance must have behavior change and continuous forward momentum as a central tenant or objective. Employee performance should inform and positively influence:
What should be changed
What should be continued
Where to focus next
Compensation check-in
Compensation check-ins are expectation-setting performance conversations. These types of discussions can be used as a motivator, however they should be approached in a healthy way. Compensation conversations should:
Create transparency for employees, managers, and leaders
Happen regularly (not just when employees are or aren't receiving an increase in pay)
Focus on pay, the understanding of it, and address any questions or concerns
Goal setting
Setting and discussing goals is important for creating focus, establishing priorities, and driving employee performance. Good goal conversations help employees progress and gain momentum. When setting and evaluating performance goals make sure they are:
Set at the right level. Lofty goals can create too much burden and easy goals are uninspiring and may lead to decreased motivation.
Measurable and meaningful. Purposeful goals help you (and your team) know if you're on the right track.
A rallying point. Goal setting conversations create built-in moments for team and individual transparency, alignment, reflection and evaluation.
Performance reviews can take on a variety of shapes and sizes. Regardless of your strategy, conducting continuous performance conversations will help your employees, teams, and business succeed.
---
Conducting an effective performance review requires a solid foundation. Get started with our free Performance Review Templates for your most efficient conversations yet.