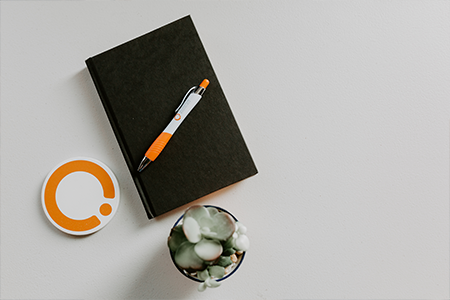 When it comes to increasing employee engagement, managers have a lot of influence. Frequent interactions—from formal one-on-one meetings to casual, drive-by conversations—give managers the opportunity to impact employee perceptions of work every day.
Getting those conversations right is crucial—but it isn't always easy. That's why managers need to come prepared.
In this article, we'll cover why effective one-on-ones are so important and outline a one-on-one meeting agenda and one-on-one meeting template you can use to make every conversation count.
The importance of having effective one-on-ones
The GOOD one-on-one meeting agenda
One-on-one meeting template
The importance of having effective one-on-ones
Our research found that 86% of highly engaged organizations conduct regular employee one-on-one meetings. They rate one-on-one meetings as their #1 communication strategy, ranking above all-company meetings and emails from leadership.
But managers are getting worse at giving regular feedback—and it is impacting engagement. In fact, 85% of hostile employees say they don't receive frequent enough feedback and coaching from their manager.
Effective one-on-one meetings play a crucial role when it comes to engaging employees.
Managers must figure out how to leverage these interactions to keep employees engaged. They need to create an open environment of feedback and show employees they care. Their one-on-one meeting agenda should reflect these intentions, and set managers and employees up for success.
The GOOD one-on-one meeting agenda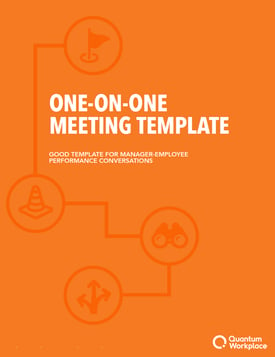 Engaging one-on-one meetings are an open forum where managers and employees can regularly give and receive feedback. They're arguably the most critical component of a motivating employee performance program.
We recommend holding one-on-one meetings monthly or quarterly. If managers cannot meet with each team member at least four times a year, it is likely the team is too big.
So what exactly should managers talk about?
The primary purpose of one-on-one meetings is to report on progress, share feedback, identify pain points or challenges, and work together to solve those issues going forward. Ultimately, this pattern will lay the groundwork for a productive employee-manager relationship where employees feel supported, listened to, and motivated to succeed.
To make sure you hit on all these points, it's helpful to prepare a GOOD one-on-one meeting agenda: In each meeting, managers and employees should discuss goals, obstacles, opportunities, and decisions (GOOD).
Here's the breakdown:
Goals
Start here. What does the employee want to achieve? Discuss the status of their goals since your last one-on-one meeting. Analyze the progress made on current goals, and plan for new and upcoming goals.
Consider asking:
What long-term goals have we agreed to?
How have things gone since we last spoke?
What future goals do we need to discuss?
Obstacles
What's standing in the way of your employee's success? Talk through any challenges that may be preventing them from achieving their goals or standing in the way of their long-term success. This can be anything from lack of resources to conflict with a coworker, to an unproductive work environment.
Consider asking:
What is standing in the way of success?
What have you noticed getting in your way?
What can I do to help you overcome these obstacles? What can you do?
Opportunities
Next, focus on plans for the future. Where do they want to go from here? Discuss employee opportunities for learning, growth, development, and job satisfaction. This will help you uncover what motivates your employees and help them plan for success.
Consider asking:
What recent project or accomplishment are you proud of that people don't know about?
Do you feel you're growing toward where you want to be?
What could we do to make this your dream job?
Decisions
Once you understand how your employee is performing, the support they may need, and where they want to go from here, you can work together to plan next steps.
What will be done before your next one-on-one meeting? Make decisions on what will be accomplished, who will tackle which tasks, and recap any new or updated goals.
Consider asking:
What actions will you take before our next meeting?
What actions will I take before our next meeting?
What other big decisions do we need to make today?
One-on-one meeting template
Now that you know what you should cover in your one-on-one meeting, it's time to cater that for each conversation. We recommend entering every conversation with a ready-to-go template.
A one-on-one meeting template lets you fill in specific discussion points, questions, data, or feedback you want to share with each employee. This keeps you on track while making sure each conversation is tailored to the person in front of you.
---
We've made it easy to get those conversations started with our downloadable one-on-one meeting template that follows the GOOD agenda. Make every conversation a success—get your copy of the GOOD template today.