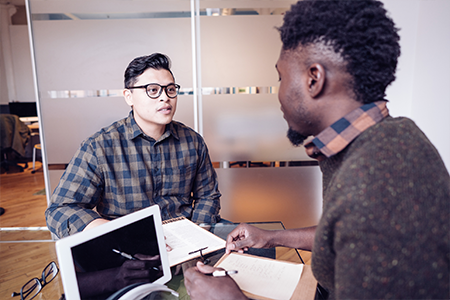 Just like a radioactive bug bite or taking a stumble into a vat of nuclear waste, the power of performance reviews can be used for good or for evil.
At their best, employee performance reviews motivate employees, increase engagement, and skyrocket organizations to new levels of achievement. At their worst, they intimidate workers, judge employee value, and cripple team effectiveness.

The same good versus evil paradigm applies to performance review templates. We want to make sure you're using employee reviews for good—so we did the heavy lifting and created impactful performance review templates for you!


4 Tips for an Effective Employee Performance Review
Before you put any of these templates into action, make sure you've been trained on the best ways to use the templates in your tool belt. With these things in mind, nearly any performance review template will work.


1. Make it a two-way conversation.
Performance reviews should no longer be treated like performance evaluations. If you want your performance review to really stick with employees, it must be a two-way conversation, with both sides contributing.


2. Take time for reflection.
Reflection is the standard for most performance reviews. Take the time to look back on behaviors and accomplishments.


3. Create a coaching moment.
Managers need to act as coaches, not judges. You're on the same team, after all.

4. Leave the meeting with clear next steps.
After reflecting on the past, you and your employee need to look toward the future.

Performance Review Templates
Select and download any of our templates and start saving the world (or at least, employee performance). Here are 17 performance review templates to match any management style.


1. GOOD Performance Review Template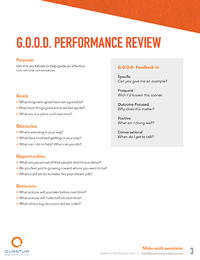 A GOOD stands for Goals, Obstacles, Opportunities, and Decisions. This template is great for guiding an effective 1-on-1 conversation between managers and employees.
Pros: Encourages conversation, reflection, and future planning
Cons: Doesn't include metrics by which to measure or compare employees (we don't encourage that anyway)
---
2. Quarterly Check-In Template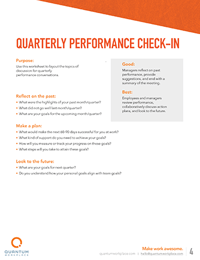 If monthly performance conversations aren't feasible, we recommend having them at least quarterly. This worksheet will guide you through topics of discussion for quarterly performance conversations.
Pros: Employees and managers can act on findings more quickly
Cons: Isn't always focused on long-term goals of the company and employee
---
3. Mid-Year Performance Review Template

A mid-year performance review is a good opportunity to check in on goals and see if anything needs to be adjusted for the remainder of the year. It should focus on key highlights, obstacles, and a plan for the future.
Pros: Allows managers and employees to recalibrate before the year is over
Cons: Leaves a long gap between performance reviews
---
4. Annual Performance Review Template

In an annual performance review, managers and employees should summarize performance across the year. It's also a good opportunity to find out what goals employees would like to prioritize and to look toward the future.
Pros: Allows managers and employees to look at the big picture of an employee's performance
Cons: It's tough to review an entire year of performance in one conversation
---
5. One-Page Performance Review Template

If you're looking for the absolute basics, check out this one-page employee evaluation form from Lessonly.
Pros: Quick and straightforward—has a defined rating scale
Cons: Leaves little room for additional information; doesn't encourage two-way discussion
---
6. Self-Assessment Template

A self-assessment helps employees reflect on their own performance and discover barriers to, or opportunities for, personal success.
Pros: Instills reflective habits in employees and encourages them to own their own performance
Cons: Doesn't account for feedback from peers and managers
---
7. Peer Review Template

A peer review helps managers gather feedback about an employee's performance from their teammates. Peer feedback can help shed light on strengths or challenges that might not have been obvious to a manager based on their own perspective and experiences.
Pros: Solicits opinions of those working closest with an employee
Cons: Allows for employee biases that might affect evaluation
---
8. Upward Feedback Template

It's important for managers to gather feedback on their own performance as well. Upward feedback allows employees to share their perspective on what their manager is doing well, and where they could improve.
Pros: Opens up the door for a two-way conversation about manager effectiveness
Cons: Employees might be worried about the consequences of providing feedback
---
9. Team Performance Review Template

Team performance is becoming increasingly more important. Use this template to build trust by creating an open feedback culture among teams.
Pros: Gives a sense of how an overall team, not just individuals, is performing
Cons: Extremely high or low scores by a few individuals can skew results
---
10. 360 Performance Review Template

Use this template to gather feedback from the people that your employees work most closely with every day. It will diversify your performance data and help provide insight you might not have gathered otherwise.
Pros: Shines a light on the entirely of an employee's actions, not just what the manager witnesses
Cons: Could be difficult for some employees to judge accurately
---
11. Professional Development Template

Professional development and career alignment are key drivers of employee engagement and performance. Use this template to check on the alignment of employee strengths, skills, goals, and job role.
Pros: Allows aligned expectations to be compared pre- and post-performance cycle
Cons: Can be fairly general
---
12. Performance Improvement Template

If an employee isn't meeting expectations, it might be time for a performance improvement plan. Use this template to discover what's hindering performance and to create a plan to improve it.
Pros: Can course-correct declining performance and give employees a fair chance to improve
Cons: Can be disengaging
---
13. Behavior Change Template

Employee behaviors can have a big impact on individual and team success. Use this template to understand and address behaviors that are enhancing or detracting from performance.
Pros: Helps managers and employees identify issues, needs and barriers together
Cons: An effective conversation can only be had with a self-driven employee
---
14. Compensation Check-In

It's important for managers and employees to talk openly about an employee's compensation. Use this template to track an employee's understanding of compensation, benefits, bonuses, and pay.
Pros: Encourages pay transparency among organizations, managers, and employees
Cons: Employee expectations can't be met all the time
---
15. 90-Day Review Template

New hires deserve to know how they're doing. Use this template to review an employee's first 90 days at an organization. It will help you set short-term goals and a shared vision for the future.
Pros: Helps provide clarity and early performance feedback for new hires
Cons: Limited to manual labor employees
---
16. Goal Setting Conversation Template

Goal setting conversations aren't necessarily part of a performance review, but they are an important piece of the puzzle. Your employees need measurable, aligned goals that you can track progress toward.
Pros: Helps managers and employees set aligned, measurable goals
Cons: Will not be effective if not discussed regularly throughout the performance cycle
---
17. Simple 1-on-1 Progress Check

Formal performance conversations are important. And they'll be even more effective if managers and employees keep in touch with simple, weekly check-ins. These quick conversations allow managers and employees to address obstacles as they come up, leading to better performance.
Pros: Quick and frequent check-ins allow for better communication and agility
Cons: Managers need to set dedicated time aside for each employee
---
There you have it—your ultimate toolkit of performance review templates. Download our Performance Review Templates to take them all with you in one package.