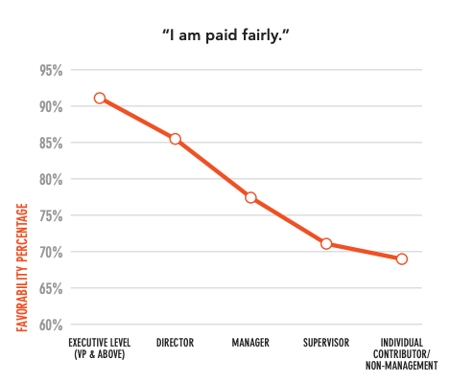 Employee compensation conversations can be a little … uncomfortable. But initiating one on one meetings about money matters with your employees is a routine part of being a people manager.
And it's not just about making sure your employees are paid. Our research shows that position level and perception of pay follow a perfect decline. As position level decreases, employees are less likely to believe they are paid fairly.
Regardless of your position level, having conversations about money can leave you feeling a little green. But as a manager, it's important to be prepared when an employee initiates a conversation about compensation.

Employee compensation conversations are perfect opportunities to bolster trust, increase engagement, and improve retention. Ideally, these discussions should help align expectations for both parties through a deep dive into employee career and compensation goals.

Use the following checklist as a starting point for having effective compensation conversations.

1. Know your internal compensation data.
Setting clear expectations and boundaries about salary range is the first step in bolstering employee trust. Arrive at any compensation discussion prepared with your internal compensation ranges.
This spectrum of compensation helps to inform employee salary across the company. Use this data to guide discussions around how the amount was determined and how it compares to the rest of the team.
2. Document your raise or promotion policy,
Whatever your role in the promotion process, providing documentation will set the record straight. Whether you hold personal evaluations for every individual or provide a signature to approve of a compensation increase – referencing documentation or bringing it to a meeting will help you maintain consistency and integrity.
If an employee is raising concerns about their current salary, it's important they see and understand the company-wide policy for receiving a pay increase. Make sure that everyone from entry-level employee to HR has a clear understanding and direct access to your approach.
3. Create individual promotion plans.
Every employee has their own unique career path within your organization. Take time to map out where the employee started, where they are now, and what the next series of steps will be in order to move up in the company. Developing a personalized plan shows you are engaged in facilitating their growth and success.
Once a plan has been outlined, walk through the progression plan together to gauge how the employee feels about this growth track and make sure they know exactly what needs to be done to reach their goals.
4. Develop a comparison chart
If transparency is the goal, don't be afraid to discuss alternatives outside of the employee's current role. Employees will appreciate the honesty and at the end of the day, if they're not satisfied with what you can offer, they're going to leave anyway.
Take time to look at possible compensation if the employee were to move to another company. This will help you identify the best next step for both parties and work together to achieve a mutually beneficial outcome.
---
Searching for clarity in your employee compensation strategy? Download our Employee Compensation ebook for more trends and best practices.