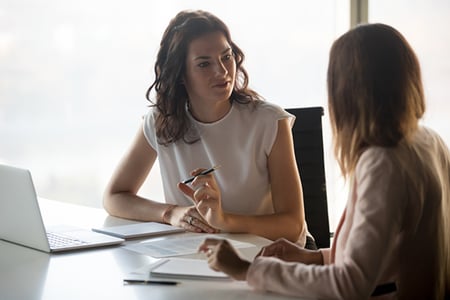 Keeping up on the latest HR trends can be overwhelming. Especially when these trends challenge the processes and policies you've been implementing for years.
The days of top-down, stack rankings and once-a-year appraisals are changing.
Annual employee performance reviews are no longer enough as a stand-alone strategy in your organization. Coupling this change with the amount of instant feedback available through digital technology means that employees of today expect continuous performance management at work.
But employees are looking for more than feedback. They want the building blocks to grow! Continuous performance management involves regular feedback that is focused on performance and professional development. Employees no longer need managers as evaluators – they need managers to be coaches. Unfortunately, there is a disconnect.
Many managers aren't ready to coach.
The road to people management can be a rocky one and developing the right skills to manage and motivate your team can be daunting. Your managers need the right tools, information, and resources to not only do their jobs well, but stay ahead of the curve to become effective and influential coaches for their employees.
Here are five tips for moving toward a continuous performance management strategy.
1. Get (and keep) senior leaders involved.
Leaders should be on the same page about an organization's overall performance management strategy. What do they want to achieve with performance management activities? What systems and tactics will best align with the organization's mission, vision, goals, and culture?
Consider involving an executive sponsor early in your implementation process. They will be able to socialize the idea with other leaders and flush out any questions or potential roadblocks.
2. Focus performance management on building (not evaluating) skills.
Replace rigid reviews with flexible conversations. Give employees at all levels practical steps to improve their performance. Identify the skills they need to stretch and grow.
It takes time for these conversations to become weaved into the fabric of the culture. Be sure to offer leaders with context behind "the why" of your decision as well as continued training and resources to support your approach. Effective change management is the key to success.
3. Empower managers to give (and receive) better feedback.
Help your managers learn to have less formal, more effective performance conversations. Encourage them to solicit feedback regularly. This will drive trust, engagement, AND results.
Ensure managers have received training and are offered continuous support as they have questions or new situations to navigate. With managers and the leadership team on board, training and empowering managers to drive these efforts will go much smoother.
4. Separate performance scores and compensation.
Broaden compensation structures to include things like how the market would compensate an employee, or how difficult the employee would be to replace. How can you offer growth opportunities to employees who have outperformed?
Keep in mind that compensation is deeply personal, so those overseeing compensation administration should be involved from the beginning. Deliver proper training for managers on how and when to talk about compensation. Make sure employees know this change is coming and they understand how their compensation is going to be evaluated going forward.
5. Coach all types of performers.
"Middle" performers are often ignored or undervalued. Help these employees see themselves as valued contributors. This is a heavy lift for any manager, but especially for those managers with many individuals reporting to them. Equip managers with the tools, knowledge, and the time to deliver effective, meaningful coaching to each of their direct reports.
Hold everyone accountable, but give everyone appropriate coaching, development planning, and training to improve. This may mean redistributing some of their work, so they have the time and energy to lead well.
---
Start supporting your managers for the future of performance management at work. Download our ebook, Moving Beyond Performance Management is Broken.