Seacoast Bank is a highly engaged workplace. Over the past few years, the bank has rapidly expanded through a series of acquisitions. Through this growth, Seacoast identified the need to scale their employee engagement strategies for greater impact.
This meant adding more employee listening channels outside of their annual engagement survey. And finding more ways for managers and teams to get involved before, during, and after the survey to help improve engagement.

In this employee engagement case study, we'll discuss:
How Seacoast evolved employee engagement into an organization-led initiative

How the organization achieved 95% participation on their last engagement survey

How HR mobilizes leaders, managers, and associates around employee engagement
Making Employee Engagement an Organization-Led Initiative

Seacoast Bank believes in building a culture where employees voices are heard. They want employees to bring their whole selves to work. Seacoast's commitment to inclusivity has earned them a perfect score for workplace equality from the Human Rights Foundation. They're also Best Places to Work contest winners.
Seacoast leads with the idea that organizational culture is everyone's responsibility. Culture and engagement are not HR initiatives. Associates, managers, and senior leaders all play a role in making work better.
"Employee engagement at Seacoast Bank started as an HR-led activity," says Olivia Kirchman, AVP, HR Business Partner at Seacoast Bank. "We've put a lot of work in place to have it slowly progress into not just a leader or a manager priority, but a priority that every associate feels ownership of across the entire bank."
To get here, Kirchman and her team spent a lot of time working with leaders and associates at different levels of the organization. They built awareness and understanding around the importance and impact of associate engagement.
With senior leaders, they shared the business benefits and ROI of employee engagement. They leveraged success stories within the organization to prove the link between employee engagement and the business results that mattered to their leaders.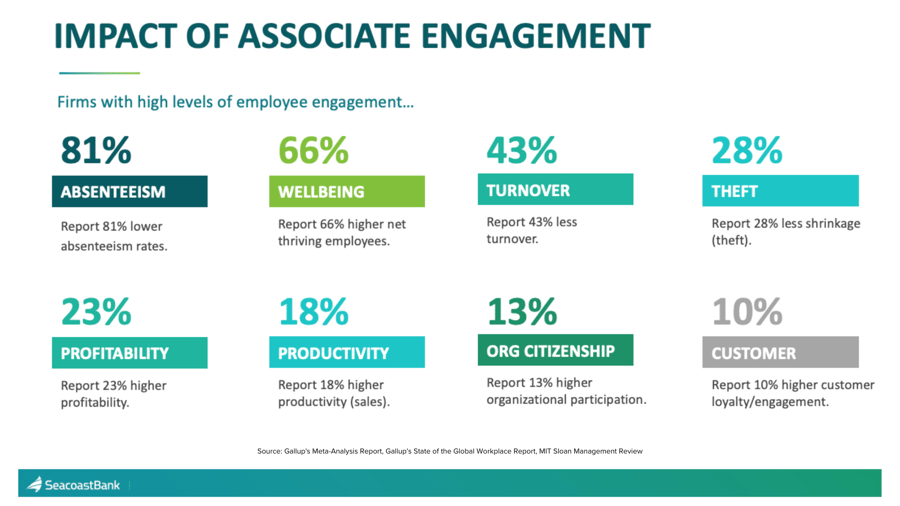 With managers, they emphasized the benefits of associates sharing feedback in surveys. Not only is feedback fuel for a manager's personal development—it helps them optimize the performance and dynamics of their team.
With associates, Seacoast communicated around confidentiality—and the opportunity for associates to influence organizational change by sharing their honest feedback.
Engaging Employees through a Continuous Employee Listening Strategy

Change happens fast within in any organization. This has especially been the case for Seacoast Bank as they've navigated more than a dozen acquisitions over the past few years. An annual employee engagement survey was no longer enough to keep a pulse on what associates were thinking and feeling.
Today, Seacoast listens to associates through lifecycle surveys, strategic pulse surveys, and manager-associate 1-on-1 meetings with Quantum Workplace.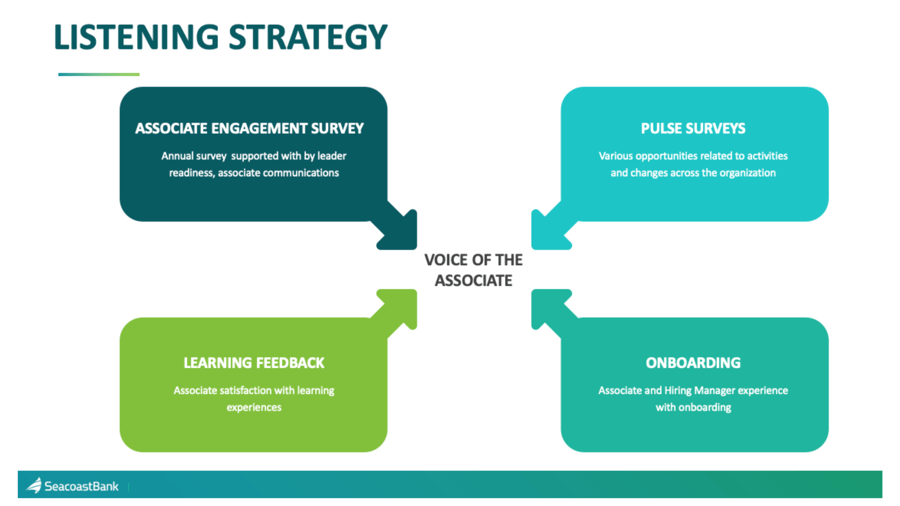 Through lifecycle surveys, they've been able to drastically improve their onboarding processes. As new acquisitions occur, the Seacoast team starts a dialogue with incoming associates via onboarding surveys. This has brought stability to the organization's culture and has made it easy for new associates to feel welcomed and part of the team.
With strategic pulse surveys, Seacoast can deep dive into topics that stand out on their annual engagement survey. When benefits came up as a low-scoring item on a recent engagement survey, Seacoast sent out a pulse survey to capture more feedback. This gave the benefits team the data they needed to evaluate and rework their existing strategy.
With manager-associate 1-on-1 meetings, teams keep engagement top of mind all year long. Managers use these meetings to understand individual perceptions and connect associates back to the team's focus areas throughout the year. These meetings help managers and associates build trust, creating a stronger foundation for engagement.
"Thanks to the capabilities and partnership with Quantum Workplace, we feel like this was such a great investment," says Kirchman. "We have been able to create and implement a continuous listening strategy at Seacoast that measures moments that matter. The surveys provide us with actual data to validate and invalidate our assumptions and biases. We don't have to guess or assume anymore, which is invaluable for us as HR professionals as we can lead with data and help the organization focus on impact."

Improving Participation in Employee Engagement Surveys

In the first few years of surveying employees, leadership at Seacoast was mostly focused on gathering data to help understand associate perceptions. After the first couple years of surveying, they saw a dip in survey participation. The Seacoast HR team knew that they needed to be doing more with associate feedback.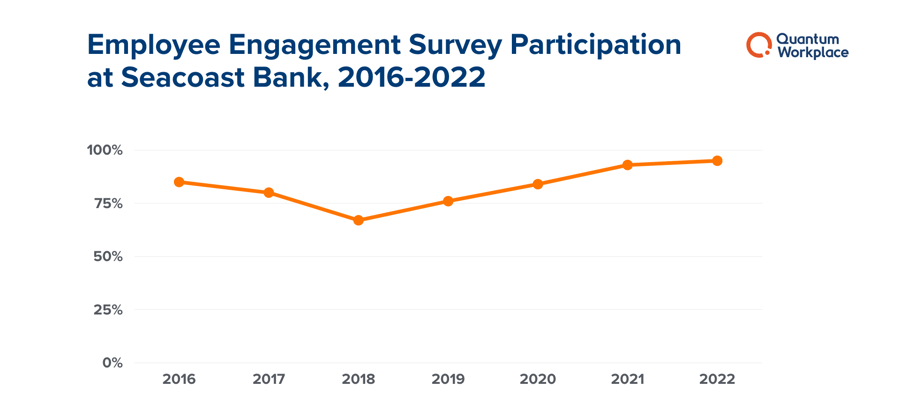 "Change doesn't happen overnight," says Kirchman. "We worked our way up to 95% survey participation over the years by gaining buy in from leaders and associates around the importance of the survey. We moved from focusing on data collection to building out actionable commitment plans for every team. We knew that associates needed to see and feel more change happening because of their feedback."
Mobilizing Leaders, Managers, and Associates Around Employee Engagement

As Seacoast Bank has grown rapidly, HR understood that they could no longer run an entire employee engagement strategy on their own.
"Mobilizing teams is a critical component to your success," says Angel Birch, SVP, Director of Learning and Leadership Development at Seacoast Bank. "Associate engagement is not something you can run solo—it's not for you to own independently. It requires the entire organization to be committed."
Seacoast partnered with Quantum Workplace to:
Make it easy for employees to provide honest feedback

Simplify reporting and analysis to easily identify trends and insights

Help teams move from understanding to action with commitment plans
Once the HR team has a grasp on the survey results, they take a top-down approach to sharing out results across the entire organization. They start with the CEO, then the senior leadership team, and work all the way down to people managers.
The Seacoast HR team works diligently with people managers to help them understand and act on their team's unique results. When results are ready, they host manager webinars and engagement-driven 1-on-1s between managers and HR business partners. HR acts as a coach—helping hold managers accountable to progress without doing all the work.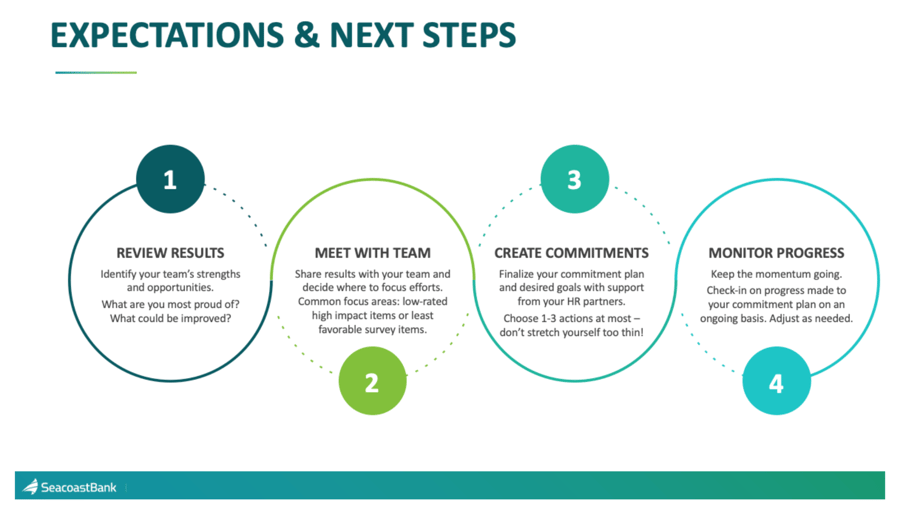 Employees also steer their own journey at Seacoast Bank. Quantum Workplace's ME report gives associates a summary of their survey responses paired with tips for improving their own engagement. Associates also have the opportunity to participate in engagement committees, where they help action plan and drive change within the organization.
"For our HR team, having the tools to mobilize our managers and associates around engagement allows us to focus less on tactics and more on the overall strategy," says Birch. "We can consult, provide guidance, and collaborate on commitments with managers. But we get to spend more time reflecting on the data and trends from an enterprise lens and building a more holistic approach to engagement across the organization."


Seacoast Bank leverages Quantum Workplace's employee success platform to:
Implement a continuous listening strategy that allows the organization to measure and take action around what matters most

Empower managers and teams at all levels of the organization to make sense of the organization's engagement data through simplified reporting

Mobilize teams to build an engaging employee experience through collaborative action planning and engagement-driven 1-on-1 conversations
Want to learn more about how Quantum Workplace can help you mobilize your teams around engagement? Get your demo today!