Employee success unites the entire organization around creating an environment where everyone can be successful. It's a holistic and highly strategic approach to help organizations move the needle on business success.
As yet another season of change is upon us, the spectrum of organizational challenges ahead can feel daunting. Leaders must lead with a calm, human-centered, and data-driven perspective—blocking out the noise and focusing on what truly matters. It's more important than ever for organizational leaders to invest in employee success.
Employee success is not choosing between employee engagement, performance, culture, and business success. It's about all of it. The whole picture.




It's about creating an engaging employee experience: by understanding, validating, and improving upon it continuously.

It's about inspiring employee impact: by connecting employees to the role they play in helping achieve business success.
And it's about building organizational magnetism: by becoming a workplace where employees want to stay and talent wants to join.

So why is it that these initiatives so often fall to the wayside? Why are employee engagement investments the first ones to be slashed during turbulent times?
As leaders, we must reinforce each day that we're committed to employee success. And it's important employees feel that support. It's constant work. But when you set your target on what matters, you'll be better outfitted to achieve your goals.
Our 2023 Employee Engagement Trends Report outlines some of the biggest trends and critical issues we're seeing in employee success, including:
What are the trends affecting engagement for the 2023 year?

What can organizations do to be proactive in volatile times?

And what does the future of engagement look like?
No matter what the results show, one thing is certain: Creating an environment that prioritizes employee success and engagement requires work. Some days it will feel like an uphill battle.
Employee success is the most reliable way to navigate business challenges in 2023 and beyond.
Let's dive in!
The Top Six Trends Affecting Employee Engagement

Employee engagement and employee success go hand-in-hand. After all, it's not policies or budgets that help businesses remain stable during turbulent times - it's people.
That's why it's not only imperative to observe trends in employee engagement and success, but use that data to design employee success strategies that work for your specific organization.
In the past several years, we've made a lot of progress in the workplace. The 2023 Edelman Trust Barometer shows people trust businesses more than any other institution. We've also done a ton or work to improve the employee experience. Our Best Places to Work data shows employee engagement continued a six-year climb to 77.4% in 2022.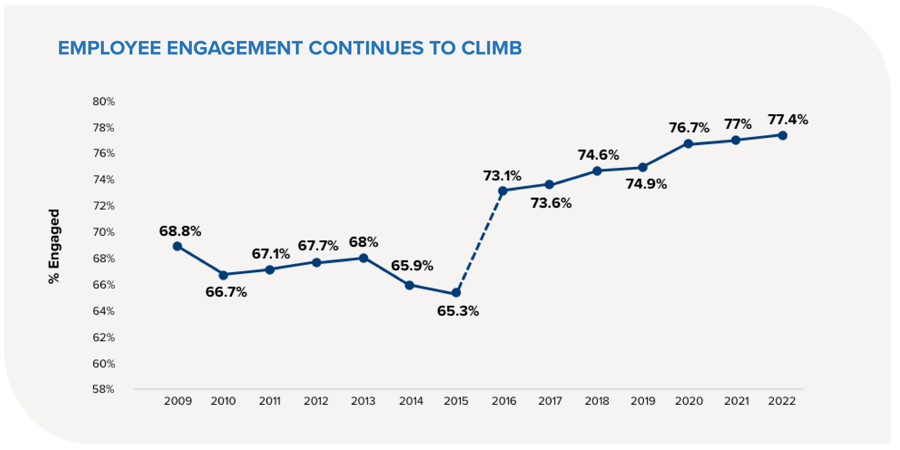 What we're doing is working. But we're far from finished. After record highs in areas like trust, engagement, and intent to stay during the pandemic, we've seen volatility ever since. Employee success isn't an end state—it's a constant journey. One that requires intention, strategy, and investment.
Paying attention to these trends will help you understand the most important components of attracting, engaging, and retaining employees—and inspiring their success. Looking ahead to 2023, there are the six trends that stand out the most.
What are the top employee engagement trends for 2023?


1. Rebuilding trust in leadership
Bridging the growing trust gap between leaders and employees
2. Investing in employee engagement
Prioritizing investments in employee engagement and employee experience
3. Inspiring employee impact
Shifting from managing performance to inspiring employee impact
4. Building a thriving culture
Creating a thriving and adaptable culture
5. Strengthening organizational magnetism
Building a magnetic organization that attracts and retains top talent
6. Leveraging flexibility
Leveraging flexibility to fuel organizational success
Employee Engagement Trend #1: Rebuilding trust between senior leaders and employees.

A key driver of employee engagement is trust in leadership. While perceptions of leadership had unprecedented increases in 2020, they began decreasing in the second half of 2021 and have continued downward throughout much of 2022.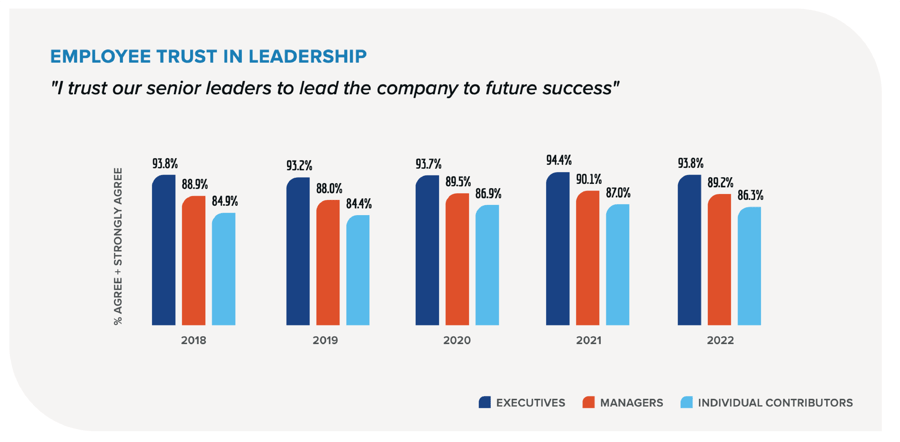 And that trust gap isn't one-way. As employees look upward and feel unsure that their senior leadership is leading the company toward success, leaders are concerned with decreasing employee productivity levels.
In fact, in the first half of 2022, productivity numbers decreased by the sharpest rate since 1947. As leaders feel pressure to boost productivity while returning to post-pandemic "normalcy" feelings of anxiety among leaders is high.
And this phenomenon is reflected in our survey data where trust in leadership varies greatly based on position level within the organization. While 94% of executives and directors reported trust in senior leaders to lead the company to future success, only 89% of managers and 86% of individual contributors feel the same way.
There are several strategies you can embrace to improve trust in leadership including transparent and regular communication, a focus on engagement and retention, and a successful business strategy.
Employee Engagement Trend #2: Investing in employee engagement, even in turbulent times.

Economic uncertainty is at the forefront of 2023. But while organizations carefully comb through their investments for the next 6-12 months, our research strongly suggests that employee engagement initiatives remain a recipient of continuous investment.
With inflation leading to massive layoffs and hyper-focus on business expenses, many organizations feel pressure to reduce costs across the board. And some leaders will look at people investments as an easy expense to eliminate. To cut costs, leaders may feel compelled to cut travel budgets and cancel team-building outings, celebrations, and recognition programming.
Some employers also consider discontinuing or delaying employee engagement strategies and tactics. But this can be a short-sighted approach that does more harm than good.
One of the biggest mistakes an organization can make is shifting investments away from employee experience and engagement. And our research agrees.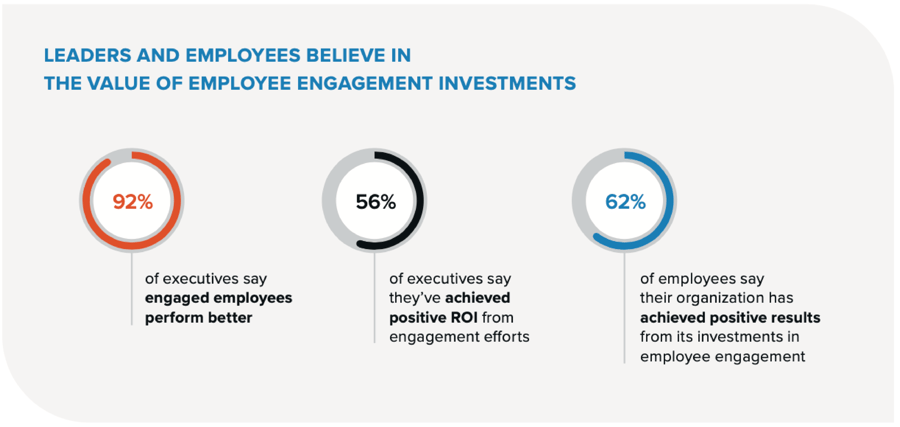 Leaders consistently cite their biggest business goals related to employee engagement as improved productivity, employee retention, and customer satisfaction. These can all be accomplished when leaders invest in employee engagement strategies.
Employee Engagement Trend #3: Focus more on employee impact than employee performance.

As productivity levels decrease, leaders feel pressure to closely manage employee performance. Unfortunately, many leaders are working from outdated data and assumptions about productivity.
When it comes to improving employee performance, the following areas matter most to your individual contributors: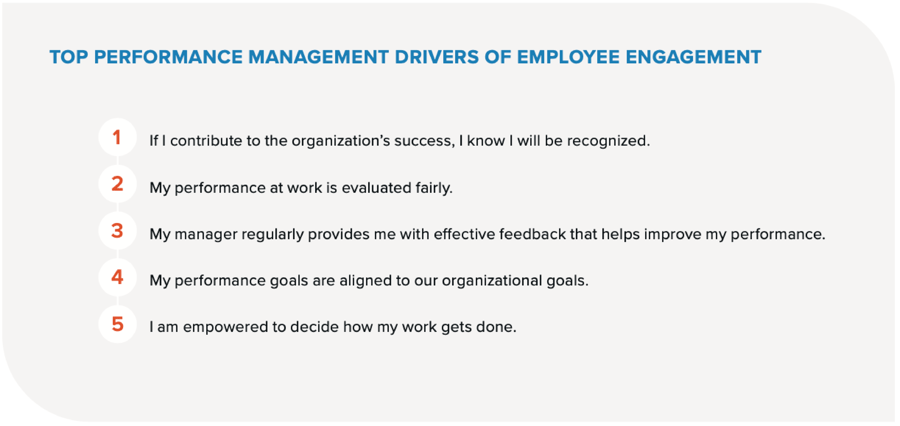 As you can see, employees are driven to higher productivity levels when they feel their work has impact on the organization, is evaluated fairly, and comes with recognition. This is a much different approach than meeting key performance metrics.
When you shift your focus away from performance and build a culture of employee experience and impact, your performance metrics can improve significantly.
Inspiring employee impact requires a human-centered, engaging approach to performance that helps employees and teams understand the role they play in helping the company succeed.


Employee Engagement Trend #4: Building a thriving & adaptable culture.

It's no surprise that we've seen a dramatic shift in workplace culture in the past few years. Not only is the structure of work different, but the way that employees interact with each other has dramatically changed.
Most employee say that their culture has changed since pre-pandemic times. Some note that the cultural change is drastic.
While 42% of employees say their culture has improved, 21% of those surveyed said their culture has declined. That's nearly 1 out of 4 employees.




Company culture has become a leading priority for leaders across all industry segments. While many leaders are waiting for company culture to get back to "normal", many are starting to realize that "normal" may not look quite like it did before.
Culture impacts every facet of your business - but especially as it relates to engagement, success, retention, and organizational performance. Roughly 60% of disengaged employees— and only 23% of engaged employees—would leave their company for a better culture.
Building trust, focusing your culture strategies on engagement, being intentional about the remote/hybrid experience, and getting everyone - especially employees - involved can help you build a culture that resonates with all employees.

Employee Engagement Trend #5: Creating organizational magnetism.

Despite headline news stories about massive layoffs, many organizations continue to suffer a major talent shortage. There are more open roles than workers to fill them. And that gap only widens when employee retention moves to the back-burner.
After record highs in employee intent to stay in 2021, we saw a decline across much of 2022. Only 77% of employees say it would take a lot to get them to leave their organization, leaving another one in four employees at a high retention risk.
Employee engagement and success initiatives can have a massive impact on retention. Almost 30% of employees who were not highly engaged interviewed for a job at a different organization within the past 6 months.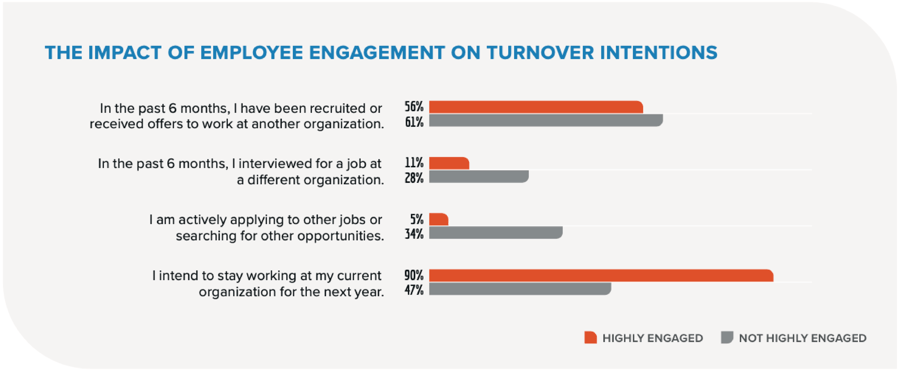 Fueling your retention strategy with reportable, scalable feedback is a great place to start. By understanding your employee value proposition, and spending time analyzing why your employees are leaving, you'll be one step closer to closing the retention gap at your organization.
Employee Engagement Trend #6: Leveraging flexibility to attract and retain top talent.

Culture isn't office-centric any longer. Post-pandemic, employee have extremely high expectations when it comes to flexibility in the workplace.
Did you know that employees with flexible options are twice as likely to stay at their organization than those without?
Workplace flexibility enables your employees to meet the needs of their work and personal lives, manage stress levels throughout the day, and feel empowered to make decisions that impact their work.
But 'flexibility' looks different for every organization - and sometimes - to every employee. Understanding what flexibility means to your employee base is critical. Flexibility could represent adaptability, performance focus, autonomy, work-life balance, and location, among many others.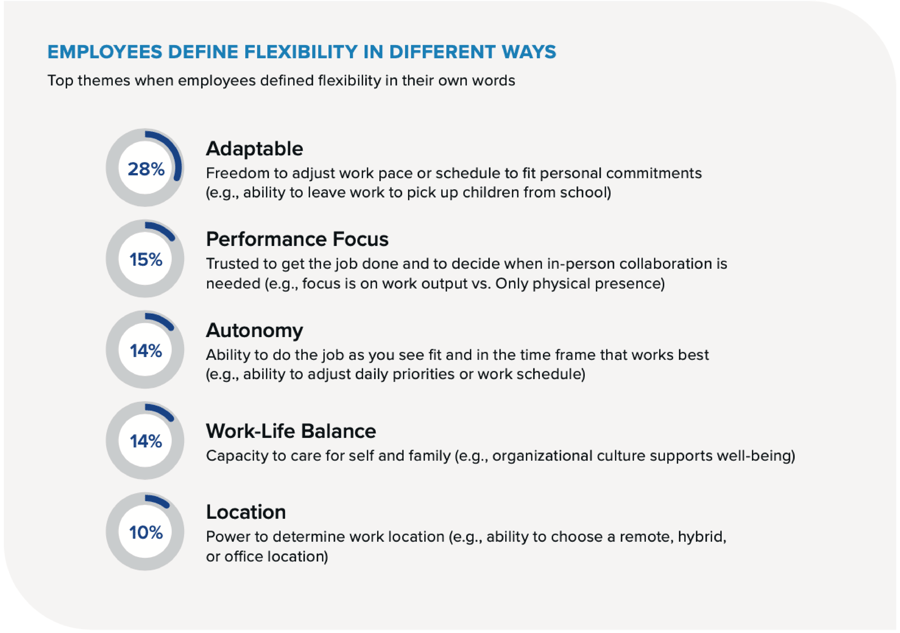 The most important attribute organizations in 2023 can have is adaptability. Your goal is to strike the right balance between increasing flexibility and employee productivity. By considering the unique needs of your different types of employees and empowering managers with resources and training, you'll be one step closer to embracing a flexible work environment.
2023 Workplace Insights & Trends
We've only just scratched the surface of what this year looks like from an employee engagement and success perspective.
As you strategize and outline action items to reach your organizational goals this year, using these trends can help you zero-in on your focus. Plan to make meaningful changes and constantly improve. Lean into adaptability.
But most importantly, let data be your guide. Data is what empowers your organization to make the right decisions at the right time.
Our report outlines some of the biggest trends and issues facing employee success. It concisely captures the voices of more than 1 million employee voices at over 9,000 organizations across the United States.
Learn more about these trends and what you can do to build a culture of success within your organization by downloading your copy today.


| | | | |
| --- | --- | --- | --- |
| Work | My work motivates me. | My immediate coworkers consistently go the extra mile to achieve great results. | It would take a lot to get me to leave this organization. |
| Team | I find my work engaging. | My immediate coworkers are committed to this organization's overall goals. | I recommend this organization as a great place to work. |
| Organization | I am inspired by the work we do. | I feel accepted by my immediate coworkers. | I am proud to work here. |