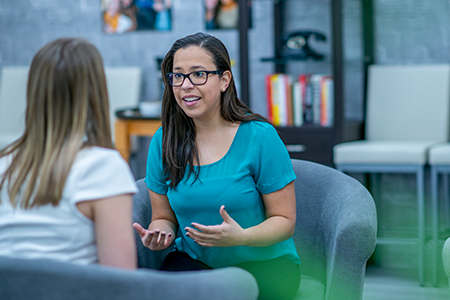 You've extended the job offer and prepped your orientation process. Now all that's left is for your new employees to get started.
But how do you know that your onboarding program is working? Simple. Ask them!
Feedback isn't just constructive criticism and instruction from the top down. Feedback should be a two-way street and that goes for new employees too. Get their feedback on how things are going right from the start so you can ensure each new hire has the resources they need to succeed and a great experience from day one.
Below we'll cover why new hire feedback is important and break down the first six months of onboarding and how you can gather (and provide) constructive feedback along the way.
The importance of asking for new hire feedback
New hire feedback roadmap
The importance of asking for new hire feedback
Employee engagement is the highest for new hires (compared to all employee tenure groups). This is likely due to newer employees receiving abundant attention, developing new relationships, and encountering what seems like limitless potential for growth and success.
However, the new hire honeymoon period can quickly fade if employees are left alone to figure out workplace policies, role expectations, or even basics like the location of the nearest restroom or where people tend to eat lunch.
Having an onboarding roadmap sets new employees up for success and can elongate the happy honeymoon period. A critical part of this onboarding roadmap is ensuring new hires receive and can ask for feedback along the way.
Yet, no matter how much preparation you've done, you can't predict what every new hire will need or experience when they start working with you. Feedback helps us know if we're doing something right or wrong, which is especially important to new hires as they navigate through all things new.
In other words, gathering and acting on new hire feedback can help you:
Identify and address questions, concerns, or confusion new employees may have
Uncover gaps or barriers in the onboarding process
Track and measure new employee engagement over time
Improve the onboarding process and employee experience from the start
New hire feedback is crucial to unlocking a better employee experience, improving performance and retention, and boosting overall employee engagement.
New hire feedback roadmap
The first six months of an employee's tenure can set the foundation for their long-term experience with your organization. Get the most of your onboarding time (and set your new hires up for success) with the following new hire feedback roadmap.
New Hire Feedback: Week One
Week one is the orientation period where new employees are just getting their bearings.
After the first week, you want your employees to:
Know what is expected of them and how they fit in
Feel comfortable reaching out to others with questions
Have the tools and resources they need to do their jobs
Learn the benefits, perks, and policies of the organization
Understand the organization's mission, culture, and core values
Gathering feedback around these key areas will help you uncover gaps in your orientation process and identify specific needs your new hires may have. By communicating on these issues early on, you can improve your new employees' first impressions and iron out wrinkles before they become bigger problems.
Use the following best practices to gather feedback during the first week of onboarding:
Introduce your feedback culture.
Don't wait to start building feedback into your employee experience. For instance, make sure your new hires know both the formal ways your organization collects and provides employee feedback (e.g., employee engagement surveys, quarterly one-on-ones between managers and employees, bi-annual 360's) and informal opportunities (such as "open door" policies and the ability to ask peers for feedback at any time). Take time to introduce any feedback software, as well.
Review your most recent employee engagement survey results with new hires, including what the team and organization are focusing on as a result. This signals that employee feedback is valued and is part of the everyday culture.
Check-in frequently.
New employees should have constant opportunities to ask questions in this time frame. It's a good idea for managers to deliberately schedule time with each new hire once per day to address questions, provide guidance, and help a new employee continue to calibrate to norms.
Incorporate peer shadowing.
Create opportunities for new hires to shadow peers. Provide shadowing opportunities with both tenured and somewhat newer employees, if possible, so they can share their experiences. Peer shadowing is a great way for new employees to get comfortable with your team processes and ask questions and get feedback as they go.
New Hire Feedback: Month One
As new employees ease into their regular day-to-day routine, they will typically require more touch points with consistent, open dialogue from their managers to minimize uncertainty.
After one month of tenure, your employees should feel:
Confident they can do what is expected of them and understand their job responsibilities
They have been given enough time to learn what is necessary to meet expectations
Comfortable communicating work-related concerns to their manager
At this point, gathering feedback should be a consistent, built-in process. During the first 2-4 weeks, managers should:
Formalize one-on-one meetings.
New employees should continue having regular check-ins with their manager to tackle any orientation confusion or barriers. Schedule recurring one-on-one meetings with new hires so these conversations are prioritized and planned for.
Gather and provide feedback.
To promote a culture of feedback, managers should solicit feedback from new employees early and often. It's never a bad thing to ask your new hires: Is there anything more we can be doing to help you onboard? Do you have what you need? Do you need anything more from me?
But feedback is also a two-way street, remember? In addition to soliciting feedback from your new hires, check in regularly to provide constructive feedback and instruction. This will allow you to address whether they're on-pace with learning, prioritizing the right things in their onboarding, and aligning with the organization's and team's expectations and values. Continue to help your new employees orient to expectations and accountability by emphasizing what happens after feedback is given.
Introduce peer feedback.
Peers should feel comfortable providing new employees with feedback, whether it's related to performance or noticing that a new employee may not be aligned with the organization's or team's values. This is a great reason to make sure your feedback software has solicited and unsolicited feedback options.
Coach your team on how to give and receive feedback so that all parties feel comfortable giving and receiving effective feedback. This will help build a culture of trust among team members as they support each other's efforts to succeed.
New Hire Feedback: Month Three
A few months in and your new hires are getting more settled in their roles. As they adjust, new employees should:
Be comfortable talking with coworkers about topics unrelated to work
Understand how their performance is measured
Feel they fit in well with the team and their job role
Know where to find the information they need to do their job
Make sure your new hires are meeting these benchmarks by providing timely and relevant feedback on their job contributions, with an increasing level of feedback from their peers.
Give regular feedback and recognition.
Employees at this stage may be performing the day-to-day duties of their job, but that doesn't mean they are doing everything perfectly. That's OK! They are new, after all. Receiving constructive feedback from a manager is necessary for new hires to grow and develop. (Plus, research found that employees want more feedback than managers are giving.) But don't forget to call out the good as well.
For example, when you see a new hire implementing feedback you've given, reinforce those behaviors by giving them positive feedback. When you see them doing great work, use your organization's recognition tool to publicly applaud their efforts and success.
Ramp up peer feedback.
Peers, too, should continue coaching new employees, because they often have a front-row seat to a new employee's behaviors and work process. This allows for in-the-moment feedback, when it's most powerful.
New Hire Feedback: Month Six
By six months in, your newest employees should be feeling comfortable in their work and within their team. As you gather and review feedback, pay attention to the following benchmarks:
Employees should:
Feel accepted by, and that they can rely on, their coworkers
Know their coworkers are committed to the organization's goals
Understand team goals and accountabilities
Have the information to do their job well
At this stage, your feedback process should rely more heavily on peer-to-peer feedback, strong one-on-one conversations, and an annual employee engagement survey.
Include new hires in peer feedback.
As new employees start to feel and behave as tenured employees, feedback shouldn't drop off. However, this is also a great time to increase new employees' contributions to peer feedback.
For example, employees six months into their tenure should start taking part in 360 feedback.
This positions them to give feedback to others, as well as to receive feedback—reinforcing your feedback culture and giving you valuable insights into the perspectives and experiences of both new and tenured team members.
Maintain regular one-on-one meetings.
One-on-one's between managers and employees should continue throughout their tenure. Having consistent opportunities to discuss performance, career development interests and opportunities, and engagement barriers is something that even your most tenured employees should consistently take part in.
Use the G.O.O.D. template, structured around Goals, Obstacles, Opportunities, and Decisions, to keep your one-on-one's focused and productive.
Measure employee engagement.
Even if your organization has a feedback culture that allows employees to give or receive feedback at any time, an annual employee engagement survey provides a formal opportunity to capture feedback about what new hires (and all employees) feel is working effectively in the workplace and what may need to improve. When everyone—leadership, managers, and employees—takes action on the results, the organization's entire population is subsequently using feedback to improve.
---
Following a clear new hire feedback roadmap will help you build feedback into your team culture. Keep your new hires engaged and on track by regularly gathering and acting on their feedback from day one. In need of a new hire ideas for your organization? Download our 50 Creative New Hire Orientation Ideas for HR Leaders.