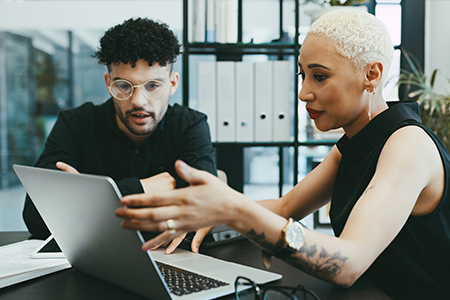 In times of high turnover and job shifting, company culture is what ultimately sets your organization apart. Culture defines what your organization is and what it stands for, displayed in how people behave, communicate, grow, celebrate others, and ultimately get things done.
To engage and retain employees, it's important that your culture positively impacts the employee experience. And employee surveys can help you understand how your employees view your culture. But to get a firm, accurate grasp on these perceptions, you need to ask the right questions.
The importance of improving company culture

A strong company culture is crucial to engaging employees, driving performance, and achieving organizational success. Without a culture of trust, communication, and mutual respect across the organization, innovation is often stifled, and employees will either resist change or leave. This threatens not only the productivity and performance of your company, but also impacts your ability to attract high-potential talent.
High-performing organizations that aim to improve their company culture understand that a thriving culture is key. It enables organizations to adapt to change and attract, engage, and retain top talent. In other words, culture isn't just a nice-to-have. It's key to success.
What does a good company culture look like
It's important to note that not all great cultures are the same. Each organization has its own unique values, traits, and people who impact and inform company culture. However, in a research partnership between the Human Capital Institute, we found that culture-centric organizations could be characterized as:
People-driven
High-performing
Caring
Supportive
Innovative
Flexible
Whatever your cultural personality is, it should be grounded in shared company values and driven by strategic employee engagement.
6 company culture survey questions
Organizational culture is a somewhat broad term, and your employees may not know how to define it. That's why it's important to avoid language specifically about culture itself. Instead, focus on measuring employee perceptions about the way your organization does things—like your everyday practices, processes, and behaviors.
With the right survey items, you can understand how your practices impact employees, enabling you to take strategic action and improve company culture. Here are the top items you should include in your next survey to evaluate company culture:


1. The work I do contributes to fulfilling our organization's mission.
If employees enjoy the work they do and see how it aligns with the organization's mission, it's a win-win situation. When employees agree with this survey item, it not only means that the organization's mission is strong and apparent in the workplace, but it also means that employees understand why their work is important.
This speaks to a strong culture and indicates that employees see the purpose in their work, making them less likely to burn out. If many employees disagree with this survey item, leaders should prioritize communication around the organization's mission and highlight the importance of each employees' efforts.
2. I see behaviors displayed across our organization that are consistent with our company's core values.
The behaviors adopted across an organization are a strong indicator of company culture. Behavior encompasses how people communicate, celebrate employees, and accomplish their work.
If employees see their organization's core values carried out in these day-to-day efforts, culture is likely shaping their actions and driving successful business outcomes. If not, it's time for leadership to outline the organization's core values, set a positive example in their actions, and reward behavior aligned with core values.
3. I have a good understanding of our organization's mission, values, and goals.

Your organization's mission, values, and goals are a huge part of culture—these components should be the driving force behind what you do everyday. But if employees are unaware of or don't understand these things, they'll struggle to realize the bigger purpose behind their efforts and may lack motivation.
That's why it's important to keep a pulse on perceptions about your mission, values, and goals. That way, you can take prompt action and shape the communication needed to keep these factors at the forefront of each employee's mind.
4. Our organization constantly looks for ways to improve our products and services.

Your employees should believe that the organization is dedicated to offering the best products and services possible. If employees believe people are complacent, it often speaks to a culture that discourages growth and top-performance, and they're likely to adopt these behaviors themselves.
To shape a culture of high performance, keep a pulse on these perceptions and adapt your coaching skills, when needed, to better support and motivate employees on their path to success.
5. The pace of work at our organization enables employees to do a good job.
Whether your work environment is fast-paced or more mellow, leaders need to empower employees to do their best work. If employees are constantly putting out work they aren't proud of, you'll quickly shape a culture of burnout, stress, and dissatisfaction.
By identifying perceptions about this component of culture, you can modify management styles, equip employees with the tools they need to thrive, and create a culture of employee success and fulfillment.
6. Our culture supports employees' health and wellbeing.
If employees' health and wellbeing aren't prioritized, they're likely to feel unvalued and resentful, making the workplace culture suffer. To shape a culture of trust and care, leaders need to recognize employees' needs, highlight the importance of employee health and wellbeing, and provide ample benefits, communication, and understanding.
When you use surveys to measure employee perceptions, you can take the action needed to make the work environment a more positive place for all.
How culture fits in with your survey strategy
Many leaders wonder how engagement surveys fit in with their approach to company culture.
While your culture can be strong and negative, strong employee engagement is always positive. To shape an engaging culture, leaders should ensure that the way the organization does things impacts the employee experience positively.
While you may have your own way of communicating, do employees always have the information they need? Do they have the chance to share their own opinions? Are they empowered to do their best work? Do they get effective coaching?
It's important to include survey items that measure these key aspects of culture—even if they are within an engagement survey.
You can use engagement, pulse, and lifecycle surveys to measure culture among every employee, within every facet of your organization, and at every point in an employee's tenure. At the end of the day, a positive culture drives strong engagement, meaning it should be tied into each survey you administer if it's important to your organization.
The benefits of a robust survey platform
Employee surveys help leaders understand obstacles and opportunities in the employee experience. But without the right technology to support your efforts, it's often difficult to get the actionable insights you need.
A robust, streamlined employee survey platform can help you understand how employees feel, focus your efforts where it matters, and shape a culture that works. Here's how the right survey technology can support your strategy:
Enables leaders to slice and dice employee data in infinite ways
The ability to slice and dice data based on demographics like tenure length and role is key. With a robust survey platform, leaders can rearrange their data any way they want to uncover deeper insights about their people.

Empowers action
Employee surveys serve no purpose without strategic action. If leaders don't act on the opportunities they discover, the employee experience will stay the same. But with team commitment planning tools, managers and teams can select, commit to, and act on their strategies. These tools drive accountability to ensure you meet your people-focused goals.
Provides robust benchmark reports
To get a leg up on culture, leaders need to compare their survey results with industry benchmarks. And when your survey partner has access to the largest employee engagement database in North America, you can do just that. With the right technology, you can see how your survey data measures up to others in your industry, companies of similar size, and America's Best Places to Work organizations.
Equips managers with dashboards to visualize their results
Manager dashboards help managers visualize their survey results all in one place. These dashboards surface big picture trends, helping managers understand their opportunities, obstacles, and strengths in the employee experience.
Makes the launching process quick and easy
When change happens, it's important to gather feedback right away. And with a seamless survey platform, you can launch a survey in minutes. Whether you choose to create a custom survey or rely on a best practice template, the process will be quick and painless to collect the feedback you need.
Provides a seamless user experience
If your survey platform is clunky or outdated, your employees aren't likely to participate. When employees don't participate, you miss out on key insights. But with a clean and easy to use interface, you can drive participation and uncover meaningful feedback across your workforce.
Gives leaders real-time results
Gathering results and taking action is the most important part of your survey strategy. That's why a successful survey platform lets leaders watch as employee responses roll in. With real-time results, you can expedite your process and propel insights into action.
Offers tried and true templates for key workplace topics
To get the insights you need, you have to ask questions that resonate. An effective platform will offer a variety of best practice templates based on key workplace topics such as diversity and inclusion, change management, employee benefits, and more. These templates, created by talent experts, help leaders capture employee feedback with confidence.
Assessing culture through employee surveys is straightforward and effective when you adopt an approach that works. By using a robust survey platform to administer the right survey items, you can foster a culture of trust, communication, and respect to retain and engage your employees.
---
Do you want to leverage culture as a competitive advantage? Discover our research with the Human Capital Institute: The Culture-Centric Organization.