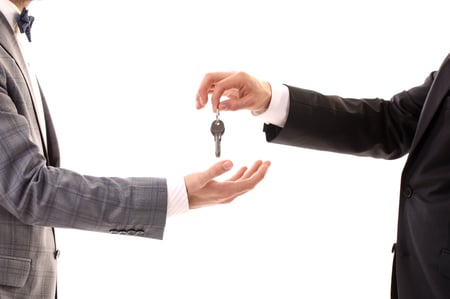 As an HR team, you've identified a talented, promising up-and-comer in your organization who's ready for a bigger role. Believing the skills they've shown will make them an effective leader, you promote them to manager.
Now what?
All too often, managers are dropped into the proverbial pool and are expected to instinctively know how to swim. These managers are unfamiliar with many of the responsibilities that come with their new title, and even the most talented ones can get lost if not properly developed.
First-time manager training is an essential component to helping these individuals succeed. HR needs to help them understand what their new role means and that their main responsibility is now developing other employees, many of whom used to be coworkers.
Here's a helpful checklist of several areas HR should consider when training first-time managers.
Help managers understand that HR is their advocate.

Define employee development.

Find the line between developing respect and maintaining relationships.

Teach managers how to create and align goals.

Create guidelines for conflict resolution.

Share tactics for recruiting and hiring talent.

Create an understanding of available tools.
1. Help managers understand that HR is their advocate.
Managers are going to run into all kind of new situations to which they won't know how to respond. They have to understand that HR isn't their enemy – in fact, it's just the opposite. HR is a resource they can access with questions or issues on any topic.
Train first-time managers on when to get HR involved, how to reach out for help, and that it's better to approach HR sooner rather than later. Whenever a manager runs into a gray area, they should feel comfortable approaching HR and getting the help they need, rather than trying to handle the unknown on their own.
2. Define employee development.
Most employees' job performance is centered around production, whether that's making sales, producing content, or helping customers. The role of manager introduces an entirely new task, one likely foreign to first-time managers – they must now be able to identify employee strengths and weaknesses and provide coaching and opportunities for growth.
Teach managers how to have career development conversations, give stretch assignments, and provide relevant feedback to employees. The manager is the top driver of employee development, so make sure first-time managers are prepared to take on this important responsibility.
3. Find the line between developing respect and maintaining relationships.
Once an employee is promoted to manager, all of their workplace relationships undergo large changes. The manager is no longer just another member of the team – they're the leader, and that role is accompanied by stereotypes that inherently come from being "the boss." Managers must find a way to keep the authentic relationships they previously developed while commanding the respect that comes with their new position.
Instruct managers how to ask questions to direct reports and listen intently to their responses. Show them how and when to recognize employees and shine the spotlight on other staff members. The more a manager takes on the role of "coach" instead of "boss," the more engaged their employees will be.
4. Teach managers how to create and align goals.
Goals are the driving force behind employee production because they provide a roadmap for initiatives and decisions. Although it's a joint effort to create attainable goals, managers have greater transparency of organizational direction than individual contributors. As such, managers should take the lead in goal creation — a process first-timers are often unfamiliar with.
HR should provide direction as managers set goals with employees. Managers should be instructed on how to align individual goals with those of the team and organization as a whole, and they should be prepared to explain to employees how and why these goals were developed.
5. Create guidelines for conflict resolution.
Managers should strive to create friendly work environments that encourage collaboration, not friction. But disagreements will come up, and managers must be prepared on how to diffuse the situation before it gets out of control.
Managers should meet with the disagreeing employees together and offer compromises to the problem. They need to be as impartial as possible and hear both sides of the argument before casting any judgement. The two parties must come to a workable solution. And as a last resort, the manager must be empowered to enforce disciplinary action if issues continue.
6. Share tactics for recruiting and hiring talent.
While these two responsibilities typically fall under the HR umbrella, managers should be involved in the process because they're the ones who interact with employees daily and are accountable for their performance. First-time managers should be trained on how to spot new roles needed by the team, what skillset would best fit the position, and how to go about identifying candidates.
While HR typically writes the job description, they need input from managers about relevant job skills and qualifications to attract the right candidates. Managers should be taught how to review resumes and cover letters, select the top candidates for interviews, and eventually offer the position. Already a part of this process, HR can direct managers as they hire employees for the first time.
7. Create an understanding of available tools.
Managers suddenly have entirely new software systems at their disposal. Whether it's a simple HRIS system or all-inclusive employee engagement software, managers often use tools differently than individual contributors, and they need training to get up to speed. Teach them the ins and outs of each feature so they can maximize the benefits and feel comfortable operating as an administrator.
First-time managers face a series of previously unvisited scenarios, and they need HR to support them and have their back when inevitable issues arise.
Set them up for success by providing first-time manager training that empowers and equips them with the tools to be good managers.
---
For more ideas on how to help managers, download our free ebook, 3 Defining Challenges of Management.