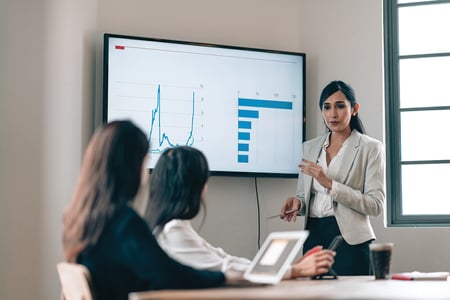 For finance and insurance organizations, employee performance and productivity is essential. Employees face high performance standards in tightly-structured and deadline-driven environments. With so much time spent on projects, there's little time for managers and employees to align and connect.
But today's employees expect more. More connection, more alignment, and more transparency than ever before. Top-down, hierarchical approaches to performance management are no longer effective. Traditional organizations lack the culture needed to support and engage employees in a way that drives business success.
The right talent strategies and performance management tools can help finance and insurance companies thrive. They can build more engaging, inclusive, and high-performing cultures; drive better workplace experiences; and fuel employee growth and development.


What is Performance Management
Performance management is the process that leaders use to motivate, measure, and develop performance. This can apply to individual employees, teams, departments, and the entire organization.
An effective performance management strategy outlines expectations, elevates recognition, enables growth and development, and aligns employee goals with business outcomes. With a continuous approach to performance management, you can help your employees, teams, and business grow and succeed.
The Importance of Performance Management in Finance & Insurance Organizations
Performance management in finance and insurance organizations is more important than ever, given the culture shift in workplaces nationwide.
Organizations that are still relying on a top-down, hierarchical approach to performance management are not as effective as they could be. These approaches are outdated, disengaging, and they don't motivate top talent.
If leaders want to drive performance in the modern workplace, they need to focus on engaging, continuous performance management approaches. Managers need to create clarity around performance, engage employees in their work, and hold managers and teams accountable to accomplish aligned business outcomes. Employees expect meaningful feedback, ongoing coaching, and clear growth and development opportunities.
Leaders should embrace performance management as an opportunity to grow and succeed—not just to give annual performance ratings and measurements. Finance and insurance organizations that are hesitant to evolve their performance management systems risk poor performance and high turnover. But those that do evolve reap the benefits of more engaged and productive teams.
The Benefits of Performance Management in Finance & Insurance Organizations
Effective performance management can benefit all employees in finance and insurance companies, from top to bottom. Here are some of the top benefits you will see when you implement a strong performance management strategy:
Better transparency for all roles
Better goal accountability
Increased organizational alignment
Increased retention rates
Stronger employee connection to the organization
Higher rate of productivity
Increased trust between managers and employees
Improved company culture
7 Strategies for Effective Performance in Finance & Insurance Organizations
1. Drive transparency across the organization
Transparency is key in any organization. Without it, employees are unsure of their role expectations and don't understand the big picture behind goals. But in finance and insurance, where employees often have a wide breadth of responsibilities, the need for clear expectations and insight into goals across the company is even more critical.
Leaders need to leverage regular feedback and coaching conversations so that employees understand exactly where they stand and can take action to grow and improve. When transparency is lacking, employees may feel disconnected from their work—with no initiative to grow and develop—which can lead to low performance and high turnover rates.
2. Empower employees to own their performance.
Top-down, unclear performance management strategies aren't motivating. Employees want the opportunity to take accountability over their own work, with visibility into how their performance is evaluated.
Modern approaches to performance management empower employees to take ownership over their role and work through goal setting. In addition, your regular performance conversations can help to address roadblocks and give employees strategies to succeed. This helps keep your talent connected to their work and organization as a whole. Plus, it helps mitigate retention risk and motivates employees to truly care about their work.
3. Align employees and teams
Your most important business goals should be driving department, team, and individual goals. Set up goals in a way that everyone's goals roll up into bigger organizational objectives—and are visible to all—, your entire workforce knows exactly how they are contributing to company success. Equip your managers to have ongoing conversations about goal setting, goal progress, goal adjustments, and goal achievement. With everyone rowing in the same direction, you're more likely to achieve your goals.
4. Provide adequate opportunities for growth
Finance and insurance industries are fighting for young talent who expect opportunities to grow and develop in their careers. And when career growth isn't on the table, the potential to disengage and lose your talent to competitors increases.
Preparing your talent for the future is imperative. Leaders should shift their performance management model from ratings and compensation to one of growth and development. With adequate clarity, coaching, and support, managers can help their teams and employees maximize their potential now and in the future.
5. Scale and humanize individualized performance
There's no one-size-fits-all approach to driving employee performance. Every employee has unique motivations, personalities, goals, and strengths.
Your performance management practices should help employees perform well at an individual level. Managers should prioritize coaching, continuous feedback, and recognition—and each of these should be tailored to individual employee preferences. While adopting a performance framework is helpful, leaders should make coaching adjustments to help all employees succeed based on their unique needs.
6. Help managers have better performance and development conversations
Impactful performance and development conversations should occur regularly. Managers should conduct 1-on-1s with their employees—at least once a month—to provide feedback, address roadblocks, and show appreciation. Leaders should also ask about an employees' personal and professional goals to help them find new growth opportunities.
When managers and employees build a foundation of trust with regular communication, coaching is better received and employees feel cared for, rather than criticized. And when development is included in the conversation, you communicate that you see value and potential in your employee to boost retention and engagement.
7. Leverage performance management software
The best way to carry out your performance management initiatives seamlessly is by taking advantage of a performance management platform. The right software will serve as a business partner in motivating, measuring, and developing performance.
Look for these tools when evaluating your platform:
Goals
Goal setting tools help make business objectives clear across the entire organization. Not only does this align employees, but it helps drive accountability. Employees and teams can track their progress in real-time to ensure goals are accomplished and deadlines are hit.
1-on-1s
An effective 1-on-1 tool helps boost connectivity between employees and managers. With a streamlined 1-on-1 template, employees and leaders can discuss important topics regularly to touch on all points of interest and create a culture of trust, connection, and care.
Feedback
Two-way feedback provides an avenue for both employees and managers to give and receive feedback for growth. This helps to create a foundation of trust between employees and managers and encourages growth, development, and high performance.
Recognition
Company-wide recognition elevates your employees' work to the entire organization. As your employees are recognized for their efforts, organizational alignment and employee morale improves.
Talent reviews
Talent reviews help leaders understand the entire story behind employee and team performance, all in one place. With this information, leaders can make strategic people decisions and mitigate talent risk.
Surveys
Engagement, pulse, and life cycle surveys allow managers to capture employee perceptions at all parts of their tenure. This helps you understand whether your performance practices are effective, and uncovers areas for improvement across the organization.
People analytics
People analytics tools create visibility into employee performance by helping leaders understand what's happening within their workforce. With this information, leaders can identify workplace opportunities and threats and navigate their talent problems.
The Future of Performance Management in Finance & Insurance Organizations
The future of performance management in Finance and Insurance organizations will be focused on implementing individualized, engaging performance practices. These organizations will need to evolve from hierarchical, traditional workplace practices to a digital, culture-boosting approach that attracts and retains top talent.
Leaders need to make changes that help build a culture of trust, care, and connection—and to empower employees in their work. By giving employees freedom to decide how and where their work gets done, you can create an engaging culture that is attractive to the best talent.
Effective performance management in the finance and insurance industries is critical. To understand, motivate, and develop performance in the modern workplace, organizations need a robust performance management platform. With the right features, you can drive the performance that leads to valuable business outcomes while engaging employees in their work.


---
The best way to drive business outcomes is by prioritizing your people. Download our ebook and learn 3 ways HR is driving business success in finance and insurance organizations.