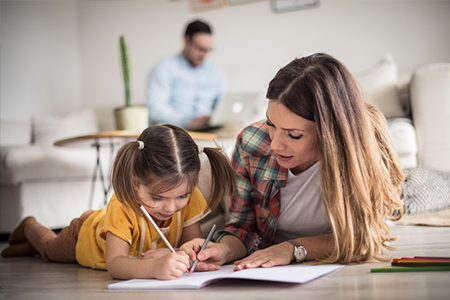 Employee engagement may have dropped in priority as we learn how to deal with the coronavirus pandemic, but it's one of the most important initiatives to keep at the forefront in order to be successful through this.
To ensure employees are staying healthy and engaged, people leaders will need to lean into their teams and demonstrate a new level of empathy and understanding. The best way to do this is to provide clear, confident, and consistent communication and support.
Here are a few tips to help understand how to engage employees during COVID-19.

1. Stay calm.
The last thing you want to do is feed into the panic. It's okay if you don't have all the answers—these are unprecedented times, so we're all working to find a solution together. Position your organization as a safe place and a trusted resource for your employees rather than one of anxiety and uncertainty.
2. Understand and empathize.
Your employees are looking for support to help them through this crisis. As they navigate uncertainty in their own lives, acknowledge that they might be feeling anxious, unsettled, and concerned for both their personal and family's health. Be there to listen and make sure they have access to the information and resources they need.
3. Keep informed.
There's a lot of information, and misinformation, circulating in the news about the coronavirus pandemic. But don't get caught up in the media frenzy. Do your own research and cross-reference with credible sources. Pay attention to the latest updates from the Center for Disease Control and Prevention or the World Health Organization.
4. Be proactive.
Anticipate needs and questions that might come up and make a plan. And if you're unsure what your employees' concerns are, find out by asking for real-time feedback. Boosting your employee listening strategy during this time can help you better communicate and act on a plan that has a more meaningful impact.
5. Equip your people leaders.
Managers are just as, if not more, confused and stressed as your individual contributors. To ensure they feel confident and well-equipped to communicate the most critical information to your employees, you'll need to provide the right resources. People leaders need to listen to their employees and make sure everyone is aligned. Provide training or key messages to help them communicate and respond to questions and concerns.
6. Don't try to manage it alone.
It's ok to ask for help. Lean on your peers for support, advice, and questions. Consider building a crisis management team or task force to help you determine the next steps and delegate responsibilities. In this ever-evolving state of uncertainty, it's a daunting task for anyone to keep up. This will help you stay focused on your employees and their engagement levels.
7. Find other ways to connect.
If your entire team is working remotely, find new ways to connect. Set a daily time to share things like how you're maintaining physical fitness at home, what you're binge-watching, or enjoy a virtual lunch together. Outside of email communication, employees can use more interactive and engaging applications to connect like Slack. Post or share pictures of workspaces and new "co-workers" (i.e. children, pets, significant others, roommates). Commiserating with one another will make working remotely feel more natural and open up new opportunities for connection and engagement.
8. Try to maintain normalcy.
This is a chaotic time for everyone – leaders, managers, and employees. When at work, employees naturally step away from their desks to grab a cup of coffee, refill their water bottles, or meet with coworkers face-to-fact. At home, this might not be the case. Try to keep things as normal as possible to provide some stability. Keep recurring meetings and one-on-ones, and encourage employees to maintain their regular routine.
9. Set clear, but flexible, expectations.
A lot of employees are living a new day-to-day, very different from their routine. There are new working arrangements, interrupted childcare, and lots of uncertainty. Be clear with employees about work expectations and performance. Be honest and open so there aren't surprises. Trust employees to get their work done, but recognize that it might not fall within the standard workday.
10. Show your gratitude.
Giving and receiving recognition are both behaviors that generate trust among people, which drives feelings of belonging and positivity. Thank your employees. Acknowledge that they are critical to the company and recognize their contributions. Assure them that you're committed to their safety and well-being.
11. Leverage familiar communication channels.
Let employees know where critical updates will be shared and aim to use channels that are already familiar to them. Should updates be shared via email? Or maybe the company's intranet? How will you communicate to those who don't have easy access to these options? In some cases, you may need to consider alternate methods like texting. Try to ensure that your crisis communication method doesn't add unnecessary stress.
12. Maintain productivity.
The best thing you can do as a manager and leader is to continue to stay the course. While this might not look the way that it used to, with kids, spouses, or roommates at home with you it's important to remain focused on a common goal. However, encouraging employees to take breaks and partake in virtual social environments is good for productivity and sanity too.
---
You don't have to do this alone. Together we can help you keep your employees stay safe, connected, and engaged. For additional resources on how to improve engagement during the coronavirus pandemic, download Engaging Employees Through COVID-19.