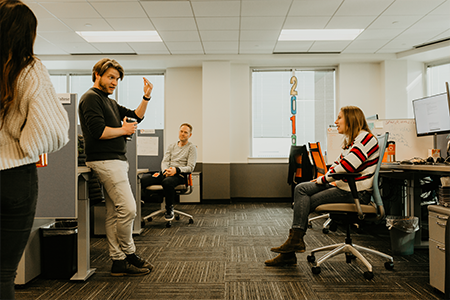 The push for higher employee engagement isn't new—yet it can still feel woefully out of reach. You want to improve employee engagement. But where do you start?
The first step is to identify and then act on the key drivers of engagement for your organization.
In this blog, we'll cover exactly what engagement drivers are and how you can use those key drivers to impact engagement where it matters most.
What are engagement drivers?
Top common drivers of employee engagement
10 tips for driving employee engagement
What are engagement drivers?
Drivers are survey questions or items that have a larger impact on engagement outcomes than other survey items. Drivers can tap into topics such as communication, trust in leadership, change management, manager effectiveness, feeling valued, and individual needs.
Put another way, top drivers are items you can take action on to affect engagement where it will make the most impact.
For example, an engagement driver might be "My manager is a good listener," "I feel comfortable sharing feedback when I have it," or "I feel valued by my supervisor." This would mean that taking steps to improve managers' listening skills or show appreciation for their team will drive higher engagement among your employees.
All drivers will impact engagement. The key is to identify and act on the drivers that will make the most difference. You can identify your top engagement drivers in your engagement survey data.
Common drivers of employee engagement
So what drivers should you focus on? Specific engagement drivers will vary depending on your company and even among individual employees, but there are several drivers that are common across all organizations.
We've categorized these key factors of employee engagement under three main themes:
Future Outlook
How your employees view leadership and the future of the company has a significant effect on overall engagement.
A few key drivers include:
I believe this organization will be successful in the future.
I trust the leaders of this company to set the right course.
I know how I fit into the organization's future plans.
"I believe this organization will be successful in the future," was the fourth highest-rated item among the top quartile companies surveyed, but only ranked 15th for the bottom quartile companies.
In other words, confidence in the future success of a company is more resilient the higher the company's engagement level.
Feeling Valued
Nearly 1/5 of employees at the least engaged organizations said leaders don't value people as their most important resource.
The following drivers can help you measure how valued your employees feel at work:
My opinions seem to count at work.
If I contribute to the organization's success, I know I will be recognized.
The senior leaders of the organization value people as their most important resource.
If you want to impact engagement, treat your employees as your most important resource.
Career Growth and Development
Employees at the most engaged companies believe their organization invests in their individual success.
Key drivers include:
I find my job interesting and challenging.
My job allows me to utilize my strengths.
This job is in alignment with my career goals.
I see professional growth and career development opportunities for myself in this organization.
The organization makes investments to make me more successful.
Focus your engagement strategies on employee development planning and invest in what your employees care about most.
Tips for driving employee engagement
Now that you know what drives engagement, it's important to act on it. So, what steps should you take?
Once you understand what your engagement drivers are, identify the weak areas of your top drivers (i.e., what steps can you take to improve on your most impactful drivers), and implement programs to improve those key factors of engagement.
Use the following tips to improve engagement based on the most common drivers.
Future Outlook
Future outlook is a little tricky because managers outside the C-suite won't have a direct impact on where an organization is going. However, the focus of this category of drivers is ultimately about communication—which is something every leader can impact and improve on. Here are a few ways you can improve trust and communication outcomes:
1. Communicate your vision.
Companies with leaders that communicate clearly, consistently, and transparently about their vision for the organization and the reasons behind decisions experience higher levels of employee trust and engagement.
2. Share company and team goals.
Keep your company and teams clued in to strategic meetings. Schedule semi-annual updates to remind employees about broader goals and strategies.
3. Track progress and provide status updates throughout the year.
Post individual, team, and company goals in a shared place so everyone can measure, participate, and share in your successes.
4. Use one-on-ones to discuss how employees fit into the big picture.
The most engaged employees understand how they fit in a company's future plans. Use one-on-one meetings to discuss how employees have contributed, how their role might evolve, and where they fit in the company's future plans.
Feeling Valued
How does your company show it cares about and values its employees? Here are a few things you can do to demonstrate you appreciate your most important resource:
5. Conduct employee surveys.
Survey your teams to get feedback and opinions on their experience in the workplace. Then follow up—and get your managers involved. Our research found that 59% of employees believe that managers are the group most responsible for enacting and implementing employee engagement strategies. So, empower your managers to collect and act on employee feedback.
6. Recognize results and efforts.
People like to feel their hard work is noticed and appreciated. Employees value recognition from their immediate managers (even more than their peers). Train your managers to praise and reward their employees for a job well done.
7. Give employees flexibility and autonomy.
Another way to show you value and trust your employees is to offer flexibility and autonomy in their roles. This could mean different things to different people, but a few ideas might include:
Flexible scheduling

Less supervision
More responsibility
Pay attention to what your employees want and ask for in surveys, one-on-one meetings, and annual reviews.
Career Growth and Development
A recent survey by Quantum Workplace found that 94% of employees would stay at a company longer if it invested in their career. Here are a few ways you can invest in your employees and provide opportunities for growth.
8. Offer tuition reimbursement.
Education is a great way for employees to expand marketable skills and set a foundation for future growth. Consider offering full or partial reimbursement for tuition or other educational programs or resources (such as seminars, books, or certifications).
9. Promote top performers.
Identify your best performers and look for opportunities to promote those who have room to grow. If a promotion isn't available, identify stretch assignments or other challenging tasks or projects they can work on to grow within their current role.
10. Provide training or mentoring opportunities.
These opportunities can be broader, company-wide programs, or smaller tailored initiatives that vary by team and individual. Use employee feedback from one-on-ones to identify areas they want to develop and help them make a development plan.
---
Employee engagement doesn't have to be a shot in the dark. When you understand the drivers of employee engagement at your company, you can create engagement strategies that are targeted and impactful.
Focus your efforts on the most common factors of employee engagement to move the needle in the right direction. Get more tips and actionable insights in our free ebook A New Era in Employee Engagement.