Organizations working to improve employee engagement levels have a bigger issue to tackle first: leadership buy-in. Our employee engagement trends report showed us just how important leadership was to employee engagement.
This year, four of the top six drivers of engagement had to do with leadership.
The

leaders

of this organization are committed to making it a great place to work.

I trust the

leaders

of this organization to set the right course.

I believe this organization will be successful in the future.

The

leaders

of the organization value people as their most important resource.

I see professional growth and career development opportunities for myself in this organization.

I trust the senior

leadership

team to lead the company to future success.
It's clear that employees' engagement is directly influenced by their confidence in leadership. But could leaders' buy-in (or lack of buy-in) to an employee engagement strategy be just as influential?
New data shows leadership attitudes toward engagement are directly linked to engagement levels. Meaning, companies with the lowest levels of engagement are led by people who don't take engagement very seriously in the first place. While almost 90 percent of highly engaged organizations say employee engagement is important to leadership, less than 20 percent of somewhat disengaged and disengaged companies can say the same thing.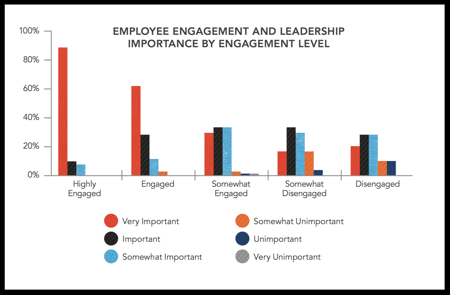 It's not all that surprising when you break it down:
When leaders buy into their organization

'

s employee engagement strategy, employee engagement increases.

When employees are confident that their leaders value their people, set the right course, and are committed to making it a great place to work, engagement increases.
Here's what is surprising: Lack of senior leadership buy-in is HR's biggest roadblock to a successful employee engagement initiative, ranking above cost and resources. Even with the two powerful data points above (showing how leadership's commitment to the workplace and their support of an engagement initiative directly impact their organization's level of engagement), leaders are still the biggest impediment to employee engagement.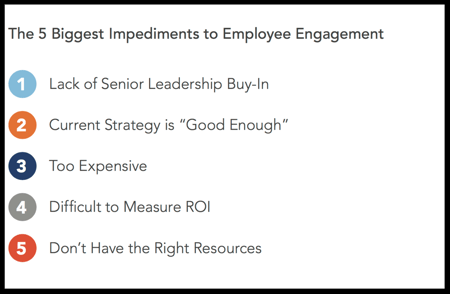 We've written about the importance of employee buy-in (and given you tips on how to gain it) when it comes to conducting engagement surveys. But before you can even begin to collect employee feedback, make positive changes, and increase employee engagement, you need to gain leadership buy-in to your entire strategy.
---
So what are you waiting for? Push past your survey roadblocks and spearhead the successful employee engagement initiative your organization deserves. Click below to download our ebook, 15 Challenges to Implementing an Employee Engagement Survey, and overcome your obstacles today.