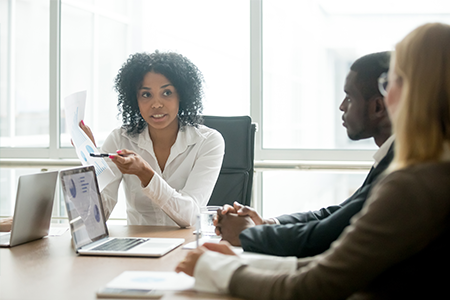 All HR pros know it's important to collect exit feedback: exit feedback allows an exited employee's voice to be heard, and it can mitigate the many costs of losing an employee in the future. And HR isn't the only one who recognizes the value of exit feedback.
In fact, 93% of employees believe that exit feedback is important, and 87% of employees believe that their feedback can help others at the organization.
So when it comes to types of exit feedback, what method should you choose? There are two primary options: exit interviews and exit surveys.
In this blog we'll cover both, including:
Pros and cons to exit interviews and surveys

How to collect 360 feedback to improve employee turnover
Exit Interviews
Traditionally, exit interviews are conducted between the exiting employee and a member of management or human resources. The purpose of exit interviews is to understand why employees are leaving and what the organization can do to improve.
While this strategy has positive intentions, there are several pros and cons of exit interviews for HR leaders to consider.
Pros of Exit Interviews
Exit interviews can be conversational, therefore less intimidating.
A conversational-style allows for the interviewer to guide the conversation as needed. The interviewer can focus on the employee, clarify any questions or responses, and follow up on areas of distress or concern. If managers feel uncomfortable conducting the interview (especially if they are a contributing factor in the employee's departure), members of HR can be a great alternative for a less-biased or emotional conversation.
In-person interviews make the process more human.
Body language and other in-person context clues add information and value to the conversation. Interviews also allow for more personal, human connection. This can alleviate anxiety and improve comfortability of providing critical feedback.
Cons of Exit Interviews
Exit interviews can be awkward and uncomfortable.
If exiting employees are leaving on difficult or emotional terms, face-to-face interviews can exacerbate awkwardness and discomfort. On the other hand, leaving a positive last impression can outweigh providing critical feedback. Employees don't want to burn any bridges on their way out the door and may sugarcoat their response. As a result, they might resist providing critical feedback, no matter how embedded feedback is in the organization's culture.
Pro Tip: Be open and honest about your exit process. The first time an employee learns about the process should not coincide with their departure. Inform employees when they first onboard with the company, or at the very least, communicate clearly about what to expect as soon as they submit a notice.
Exiting employees may think their feedback doesn't matter.
Employees may have both personal and professional reasons for leaving the organization. If they were disengaged because they felt misheard, misunderstood, or overlooked, they might feel like providing that feedback in this setting is pointless. In addition, if they don't have time to prepare or reflect, an interview can feel like a waste of time.
Pro Tip: An employee might be caught off guard if they just see a random meeting request for feedback pop-up in their inbox a week before they leave. A manager or leader should let them know ahead of time that request is coming and the importance of it. Tell them why you value their continued feedback and ensure they know you will use their feedback to help make the workplace better for both current and future employees.
Managers might be afraid of receiving feedback.
It's no secret that managers are one of the top reasons employees leave their jobs—so some managers may be resistant to feedback. If they don't think the feedback will be valuable or believe their employee was underperforming, receiving feedback in-person may leave a sour taste in both party's mouths.
Pro Tip: Share interview (and survey) questions with managers so they know exactly what employees are being asked. Let them know that feedback collected from exiting employees will be used to drive future decisions and HR is available to coach them one-on-one should results reveal a recurring problem on their team.
Exit Surveys
Exit surveys help organizations capture a complete picture of the employee's tenure and to get actionable insights to improve. But exit surveys have pros and cons that could impact your strategy.
Pros of Exit Surveys
Exit surveys help you obtain a more complete picture of employee turnover.
An exit survey allows you to gather standardized data and dive deeper into employee responses. Survey consistency also allows for trend analysis. Look at your exit data by demographic, tenure, employee performance, and roles or functions in order to tell a more compelling story about employee turnover and engagement. Understanding trends that tend to repeat year-after-year can better help you understand turnover and adjust your retention and hiring efforts accordingly.
Exit surveys are easy to distribute and access.
Use feedback or pulse survey tools to automate the exit survey process. A request for feedback (plus reminders) can be sent to the departing employee when you deem appropriate. Make sure you setup your request to use an existing company or personal email address incase the employee has already left.
Cons of Exit Surveys
Exit surveys can feel impersonal.
Depending on the tenure of the exiting employee, a survey may feel like a meaningless exercise. Especially if an employee has worked at a company for a long-time, surveys may feel like an insignificant way to put a cap on their contributions and accomplishments.
Pro Tip: Make sure they understand why survey results matter. Explain that the exit survey is crucial to understanding the "why" of their departure and how feedback will be used to improve the organization.
Exit surveys are easy to ignore.
Exiting employees already have a lot of loose ends to tie and emotions to manage. Surveys may feel like an unnecessary task to complete and are easy to avoid or leave uncompleted.
Pro Tip: Make the exit conversation a part of onboarding. It might feel a bit awkward to discuss an employee's potential departure as he or she begins a new job, but creating that understanding is crucial. If an outgoing employee receives a random survey email after submitting their two-week notice, they're much more likely to ignore it or fill it out quickly without meaningful responses.
Poor timing or miscommunication can muddle strategy.
When employees leave an organization there are some standard protocols that take place. For example, you might turn off access to email or their office phone. Pair that with an oversight by HR or management—such as the manager failing to inform HR of the exit in a timely fashion—and you might not have a way to contact them and miss out on critical feedback.
Pro Tip: Inform managers and department leaders of your exit strategy. Explain that the results are important to making the company a more desirable place to work. Managers are critical to creating and maintaining engaging experiences for their team members. Don't blindside them with information they didn't know was being recorded.
INSIGHT TO ACTION
Your exit survey data is only as good as the action that follows. There is no point to conducting exit surveys without a plan to act. Once you have a reasonable sample size, search for trends. Once issues are identified, create a plan to resolve them. If you're going to retain talent, you have to plug the holes that are causing them to leave. The more directly you can address their pain points, the more likely they are to stay.
Explore our people analytics tools to improve employee turnover >>>
How to collect 360 feedback to improve employee turnover
While it's important to gather input from the exiting employee about why they left the organization, it's also helpful to collect feedback from current employees who may have insights into the exiting employee's reasons for leaving.
Think of the exit interview process as a 360 feedback session. If you want to know the full story, why rely on just one voice? Here are 4 types of employees to include in your exit strategy.
1. Immediate manager.
Immediate managers offer context from a performance perspective. Is the exiting employee a top performer or did they struggle to meet expectations? If an immediate manager is regularly meeting with their employees via 1-on-1 conversations, then they should have a good idea of how the employee was performing and know of other factors that may have led to the exit.
2. Teammates.
Members of the exiting employees team can provide a perspective on performance and may also be aware of additional underlying factors. Teammates are often privy to work-life balance challenges, disengagement with work, culture, or benefits, or interests the exiting employee is pursuing.
3. Peers.
Think of peers as close friends or from a cohort with the exiting employee. These individuals may understand the personal reasons that led an employee to exit the organization. Additionally, these individuals may have been aware of the impending exit long before it occurred.
4. Direct reports.
Direct reports are in a unique position that makes them aware of performance, burnout, and stress. Including direct reports in the process can help the organization start to plan for the next stage in the process—filling the opening left by the exiting employee. Direct reports might be interested in promoting into the position, may know of a qualified candidate, or may have opinions on what the role should look like moving forward.
Employee turnover is an inevitable part of running a business. But with tools like exit interviews and surveys, you can begin to understand why your employees are leaving.
---
Retaining your employees and preventing unwanted turnover can be difficult if you don't know where to start. Download the Top 5 Predictors of Employee Turnover to find out why employees are leaving in the first place.