All turnover comes at a cost—but losing your top talent is especially costly. When a top performer leaves, it causes a ripple effect in your organization.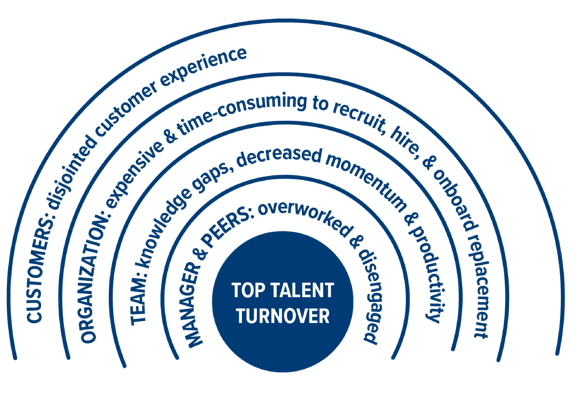 If you've been burned by top talent walking out the door, you're not alone. As The Great Resignation persists, employee retention is top of mind for many organizations.

While employee retention is top of mind, leaders admit their retention strategies are not that effective. Most say their approach to retention is at the intermediate or beginner level. This simply won't cut it as employee engagement and employee intent to stay have been on the decline.
No matter the state of the job market, keeping your best talent is critical to the success of your business. And employee engagement serves as a buffer in good times and in bad. If you're not taking time to strategically address retention and turnover, you're leaving a lot on the line. But we have good news! A lot of unwanted turnover is actually preventable.
1 in 3 employees that leave their organization say their departure was preventable.
There is hope in these numbers! A lot of time, money, engagement, and energy to be saved. But to make meaningful progress, you must shift your mindset and approach retention with intention.
Knee Jerk Retention Strategies Won't Work.
Unwanted turnover can feel overwhelming. It's all too easy for leaders to go into fight or flight mode. To be paralyzed from uncertainty about where to even begin. But we must overcome. We cannot:
Make decisions on a hunch
Enact broad, uninformed strategies
Assume we know why employees leave
Look at surface-level metrics
When we start taking action on turnover without data, measurement, and strategy, it creates a vicious cycle that isn't good for anyone.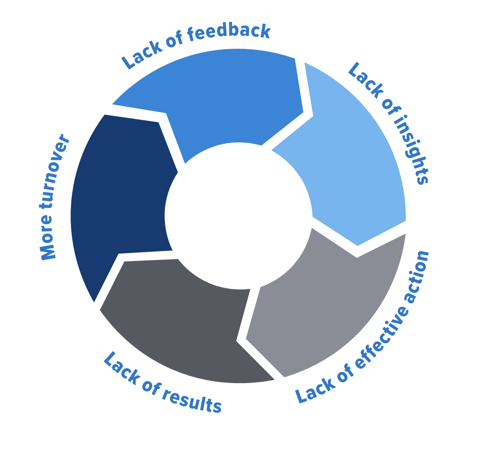 With the right tools, you can break this cycle. Not only can you shed light on what is causing top talent to leave. You can actually predict when such a catastrophe might be looming and deploy strategies to prevent it.


Employee turnover is predictable.
Many departing employees express their dissatisfaction and intent to leave with someone at their organization before they leave.
62% of departing employees said they discussed their decision with either their managers or coworkers before leaving.
If leaders are in tune with these signals, they can act in a timely manner—and potentially save stop talent from exiting the organization.
Leaders also need to be attuned to the why behind these exits. Most believe pay is the primary reason employees leave. And pay definitely pays a big role—but it's often part of a larger and more complex story.
Pay is a form of confirmation and value. Perceptions of unfair pay and lack of growth and recognition often go together. You don't want pay to be distracting from all the good things that you're doing in the organization—the things that drive long-term engagement and retention.
The most widely cited reasons for turnover, as told by employees are:
Lack of career growth
Lack of fair pay
Feeling unrecognized or unappreciated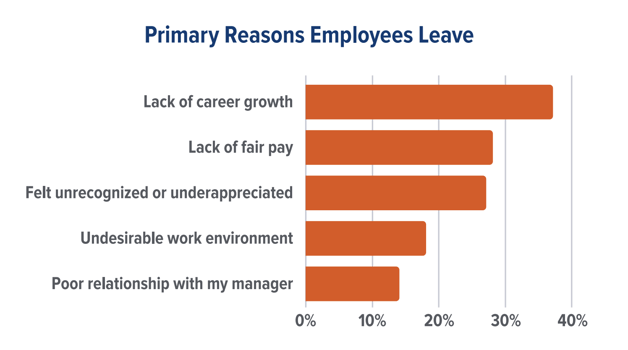 Employee turnover is preventable.
We mentioned already that a LOT of turnover is preventable. Employees say they might have stuck around if circumstances had been different. And our research affirms this. While career growth and recognition are top reasons for turnover, there's much to be done by the organizations that employees are leaving:
70% of employees said they didn't have a discussion about their future or growth in the 3 months prior to their departure
53% of employees say they weren't recognized for their contributions to the organization


---
Spell out your employee retention strategy.
You've heard it before. If you can't measure it, you can't manage it. And in this case it's true.
You need a crystal clear picture of what is driving people to leave and what is driving them to stay. Without this context, you WILL fail to see results. You need to work to understand:
WHAT is happening with your turnover?
WHO is leaving?
WHY are they leaving?
WHERE are there trouble spots?
Only after answering these questions can you figure out HOW you will address your turnover.


---
Fuel your retention strategy with employee feedback.
Employees want to have a voice in their experience at work. They know better than anyone what might be causing people to leave—and many will share their ideas and concerns directly if you ask. To capture this kind of feedback, you must open up a variety of channels to help leaders listen.
Some leaders we've worked with are hesitant to ask for too much feedback, worrying about survey fatigue. Others don't believe employees will share honestly. But our research shows employees are most engaged when:
Leaders regularly ask for feedback
Leaders regularly act on feedback
It's the action that matters most here—and feedback helps you focus your action. Rather than deploying broad strategies with no data to back them up, you can use employee feedback to approach challenges strategically.


Employee Listening Tools
There are a few employee listening tools you should have in your toolbelt in order to get the most accurate perspective on retention.


Employee Lifecycle Surveys
Employee lifecycle surveys help you assess what's going well— and what's not—at various stages of the employee journey. Candidate and new hire surveys can help you understand barriers early in the employee journey. Exit surveys help you capture feedback from departing employees. You can also launch these surveys at critical moments—like after a promotion or a change in management.


Employee Engagement Surveys
Your employee engagement survey is a key source of data to fuel your retention strategy. It's your big picture view of what is happening across your organization. It helps you understand engagement trends over time and empowers you to act on and measure the success of your retention strategies.
Engagement and lifecycle surveys are useful on their own, but the magic really happens when you combine the data to paint a broader picture.
Where are there inconsistencies?
What red flags are showing up?
How might you address them?


Manager-Employee 1-on-1s
Employees who have at least quarterly 1-on-1s with their manager are 2.4X more engaged than those who don't. They're also less likely to leave for advancement opportunities outside of your organization.
1-on-1s should focus on a mix of engagement, performance, and growth. They should be focused on the future and managers should leverage a coaching approach. Paired with insights from your survey data, 1-on-1s can also help leaders get to the root of retention issues and help troubleshoot solutions that prevent turnover of top talent.


---
Take a targeted approach to analyzing turnover & retention.
It can be difficult and overwhelming to figure out how to impact unwanted turnover broadly. This feeling often causes leaders to avoid taking action to retain top talent.
But there are a lot of smart ways you should be looking at your turnover that go far below the surface. And when you dig in a little deeper, it's much easier to make an impact. When it comes to employee retention, data is your friend.


Questions to answer with your turnover data
What's your turnover rate?
How are things trending?
How do we compare to others?
Who is leaving?
Which demographics have the most turnover?
What are the top reasons employees leave?
Which demographics face what issues?
Where is turnover the highest?
Where does turnover pose the greatest risk?
Because turnover is about people and business—and both of these variables are prone to frequent change—the answers to these questions will likely change often. It's important for leaders to keep a pulse on turnover in order to build an intentional and effective approach to employee retention.


See the big picture.
It's best to start with a comprehensive view. You can do this by keeping an eye on your turnover rate and trends and also your engagement data. You can find a ton of actionable insights in your engagement and exit survey data. If this was the only thing you did, you'd be off to a great start. You can often uncover patterns and trends just by looking at what surfaces across a couple of different data sources.


Drill down deep.
It becomes much easier to take targeted action when you move from seeing the big picture to uncovering what's happening in specific areas. When you start slicing and dicing your data across demographics and areas of the business, you'll be able to understand what is happening, where, and how to approach and address it. You can slice your turnover data by:
Tenure
Department/division
Region
Function
Gender
Race/ethnicity
Age/generation
And many other demographics!


Focus on the future with predictive analytics.
It's good to get a sense of what has happened to cause turnover. But it's even more valuable to understand what might happen. Understanding who is at risk of leaving and why gives you ammo to take strategic, quick, action. You can reallocate your resources and focus on addressing areas that truly matter.
Predictive analytics (like Quantum Workplace's proprietary Employee Flight Risk model) can help you plan for the future and put a stop to costly turnover.


Employees categorized as a "high flight risk" in Quantum Workplace's Flight Risk tool are 4X more likely to leave their organization within 1 year.
---
Invest in meaningful action.
Turnover happens, but leaders have a lot to gain from working to address retention with intention. To move the needle, leaders must invest in effective action. Leaders must be willing to walk away from things that are no longer serving them and double down on what's needed to drive positive change.
Action should be focused on continuous improvement over time. Leaders should be agile and iterate as they receive new information and/or try things that don't work. Even the smallest shifts can make a big difference.
Once you've uncovered insights in your engagement and turnover data, you need to prioritize. One of our favorite tools to use is an impact/effort scale. Ask yourself:
What will have the most impact?
What level of effort might each initiative require?
What's going to matter most in high risk areas?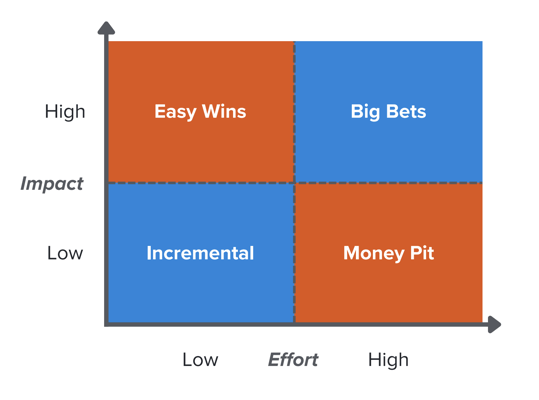 The sweet spot will be the areas you rate as high impact and low effort. But don't ignore high effort areas altogether! It's good to choose a couple of "big bets" to chip away at to help set you up for long-term success.
Once you've weighed your options, it's time to get started. What does your roadmap look like over the next month? Quarter? Year?
Revisit your roadmap often and make adjustments as needed.
Are the actions you're taking having an impact?
Is engagement increasing?
Is turnover decreasing?
What feedback are you hearing?
How might you adjust for the future?
This will help your organization validate what is working and strengthen the mindset that talent is an investment, not an expense.


Bring in your managers.
It's a big mistake for leaders to hoard engagement and turnover data and keep manager's at arm's length. Your managers are on the front lines of employee retention and your data can empower them in big ways. Share your survey data with your managers. Open up a dialogue with them about it. Make sure they have the training and resources to navigate critical retention areas like performance, growth, and employee wellbeing.


---

Focus on employee engagement and culture as primary solutions.
When you devote time and resources to driving employee engagement and developing a strong culture, your top talent will stick around. And you'll also draw in top talent.
Our research found that although highly engaged and not highly engaged employees are recruited in similar numbers, there are substantial differences in employee turnover intentions and behaviors based on engagement. Highly engaged employees are:
2.5X less likely to interview for another job
6.8X less likely to apply to new jobs
1.9X more likely to say they plan to stay


Engagement is a sticky factor for retaining your best talent.
When employees are engaged, they're more committed to your organization. 90% of highly engaged employees say they intend to stay working at their current organization for the next year, compared to less than 50% of not highly engaged employees.
So how does culture fit into the picture?


Culture impacts engagement.
Our research shows that culture can make or break engagement. Culture is about the day-to-day details of how work gets done. How employees perceive your culture can have a positive, negative, or no impact on employee engagement.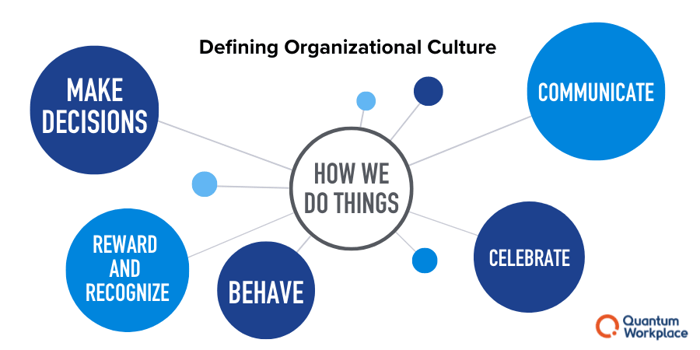 Employees who say their culture is positive are 3.8X more likely to be engaged. On the flip side, 60% of disengaged employees say they'd leave their organization for a better culture.


Adapting culture to the new world of work
With remote and hybrid work environments becoming the norm, culture has gotten tricky. Many leaders believe a return to the office will help solve their culture and engagement problems, but this is flawed thinking. Our research actually shows remote and hybrid employees are more likely to report a strong, positive culture. And "physical workplace" is at the bottom of the list when it comes to employee perceptions of what creates culture.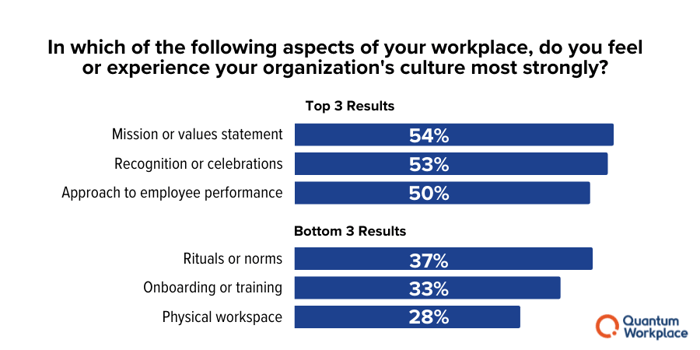 Moreover, when workers are at their preferred location, they are more highly engaged. Not just happier, but truly engaged and ready to go above and beyond to contribute to the success of your business.
Work from home is here to stay. The pandemic has accelerated us into the future of work, and leaders need to invest in adapting to this. Engagement and culture are going to look different. What you did before the pandemic isn't going to translate to today. You'll have to invest in new ways, people, time, and resources to create a culture that attracts and retains top talent.
---

Everyone in your organization plays a part.

At many companies, when there's a turnover problem, senior leaders point at HR to fix it. HR blames managers for running good people out the door, and managers complain to leadership about lack of training and time.

A lack of ownership leads to little to no progress and big costs trying to fill the gaps.

When it comes to retention, everyone plays a role. Retention is too broad for any single function to create an impact. There is no one force driving retention at any given time.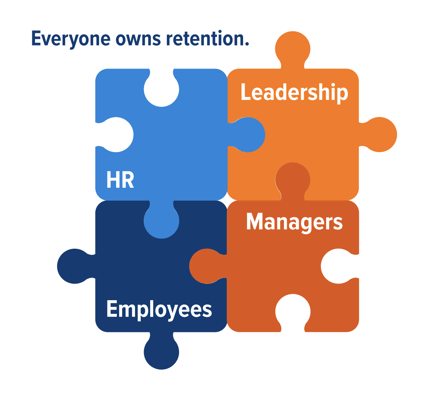 The Role of Leadership
Organizational leaders are the most powerful influencers within an organization's culture. Their attitude toward engagement, retention, and culture trickles down and influences every part of the company. If leaders prioritize engagement, culture, and retention, the rest of the organization will follow.


The Role of HR
HR needs to work on building a climate where retention is a priority—and where leaders, managers, and employees know their part. They should train managers on topics like career development, recognition, and coaching. They should ensure employees feel safe and heard.
HR should help shepherd a strong and healthy organizational culture. They should bring data to the table that informs leaders of what is happening within the organization. This way everyone can make a plan to move forward.


The Role of Managers
Managers are on the front lines with employees every day. They must work to build trusting relationships with each employee and prioritize transparency, alignment, and feedback.
A manager's primary role is to help employees grow and succeed. When employees feel aligned with their managers on goals, expectations, and performance, they're more likely to be engaged and to stick around.


The Role of Employees
Employees need to take responsibility for the role that they play in building the kind of culture that engages and retains top talent. This means working hard to understand their work, being accountable, being a contributing team member, and valuing the organization and the people around them.


---
Quantum Workplace Can Help You Boost Employee Retention.
With the right intel, insights, and a roadmap for change, you can build a culture that draws in and retains your best talent. Quantum Workplace offers employee retention solutions to help keep your top talent engaged and on the path to success—making them more likely to stay.
---

Your retention rate is a key metric moving forward in 2023. Don't hesitate to take the weight off of your shoulders and let Quantum Workplace do the heavy lifting. Request a demo to see Quantum Workplace's software in action.