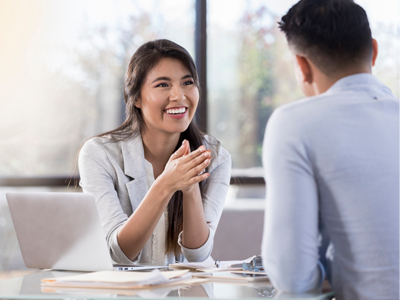 In the past, performance management used to hyper-focus on ratings and measurement. Efficiency and output were key to organizational success, and it was a manager's job to evaluate, reward, and punish.
But these traditional approaches to performance management are no longer effective. MIT Sloan Research recently concluded that performance management now means cultivating new capabilities (i.e. skills and innovation), not just improving existing efficiencies.

Today's jobs require a much different set of employee skills. People need to innovate, create, and adapt to help their organizations stay competitive. Performance management is shifting from evaluation and ratings to coaching and development. And managers must focus on improving employee skills so they can reach their full potential. Below are four reasons why your managers need to help employees develop new skills.
1. Investing in skill development and training can i

ncrease employee

productivity

.
If you're willing to invest in the development and ongoing training of your employees, it will likely have a positive impact on their productivity.

The National Center on the Educational Quality of the Workforce found a productivity gain of 8.6% when there was an increase in workforce education and training.

Employees who believe their company is committed to their career development will be motivated and dedicated to produce at a more efficient and higher quality rate.
2. Career

development opportunities

can directly impact company success

.
Whatever your thoughts on millennials are, you can't ignore the facts. Millennials now account for the majority of today's workforce, and they expect more development opportunities than previous generations.

A 2018 study from Gallup found that, on average, 3 in 10 employees strongly agree that there is someone at work who encourages their development. However, when that figure increases to 6 in 10 employees, organizational profitability increases by 11%, employee retention by 28%, and customer satisfaction by 6%.

If you can support your employees with the right development opportunities to reach their full potential, your company will see a positive impact on its bottom line.

3. The most successful employees have excellent soft skills

.
Success is often attributed to professional skills that can be taught or measured over time. But in actuality, what allows employees to succeed are their intangible skills that foster human connection.

In Google's Project Oxygen research, they found the seven top characteristics of employee success at Google were all soft skills:
Coaching

Communicating and listening

Having insights into others

Empathy

Critical thinking and problem solving

Cross-team collaboration
Developing an employee's technical capabilities will always be important. But in order to reach their full career potential, a larger focus needs to be placed on an employee's intangible skills.


4. Improve agility and cross-functional collaboration

.
Consumers today are reliant on continuous innovation and technology to fulfill their needs, and it's requiring more cross-functional collaboration from employees. Organizations are working hard to break down department silos to push employees to work across boundaries.

Harvard's Heidi Gardner discovered that companies with higher cross-functional collaboration earn higher margins, inspire greater client loyalty, and gain a competitive edge.

One problem that many organizations run into when trying to successfully implement collaboration across departments is a lack of communication. But with proper skill development—like communication, listening, critical thinking, and problem solving—cross-functional collaboration can occur and consumer needs can be fulfilled.
---
Taking a continuous and development-minded approach to performance will help employees start reaching their potential and help your organization drive results. Ready to start developing your employees? Download our new eBook on HR's 4 ingredient recipe to employee growth!