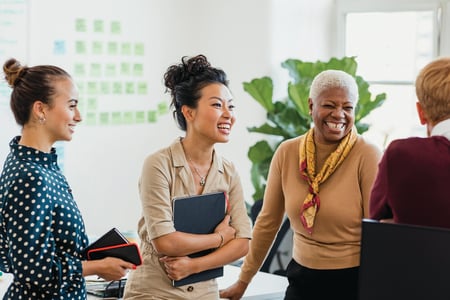 Organizations in the professional services industry are complex and fast moving. Managers and employees are spread thin trying to meet heightened client demands amidst an industry-wide digital transformation and increased unpredictability in the marketplace.
This makes it challenging for HR teams and people leaders to effectively capture employee feedback, understand performance, and report on the impact of talent initiatives.
As a result, organizations in professional services often:
Struggle to attract and retain top talent.
Encounter friction in their talent strategies.
Lack resources to effectively navigate change.



To combat these challenges, growth-minded companies are equipping themselves with engagement and performance tools that fit their unique needs. With these tools, organizations are able to make stronger, more informed people decisions.
In this article, you will learn how to find technology that not only helps you execute your engagement and performance initiatives, but is attractive to your teams and provides valuable data and insights to drive success.


Find tech that helps you execute your employee engagement and performance management strategies.

Don't waste your time and resources on ineffective engagement and performance strategies that merely "check the box." Instead, implement an employee listening platform and performance management tools that make an impact.


Survey for employee engagement.
Capturing an all-encompassing view of your workforce gives your leadership the trusted people data that's required to make informed decisions in less time. The right technology will help your leaders understand overarching employee perceptions to improve employer brand, reduce competition for talent, close existing skills gaps, and increase engagement.
Due to the high rate of change in the industry, you need a robust employee survey platform that allows you to measure employee perceptions at an individual, team, and organizational level. Leaders typically use a combination of these surveys to generate detailed and accurate results:
Engagement surveys measure company-wide engagement annually.
Pulse surveys gather quick, light-weight feedback at team and company levels.
Lifecycle surveys uncover perceptions during key milestones of an employee's tenure, such as new hire and exit surveys.


Maximize performance with the right tools.
To supplement your listening strategy, you need performance management tools that boost productivity and drive goals. An effective platform should support your transformation to an outcome-based business model that meets client demands. Companies often look for tools with features like:
Goal tracking to improve visibility and maintain alignment.
1-on-1s to offer feedback, communicate priorities, and fuel employee growth.
Talent reviews to gauge performance and uncover potential obstacles.
Recognition to celebrate wins and boost morale.
If these tools aren't included in your performance management strategy, you're missing out on valuable growth opportunities. But there's more to the story. For your tools to be effective, your managers and employees need to have motivation to use them.
Find technology that your employees and managers actually want to use.

When your tools are clunky or outdated, employees don't want to use them. And when they go unused, you can't execute on your strategies or get the data you need to drive improvements.
With the right system in place, employees can quickly and easily take part in these programs. A clean and simple user experience inside of these platforms leads to better user adoption. Organizations can even customize their software and bring their branding into the user experience to further align to organizational initiatives and motivate buy-in.
On the back end, administrative burden felt by HR teams is reduced with automated notifications, in-tool nudges, and a mobile application to let managers and employees participate when it suits their schedule, from anywhere. And the data and insights you can uncover from these platforms further drives your initiatives.
Find technology that gives you the data and insights you need to drive improvements.

To drive improvements, you need data and insights that paint an accurate, focused picture on the state of your workforce. And the right software will help you understand where the health of your organization stands. By running important data through people analytics and reporting tools, leaders can visualize engagement and performance data at-a-glance, and in one place.
Organizations in professional services no longer have to rely on annual engagement surveys or performance reviews to get insight into their workforce. The rise of valuable people analytics and reporting tools is putting HR in the driver's seat. Any organization can leverage people data to understand their workforce, uncover deep trends, and retain top talent. Give HR a permanent seat at the table by driving employee, team, and business success with the right software.


---

Interested in learning more? Check out how Quantum Workplace is helping professional services organizations like yours drive business success with engagement, performance, and intelligence tools today.