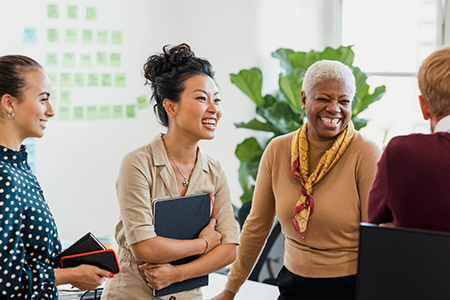 Diversity and inclusion is a hot topic in today's marketplace and an important focus for companies who want to attract and engage top talent.
But diversity and inclusion efforts are not just a feel-good corporate policy—they have real economic and business impact.
In fact, "Companies that embrace diversity and inclusion in all aspects of their business statistically outperform their peers," explains Josh Bersin, HR industry analyst and thought leader.
We've done the research and compiled a list of key diversity and inclusion statistics to inform your recruitment, hiring, and engagement policies and make your company a great place to work for everyone.
Here's 6 diversity and inclusion statistics you need to know:
1. Cognitive diversity can enhance team innovation by up to 20%.
Source: Deloitte, The diversity and inclusion revolution: Eight powerful truths
Cognitive diversity means diversity of thought, values, and personalities, and is essential for a thriving and innovative workplace. Cognitive diversity drives faster problem solving and better decision making, leading to a more agile and high-performing business.
Takeaway: Prioritize cognitive diversity in your hiring processes. For example, make cognitive diversity a key consideration for candidates, especially those in technical roles, with an eye on interpersonal skills and leadership capabilities. Seek out candidates from a variety of education and training backgrounds and keep developing your employees, especially managers and leaders, after you hire them.
2. 48% of employees believe that respect is the most essential factor for a culture of inclusion.
Source: Diversity + Inclusion: What It Is, Why It Matters, and How to Make It a Priority

When it comes to diversity and inclusion, perception matters. According to employees, the most important factor in building an inclusive culture is respect. Yet, 54% feel they don't regularly get respect from their leaders. This represents an important gap between what employees value and their actual experience in the workplace.
Takeaway: Nurture and demonstrate respect for your employees. For example, listen to and act on employee feedback and praise employees for their contributions (in private and in public). And of course, get to know your people and treat them with dignity.
3. 61% of employees believe diversity and inclusion strategies are beneficial and essential.
Source: Diversity + Inclusion: What It Is, Why It Matters, and How to Make It a Priority

What your employees think, matters. In fact, employees who believe their organization's inclusion strategy is strong tend to be more engaged than employees who believe their organization's inclusion strategy is weak.
Our research found that employees across the board believe more diversity is needed. Almost all large companies have plans to invest in diversity initiatives. Yet a whopping 75% of employees in underrepresented groups don't feel they've personally benefited from their company's programs.
Takeaway: Do you know what your employees think of your diversity and inclusion efforts? Survey your employees and collect feedback to uncover current perceptions and satisfaction. Then use that feedback to inform your strategies and communication plans going forward.
Remember to check in frequently to make sure your strategies are making an impact. And be sure to include diversity and inclusion questions in your annual engagement surveys too so you are measuring engagement and impact year to year.
4. 75% of employees think more diversity is needed.
Source: Diversity + Inclusion: What It Is, Why It Matters, and How to Make It a Priority

Employees want to see more diversity and inclusion in the following areas:
Ways of thinking
Race/ethnicity
Gender
Age
Educational background
Socioeconomic status
Sexual orientation
Physical ability
Lifestyle
Family status
Body size or shape
No matter what your efforts in diversity have been so far, there is always room for improvement. The top three areas of concern for employees were diversity in thought (55%), race/ethnicity (44%), and gender (33%).
Takeaway: Evaluate your strategy in these areas and communicate with your employees to uncover ways you can improve on your current efforts and policies. A good place to start is by forming an employee focus group to learn what your employees think and get ideas on what changes or opportunities they see in your current diversity and inclusion plans.
Be sure to assemble a diverse group of people representing different functions, genders, generations, ethnicities, and/or nationalities. Having a variety of perspectives can reveal problems or opportunities that would otherwise go overlooked by the majority.
5. 60% of companies have metrics in place to measure the success of their diversity and inclusion efforts.
Source: Forbes Insights: Global Diversity and Inclusion Fostering Innovation Through a Diverse Workforce
The Forbes Insights survey found that six out of ten companies already have metrics in place to track their progress. And 28% of respondents are developing metrics.
There are lots of ways to measure success but Forbes found the three most popular metrics for diversity and inclusion are:
Employee productivity (77%)
Employee morale (67%)
Employee turnover (58%)
Takeaway: You won't know if your strategy is working if you aren't measuring it. As you outline or update your current diversity and inclusion strategy, define what success looks like. How will you track and measure progress on your initiatives? Keep a close eye on those metrics so you can adjust your efforts as needed.
6. 67% of job seekers consider workplace diversity an important factor when considering employment opportunities.
Source: Glassdoor Diversity Hiring Survey
Attracting and retaining talent will require more than a competitive compensation package. Glassdoor found that two-thirds of active and passive job seekers consider workplace diversity when evaluating a job.
Takeaway: Prioritize diversity and inclusion in your policies and culture and make sure to highlight those efforts throughout the recruiting and hiring process. If your candidates (or employees for that matter), aren't aware of how you are addressing these concerns, they will assume you aren't taking action at all.
Diversity and inclusion are fundamental to not only making your company a great place to work, but attracting and retaining top talent, and giving your business a competitive advantage.
---
Set your company up for success today. Download our free ebook Diversity and Inclusion: What it is, Why It Matters, and How to Make It a Priority for more insights.