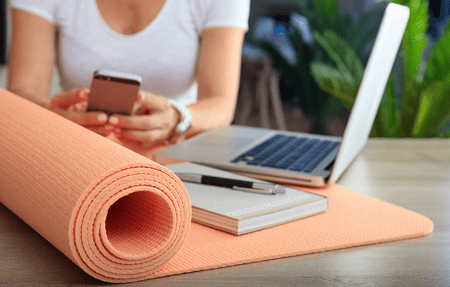 Employee wellness goes hand in hand with employee engagement. When employees aren't feeling well, it's hard for them to stay engaged at work. If an employee is struggling with health or financial issues, they're more likely to be distracted and unable to give their full attention at work.
On the other hand, when employees are disengaged at work, you can bet it's taking a toll on other areas of their life. Showing up for a job they don't like, or working with a team that doesn't feel supportive, can increase stress and impact an employee's physical, emotional, and mental health.
Our latest research uncovered some interesting insights about the relationship between employee wellness and employee engagement. Keep reading to learn more!
Employee Wellness is More Than Physical Wellness
Employee wellness is much more than annual health screenings and gym memberships. Many areas impact an employee's health, including their physical, emotional, and financial wellness. Our research found that these three areas are interrelated.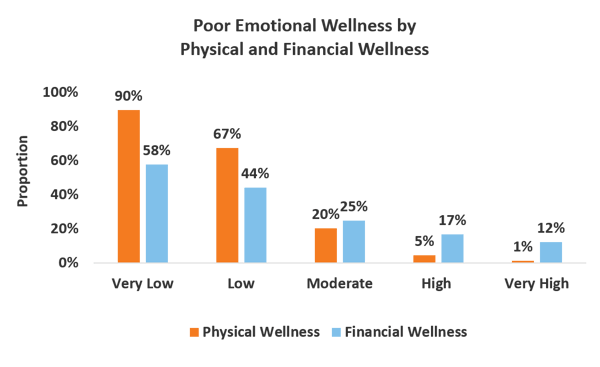 The above graph compares poor (very low and low) emotional wellness to each level of physical and financial wellness.
For example, 90% of employees who have very low physical wellness also have poor emotional wellness. Likewise, 12% of employees who have very high financial wellness also have poor emotional wellness.
These results indicate that all three factors of employee wellness positively relate to each other. As one factor goes up or down, the other two tend to follow suit. Emotional wellness also relates to physical wellness much more strongly than financial wellness.
Employee Wellness Relates to Employee Engagement
We also discovered that all three areas of wellness—physical, emotional, and financial—relate to employee engagement.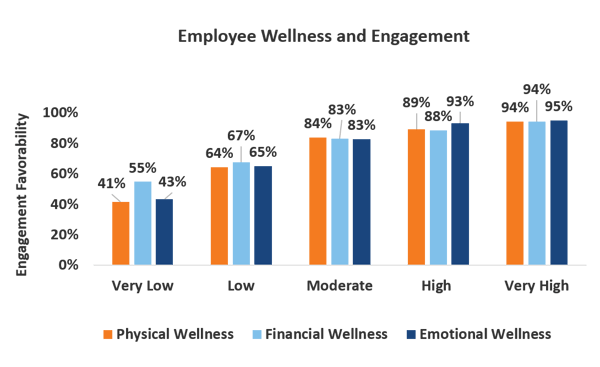 Employee engagement positively relates to wellness because engagement is noticeably lower among employees with poor wellness (low or very low) for all three factors.
How to Enhance Employee Wellness and Engagement
If you want employees to be highly engaged, you need to consider your employee wellness program. Are you putting your best foot forward with your wellness offerings? Have you considered the various areas that impact an employee's well-being?
Here are three tips for enhancing employee wellness at your organization, inspired by an HBR interview with André Spicer, co-author of The Wellness Syndrome:


1. Collect employee feedback.
Leaders and managers should have ongoing conversations with employees about wellness. Organizations often make the mistake of creating wellness programs that don't address topics employees are most interested in. Asking employees can start programs off on the right track.
2. Aim for small changes that make a big impact.
Although wellness is important, it doesn't have to be a big thing. Even small changes can help a lot, such as having standing desks, providing materials to learn about financial literacy, and offering healthy snacks.
3. Be realistic.
Set realistic goals for what you want to achieve from a wellness program, and what you hope employees will get out of it.
---
There are a number of barriers to employee wellness, and we're here to help you overcome them! Download our ebook, Overcoming Barriers to Employee Wellness and Engagement, to learn more.