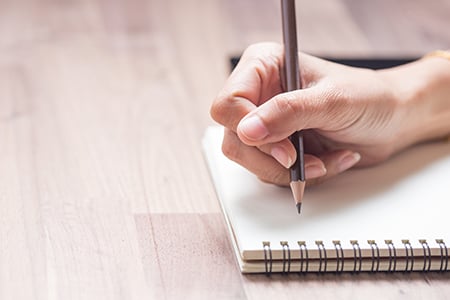 A new hire's onboarding experience is essential to building a strong manager-employee relationship. While there are a number of ways you can welcome your new hire into the organization, there's one simple and effective thing you can do to start: write a welcome letter to your new employee.
Crafting a straightforward, authentic welcome letter is really a breeze. While we encourage creativity and details specific to your organization or the employee's background, here's a free template to help you get started.
Employee Welcome Letter Template
Dear John Smith,
Welcome to company ABC! We're excited to add another person to our growing team. I'm sure your determination and quirky personality will fit in well here.
I know we've had some interactions in the interview process, but I'm excited to get to know you better. I've been with this company for seven years, and each day I find myself learning more and more. I've become a more driven, inspired person in this role, and as your manager, I'm excited to see how you'll contribute to the team's and the company's growth.
We'll see you at our main office, Monday at 10 am. We'll start with a cup of coffee and casually tour the office to meet everyone. Then, we'll take care of some of the paperwork and send you on your way. Bring yourself - that's it!
This marks the start of an awesome journey. I'm excited to see you grow as a new employee, learn from your teammates, and, ultimately, woo clients left and right.
Looking forward to day one,
Your Manager
Welcome Letter Basics
Why is a welcome letter important?
It's a formal, tangible welcome into the organization. This is something that puts your excitement into words, provides some need-to-know essentials, and serves as a piece of memorabilia to commemorate his or her start at your organization.
Who should write it?
Managers. Managers and employees should have a deep relationship that begins on day one. A genuine and concise welcome letter is one of many ways to engage employees from the start.
What makes the best welcome letter to new employees?
Welcome letters can serve many purposes, and you want to strike a balance between providing too much information and not enough. Save some info for the personal, face-to-face interactions. And remember to share some of the onboarding responsibilities among your team and others in your organization.
How to Write a Welcome Letter
Welcome your employee.
This portion of your welcome letter is easy. It doesn't need to be more than a couple sentences, but it's a wonderful opportunity to express your genuine excitement to be welcoming a new employee.
Introduce yourself.
Here's your chance to get personal. Who are you? Can you summarize into a few points your meaningful journey to your current role in the organization? It could be worthwhile to share your experience as a new hire, as it might ease your new hire's nerves and help you appear more personable. Beware of oversharing; let them get to know you in conversation as well.
Share initial need-to-knows.
This part of your welcome letter to new employees is pretty straightforward. Cover a couple of simple logistics like when and where to be on the first day, what the first day will include, and any preparations that need to be made.
Outline the onboarding journey.
Briefly discuss what the journey from new hire to tenured employee looks like. Mention some personal qualities that got your new hire hired in the first place, then lightly outline where you see their career going.
---
Good luck with your own welcome letter to your own new hire! Whatever you come up with, we're sure a new hire welcome letter will make a great impression. Looking for other onboarding ideas? Download our New Employee Onboarding Checklist.